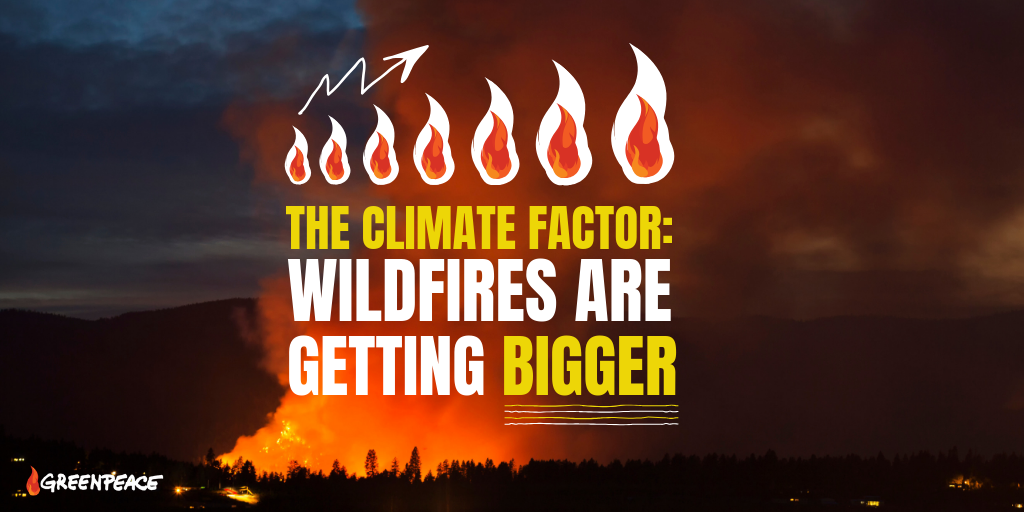 Two years ago, British Columbia saw its worst-ever wildfire season … that is, until last year.
This year, the season got off to an early spring start, but things have slowed down, thanks to wetter weather. Still, with August and September ahead of us, fire experts are staying vigilant.
Worsening wildfires is a global trend. We saw major blazes hit Alberta this spring, and now unprecedented wildfires have hit the Arctic, following the hottest June on record. Meanwhile, in Russia, people are suffering from horrible wildfires as 4 million hectares burn (these fires are dangerous for the climate because they produce "black carbon" — soot that is transported to the Arctic by wind, accelerating snow and ice melt).
Curious about how climate change is impacting wildfires in British Columbia? Here are 3 quick facts to get you up to speed — plus more on how fossil fuels play a part.
Canada and B.C. are already warming at rates higher than the global average. Hotter, drier summers will increase the risk of wildfires.
The back-to-back record wildfire years of 2017 and 2018 saw more area burned in B.C. than ever before. Fires in the past two years scorched their way through more than 2.5 million hectares (combined).
Warmer temperatures are already playing a role in wildfire activity. Scientists at the University of Victoria and Environment and Climate Change Canada found that, in the case of the 2017 B.C. wildfires, human-caused climate change doubled (at least) the risk levels for extreme wildfires. Climate change also increased the area burned to 7-11 times larger than expected.
Want to know more about how people in British Columbia are living under fire?
Wildfires can take a heavy physical, psychological and financial toll on communities and governments.
Fire suppression costs for both 2017 and 2018 (combined) topped $1 billion. In 2017 alone, 65,000 people were evacuated and more than 200 homes were destroyed. That's a staggering impact on people's lives. And because extreme fires often happen in remote areas, Indigenous communities are among the worst-impacted.
Meanwhile, over the last couple of summers, smoke blanketed cities like Vancouver — turning skies orange and the sun an ominous, smoky red. Wildfire smoke can be particularly hazardous for children, pregnant women, the elderly, and people with asthma or lung disease, according to the BC Centres for Disease Control.
Given that the 25 largest fossil fuel producers are responsible for over half of the human-caused emissions driving the climate crisis, big polluters like the oil industry are adding fuel to the fire. B.C.'s recent record-breaking wildfire seasons are a wake-up call for a swift transition to clean energy.
Add your name to the movement for a Green New Deal for Canada.
We need a Green New Deal in Canada. Sign up at https://t.co/UTPrWVCbfP#GreenNewDeal #GreenNewDealCanada #cdnpoli https://t.co/2e3Ic4uJfh

— Green New Deal Canada (@GreenNewDealCa1) May 21, 2019
—
Sources
Government of British Columbia. 30 April 2018. Addressing the New Normal: 21st Century Disaster Management in British Columbia.
Government of British Columbia. "Wildfire Season Summary."
Kirchmeier-Young, M. C., Gillett, N. P., Zwiers, F. W., Cannon, A. J., & Anslow, F. S. (2019). Attribution of the influence of human-induced climate change on an extreme fire season. Earth's Future, 7, 2–10.
B.C. Centre for Disease Control. "Health Effects of Wildfire Smoke."
Griffin, Paul (2017). The Carbon Majors Database CDP Carbon Majors Report 2017, Climate Accountability Institute.