58% of all food produced in Canada — 35.5 million tonnes — is lost or wasted every year. In monetary terms, that's $49 billion we're chucking in wasted food, or $1,766 per household. Recent research suggests the amount of edible food thrown away by the average household represents enough calories to have an adult over for dinner five nights a week without adding a dime to the grocery bill.
The food we fail to cook is cooking our climate. Food loss and waste represents 8% of global greenhouse gas emissions – or, to put it another way, it generates four times as much greenhouse gas emissions per year as global aviation. This is made all the more heartbreaking knowing 4 million Canadians experience food insecurity – a number that is expected to double by the end of 2020 due to the impacts of COVID-19.
Meanwhile, supermarkets throw out tonnes of high quality, edible, unsold food every day. Greenpeace volunteers are calling on Metro, Sobeys and Loblaw President and CEOs to commit to a zero edible food waste target. Giant supermarket chains have a corporate responsibility to reduce their carbon footprint, and a social responsibility to do their bit to help the millions of Canadians facing food insecurity.
To get you started on your own zero food waste journey, here are some tips and tricks to ensure the food we buy makes it onto our plates, into our tummies and stays out of landfills.
JUMP TO A SECTION
Grocery Shopping:
Use shopping apps to find items coming up to their best before date
Food waste from supermarkets and grocery stores is a significant factor in the food waste problem. In 2016, France became the first country in the world to ban supermarkets from throwing away or destroying unsold food, forcing them instead to donate it to charities and food banks. Canada is not quite there yet.
In the meantime, there are a few apps you can use to purchase food coming up to its expiration date at steep discounts, so you can save money and food at the same time! Check out Flashfood which is available across Canada, and Foodhero, available in Montreal.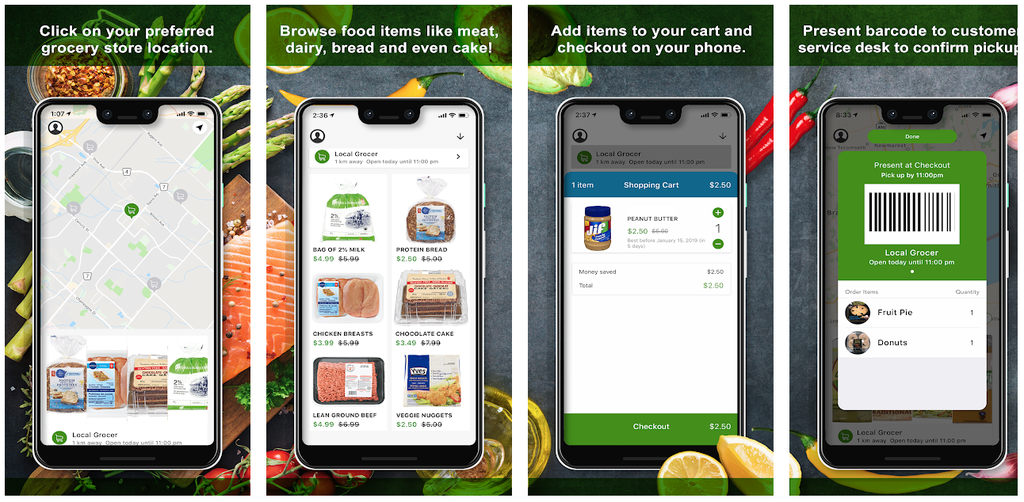 Beware of bulk deals
Buying items in bulk at grocery stores offering deals to move products seems like a good idea at the time – until you find the remains of whatever you've purchased building bacterial colonies at the back of your fridge.
It's not a good deal if you can't eat it. Either stick to buying the amount of things you need or freeze the extras so they don't go bad.
You could also get a #GoodFoodChallenge shopping buddy to split large portions of fruits and veggies between the two of you. Find more tips and root-to-stem recipes on the #GoodFoodChallenge Pinterest page.
Ban grocery stores from throwing away edible food
The biggest impact we can have on the food waste coming out of grocery stores is to require supermarkets by law to donate any unsold, perfectly edible food. SIGN THE PETITION NOW calling on supermarkets in Canada to go zero food waste!
In the Home:
Make a weekly meal plan
Plan out your meals for the week so you know exactly what ingredients you need to shop for and then make your list based on this. Don't buy more than what you need.
Check out this meal prep mate to help you get started, or one of the following apps:
Mealime (good for planning family meals)
Veganized (will help you plan plant-based meals and will track your nutrient intake)
FoodPlanner (customize your meal plan by searching for recipes on the web and downloading them to the app, which will automatically generate a shopping list)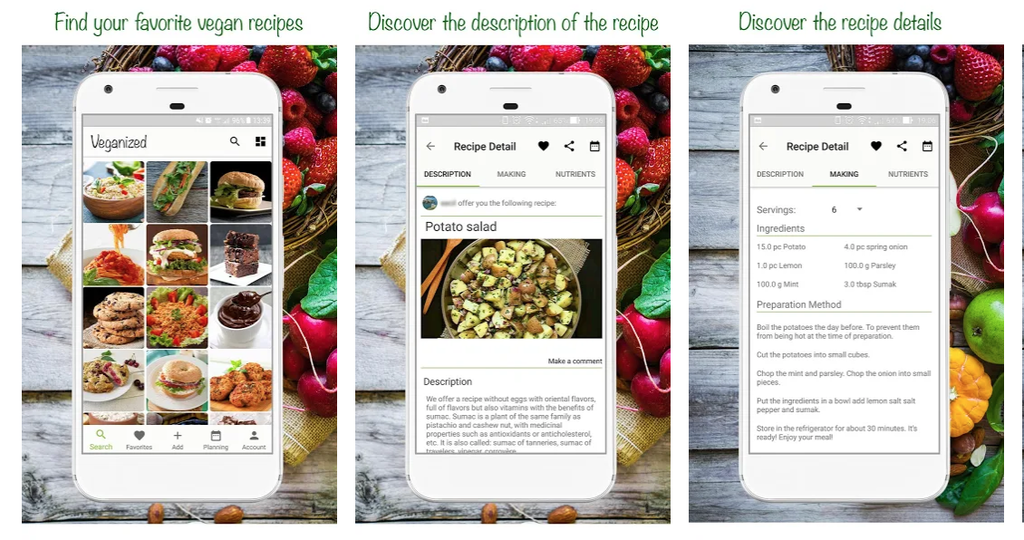 Use apps to find recipes for ingredients you already have
It's the end of the week and you open your fridge to find a smattering of random vegetables leftover from a week's worth of cooking. Before you shut the fridge door and turn to takeout instead, check out some of these apps to help you find a recipe for the ingredients you have on hand:
Eat root to stem
Eating the entire fruit or vegetable – known as eating root-to-stem – has come into vogue in the food world in recent years. From the greens on your beets or carrots to the seeds in your melons, we throw away a lot of edible food simply because we aren't used to cooking with it. For instance, did you know you can make a yummy pesto from carrot greens? A comforting winter tea using orange peels?
Find some great recipe suggestions to get started cooking root-to-stem here and here. You can also check out our Pinterest board for over 100 recipe ideas that will make you look at the food you've been tossing in your compost bin in a completely new light.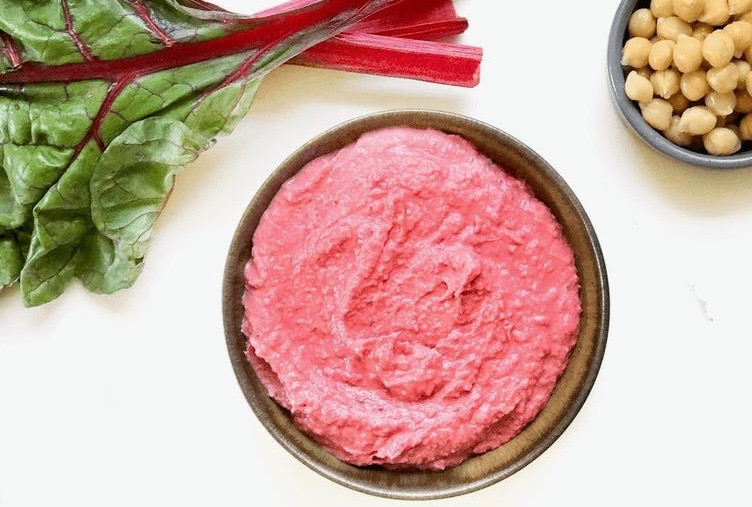 Repurpose leftovers
How many of us have had the best intentions of eating the leftovers we carefully stored away in our fridges, but when the next day comes – we no longer feel like eating them?
Make leftovers great again! Reimagine and repurpose your leftover dishes by incorporating them into entirely new meals. Check out this blog for 22 ideas to get you started.
Explore this online recipe guide to find more repurposing leftover meals and explore our Pinterest board for more ideas.
Freeze leftovers
If you're making a big pot of soup, chilli or another dish that produces more portions than you can feasibly eat in a few days, stick them in reusable freezer bags or containers for another day. Your future self will thank you when you've had a busy week and you're stuck with nothing to make!
Make sure you label with the date when you put it in the freezer and eat it on time – don't forget about your leftovers.
Here's a guide on how to freeze different types of leftovers, which includes charts that will tell you how long various foods can stay in the freezer for.
Freeze extra fruits and vegetables
Pre-packaged vegetables and fruits sometimes make it difficult to buy exactly how much you need for a recipe and you end up with more than you can eat in a reasonable amount of time. Or maybe you're leaving for a trip and have fruits and veggies you won't be able to finish.
Pop whatever you can't eat into reusable freezer bags or containers and put them in the freezer for when you return. You can use this Store It tool to learn how to properly store a variety of food items.
Hot tip from one of our supporters on Facebook: you can freeze tomatoes for later and then easily remove the skins to make a yummy pasta sauce.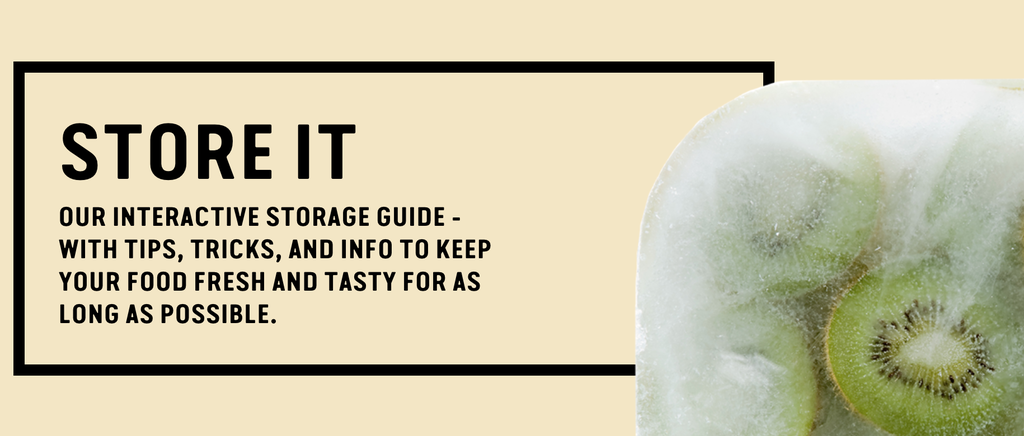 Freeze old bananas (and then actually make banana bread)
Ok it's confession time: I've definitely put past-their-prime bananas in the freezer with every intention of making banana bread and then (gasp!) never actually made the bread. I end up collecting so many bananas that eventually, they just end up in the compost anyway.
Freezing something is only the first step in avoiding wasted food. When bananas are going off, stick them in the freezer and once you've collected enough, actually make the banana bread or banana muffins.
Revive stale or wilted foods
Celery at the back of your fridge drawer gone limp? Bread that's seen fresher days? Try these tips and tricks for reviving food you thought was unsalvageable.
Compost scraps and organic waste
When food waste ends up in landfills, it releases methane gas which is 84 times more potent than carbon dioxide over the first two years after its release.
This is why it's so important to ensure any food that cannot be eaten goes into your backyard compost bin or your city's organics waste stream so it can properly decompose and turn back into soil (if your city doesn't have composting, you could start advocating that it adopt one).
Parties, Events and Restaurants:
*note this section was written pre-COVID-19. The advice in this section will be useful when social gatherings are once again safe.
Make a meal plan when cooking for groups of people
It's easy to overbuy and overcook when cooking for more people than you're used to. If you're throwing a party or having friends and family over, scrutinize your guest list carefully and make a meal plan that suits the number of people you'll be feeding.
Not sure how to do these calculations? There's an online tool for that. Check out the Guest-imator. It will help you plan exactly how much food you need to prepare based on the number of guests you'll be having, how many leftovers you would like to have and what type of food you'll be preparing.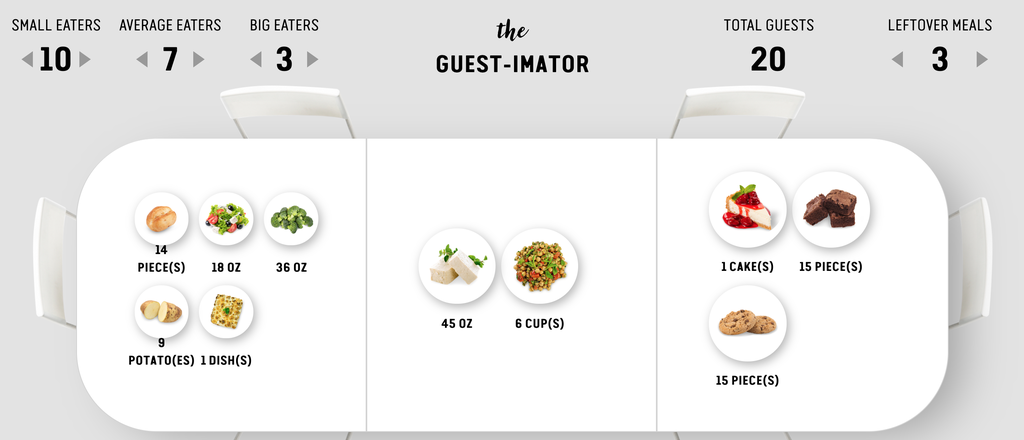 Ask guests to bring reusable containers
Whether it's a dinner party, a potluck or an event, if you're hosting and feeding a large group of people there's bound to be some leftovers.
Ask guests to bring their own reusable containers and keep some on hand for those guests who forget to bring them. This way, you can send people home with any leftovers you feel you won't be able to polish off on your own.
Connect with organizations that will pick up leftover food
Have you ever been to an event where lunch was provided and then witnessed the large amount of untouched food leftover that's headed for the bin?
LiftoversTO is a Toronto-based volunteer organization that works to connect perfectly good leftover food from such events to those who need it. Be One to Give provides a similar service in Toronto. Know of any other organizations like this? Let us know in the comments!
Listen to your stomach, not your eyes
We've all been there – you get to a party or an all-you-can-eat buffet and your eyes fall in love with the vast smorgasbord of delicious looking food available. You pile on as much as you can, but halfway through your plate, your stomach objects and reveals your eyes were playing tricks on your hunger level.
Sometimes when we eat socially at an event, party or restaurant we put more on our plates or order more than we can actually eat. Start small and once you've finished your first portion, reevaluate and go from there. This way you don't end up with more than you can eat.
You can also eat a snack before going out to prevent intense hunger from driving you to over-order.
Bring a reusable container
Bring your own reusable container so you can take home any leftovers to eat for lunch the next day. This way you avoid the wasteful single-use containers restaurants give out and you're probably more likely to reach for it the next day (it's easier to throw a reusable container in your bag to take with you than a flimsy styrofoam one, for example).
Look for restaurants on Feedback
This is advice specific to those of you grabbing a bite out in Toronto, but maybe there are similar apps available in other parts of Canada (let us know in the comments!). Feedback offers time-sensitive discounts at restaurants during off-peak times to help avoid all the wasted food that restaurants throw out at the end of the day.
Did you know our global food system accounts for as much as 37% of greenhouse gas emissions?