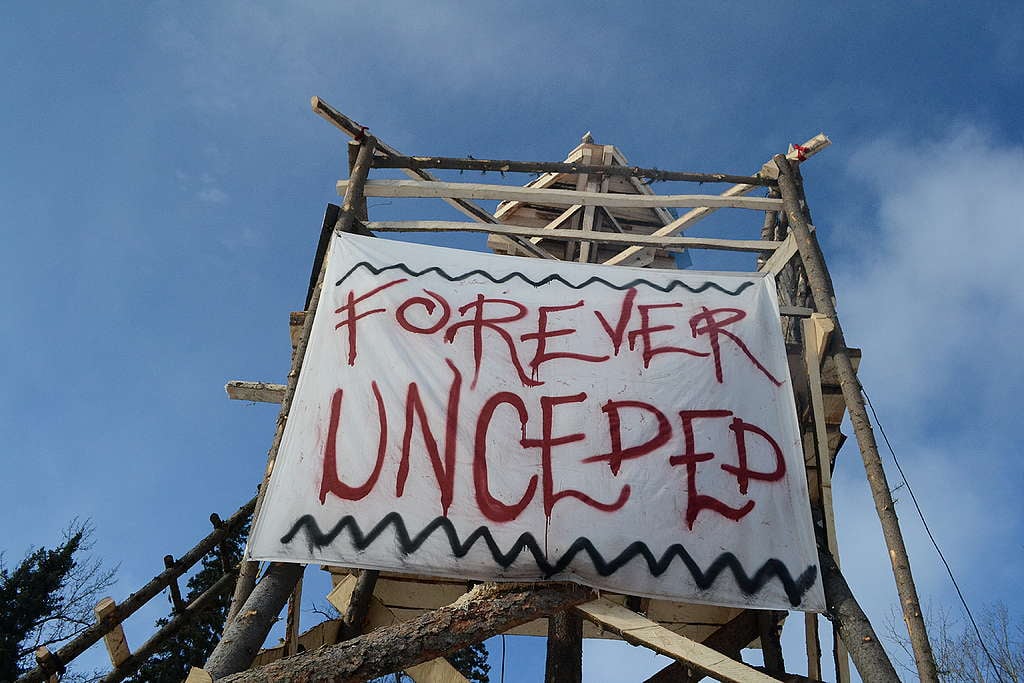 UPDATE: MONDAY FEBRUARY 10th
RCMP are moving in now on the Wet'suwet'en camp at 66 km. @unistotencamp is tweeting live about the insurgence. Please following them on twitter for updates.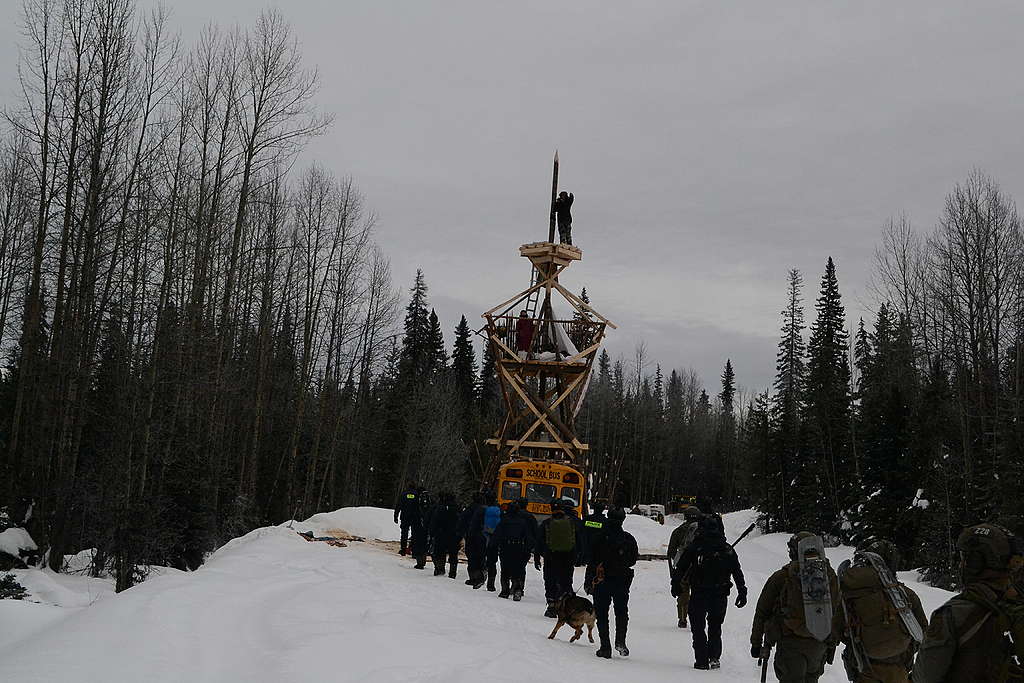 In outrage of the arrests solidarity actions have sprung up across the country.
Police have arrested more than 30 people in Vancouver that were part of four port blockades that had been going all weekend.
There is an active occupation at the Victoria legislature (British Columbia) that has been going all weekend and a rally planned for 3:00 PST today.
There is another action starting in Edmonton at 11:15 at the City Centre mall.
An occupation has also started in Ottawa at the Justice Minister's office.
There is also a rail and freight blockades outside of Toronto and another rail blockade in Comox.
That's all for now. We will continue updating this blog as more details come in.
What you can do now:
Call Prime Minister Trudeau's office (1-613-992-4211) and Premier John Horgan (250-387-1715)
You can ask them to immediately end the RCMP's incursion on Wet'suwet'en territory. I will tell them to resume talks with the hereditary leadership, to find a peaceful solution to this conflict.
Sample call text:
"I am calling today following the violent, early morning RCMP raid on Wet'suwet'en camps.
All five Clans of the Wet'suwet'en have said no to the Coastal GasLink pipeline project. This proposed pipeline does not have free, prior, and informed consent from the Wet'suwet'en.
You must immediately tell the RCMP to stand down on its attack on these peaceful land defenders and have your government open consultations with the Wet'suwet'en.
Prime Minister Trudeau/Premier Horgan, it's time to live up to your commitments and write a different new story that can actually lead to Indigenous reconciliation and Canada meeting its climate commitments."
---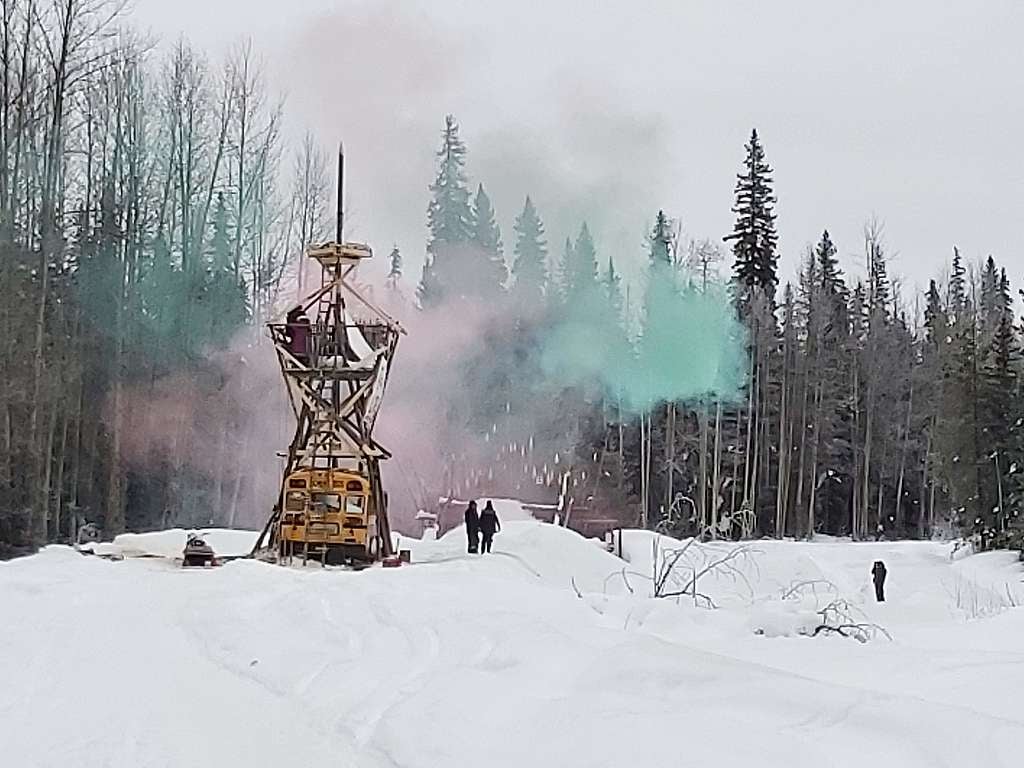 Early this morning RCMP began their raid on Wet'suwet'en camps set-up to defend their lands against a fracked gas pipeline, Coastal GasLink, that the hereditary leadership had already denied access to.
According to media reports the support camp at 39KM has been breached, and police are on their way to the camps at 44 and 66KMs.
We will add more updates as they come. Please follow on twitter @UnistotenCamp, @Gidimten, @ricochet_en for more immediate updates.
Background:
On December 3rd, B.C. Premier John Horgan said he counted the passing of legislation to enshrine the United Nations Declaration of the Rights of Indigenous Peoples (UNDRIP) into provincial law as one of the proudest moments of his life.

One month later and the province and the federal government are using the RCMP to once again forcibly remove Indigenous leaders from their own lands to push through a fracked gas pipeline, Coastal GasLink.

The UN Committee on the Elimination of Racial Discrimination, the UN Humans Rights Commissioner, and Amnesty International have all called on Canadian government to immediately stop the construction of Coastal GasLink, the Trans Mountain pipeline and the Site C hydroelectric dam because they don't have Indigenous consent — yet both level of governments have pledged to press forward.
Coastal GasLink is a $6.6-billion natural gas pipeline that would go right through the heart of Wet'suwet'en territory. The pipeline would feed into a massive LNG (liquid natural gas) expansion proposed in Kitimat, BC on the west coast. The initial greenhouse gas emissions from that project are huge and would be equivalent to adding more than 856,831 cars to the road. That number could more than double in phase 2 of the project.
If Horgan and Trudeau ever want to live up to their own commitments and words they need to break the cycle.
Will you call Premier John Horgan and Prime Minister Trudeau right now, so we can pressure the BC and Federal government to uphold their commitments to UNDRIP and the climate, and immediately de-escalate tensions with the RCMP and resume talks with the hereditary leadership to find a peaceful solution to this conflict?
Call Prime Minister Trudeau's office ( 1-613-992-4211) and Premier John Horgan (250-387-1715).