Halloween has a number of skeletons in the closet – or rather, the landfill. In 2014, the Retail Council of Canada estimated that Halloween represents a $1 billion industry in this country, with 68% of the population taking part. They also estimated that Canadians spend more per capita ($70) on costumes, candy and decorations than our American counterparts.
Cheap costumes, decorations and single-use candy wrappers all contain types of plastic that we know are mostly ending up in landfills or are being burned, and are increasingly polluting our communities.
You can cut back on the amount of waste you and your family generates during Halloween with the following 5 tricks and tips:
Trick one: find your costume second hand
An investigation in the UK recently revealed that Halloween costumes contain the same amount of plastic as 83 million plastic bottles, creating 2,000 tonnes of plastic waste in the UK last year alone. The same study estimates that 4 in 10 costumes were worn only once, putting 14 million costumes in the garbage.
In North America, we lack infrastructure for effective textile recycling, which explains why 85% of our textiles end up in landfill every year. Considering many costumes are made cheaply out of plastic-based materials, buying a new Halloween costume for one night is the textile version of using single-use plastic bags to carry groceries home in.
The solution? Find your costume second hand. Canadians spend approximately $300 million on Halloween costumes every year – that's a lot of costumes already in circulation! Here's how to get your hands on one:
If COVID-19 rules in your area allow for it, attend or host a socially distanced community costume swap.
Visit your local thrift or consignment store and go treasure hunting
Check local Freecycle or Buy Nothing groups; peruse online thrift platforms like Kijji or Facebook Marketplace; or check other local community groups you're in to see if anyone already has what you're looking for.
Use a trading platform such as Bunz Trading Zone. This is particularly useful if you have something specific in mind that you want to find as platforms like this have a search function so you can see what users have already listed.
Trick two: get your Halloween decorations second hand or make your own with upcycled or natural materials
As with costumes, Halloween decorations are often made cheaply out of plastic-based materials that are waste generating and not recycled. Many modern decorations also include electronic components for movement and sound, contributing to our growing e-waste problem in Canada (which will really make you scream).
If you feel the urge to splurge on Halloween decor, here are a few tips:
Find them second hand at a thrift store, at a community swap, or on a trading platform like Bunz Trading Zone (use the search bar to find what you're looking for).
Take care of the decorations you already have – store them safely throughout the year so you or someone else can reuse them (and avoid buying decorations designed to be thrown away after one use).
Take anything that's broken – including the electronic components – to your local Repair Cafe to see if it can be fixed before sending them to landfill.
Make your own decorations out of sustainably gathered natural materials that can return to nature through composting, so you don't have to worry about storing them, maintaining them or landfilling them, such as this fun witch's broom and these cute pinecone bats.
Make your own decorations out of upcycled materials – you will find lots of ideas on Pinterest, such as these spooky eyes made out of toilet paper rolls or this gravestone made out of a cereal box or these milk jug pumpkins.
TIP: Avoid the stringy, cottony spider-webbing – for one thing, it's made out of plastic-based fibres that are a disposal nightmare and for another, it can entangle birds and other wildlife.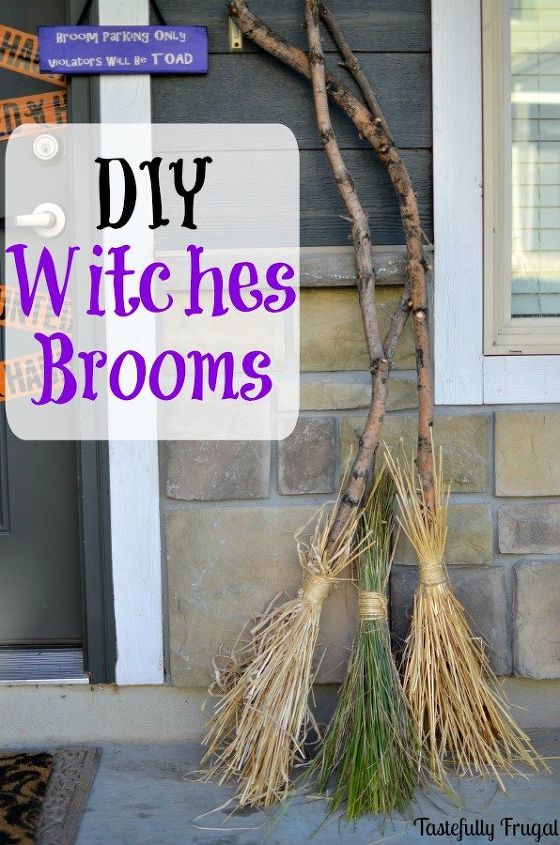 Trick three: use a reusable bag or container to collect candy
If you are in a region of Canada where trick-or-treating is a go this year, use a reusable shopping bag, pillow case or other reusable container you already have rather than purchasing a cheap plastic bucket new.
If you want to get crafty and ensure your candy collection device stays on brand, you can upcycle a Halloween-themed t-shirt into a no-sew reusable tote bag.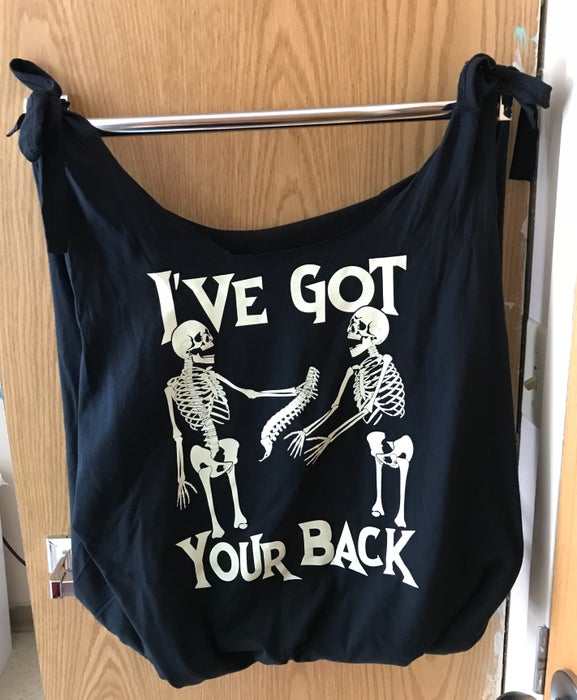 Trick four: Reimagine the candy experience
We've gotten ourselves into a sticky situation with the treat side of trick-or-treating. The US alone buys approximately 600 million pounds of Halloween candy per year. The really horrifying part? The wrappers are not recyclable in most recycling facilities.
Like your average snack wrapper, Halloween candy wrappers are made out of mixed materials – often different combinations of plastic, foil and paper – which need to be separated before recycling can take place. Most recycling facilities do not have the capacity to do this.
With several Canadian cities unable to go trick-or-treating this year due to COVID-19 restrictions, many are reimagining the candy experience – and, as scary as it might be, maybe it's time for all of us to do the same. Some ideas to get you started:
Try going to a bulk store that has candies available in bins and make your own candy-filled ghosts for a haunting Halloween candy hunt (substitute the tissue for upcycled reusable cloth – see image below).
Make festive cupcakes, cookies or other treats at home and then go out to look at homes and see costumes but skip the treat collection part.
Organize with trusted neighbours and friends a "trick-or-treat zero waste route" – every house included on the route has low or no waste Halloween treats to give out. This way kids get to knock on doors and come home with a variety of treats but without all the waste.
What are your ideas for a low or no waste candy experience? Let us know in the comments below!
TIP: If a Halloween redirect is too hard to imagine but you want to do something impactful this year, take your empty wrappers back to your supermarket customer service desk and say that you'd love them to offer package-free options next year!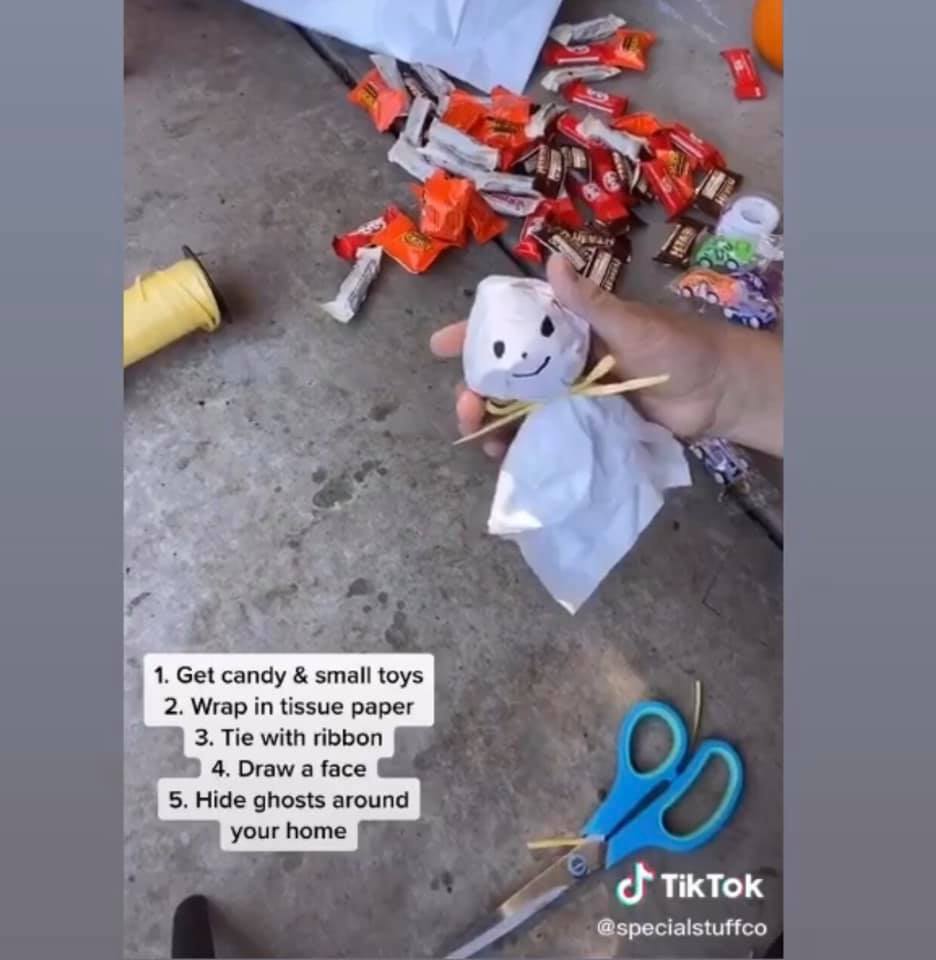 Trick five: compost or eat your pumpkin
Pumpkins could fall into the category of biodegradable decorations – but they could also fall into the category of food waste because, well, technically they are food and most of them end up in the trash.
Food that ends up in landfills releases methane gas – which has 25 times the global warming potential of carbon dioxide. So once your pumpkin has served its purpose, retire it with dignity by doing one of two things: cook it (did you know you can cook soup inside the pumpkin itself?!) or compost it.
Check to see if your city has a Pumpkin Parade. In non-COVID times, people in Toronto head to their local park after the sun sets on November 1 with their pumpkins and a candle to show them off one more time, creating a magical gallery of jack-o-lanterns. After the festivities are complete, pumpkins are put in city-provided compost bins for composting.
While a Toronto tradition, the parades are spreading to other cities. Check with your city to see if there's one near you – and if there isn't, apply to start one.