UPDATE 2: VICTORY! Another win for people power 🎉🙌 Thanks to community activism and thousands of people across Canada raising their voices in outrage over the Ford Government's misuse of a Ministerial Zoning Order to pave over Duffins Creek Wetland – the MZO has now been revoked, saving the wetland from development and returning it to its status as a provincially protected wild space.
This, of course, is not the end, as the Ontario government continues to use the covid-19 crisis as an excuse to misuse MZOs at the expense of the environment and erode environmental laws and regulations. That's why we're taking the Doug Ford government to court – read about it here.
UPDATE as of March 15: The campaign to protect the Duffins Creek wetlands has had a major win! But the site is not yet protected long-term – and the wider fight to protect Ontario nature from Doug Ford is far from over… jump to the details below or Take action now.
Ontario Premier Doug Ford is no stranger to using anti-democratic methods to sacrifice the environment at the altar of profit. He's done it time and again – and while everyone is looking the other way during a public health crisis is as good a moment as any.
In fact, we already took Ford to court for this – and won (the court ruled that Ford broke the law by cancelling the carbon cap-and-trade system without consulting Ontarians). And yet, here we are waiting for our day in court on a second lawsuit against Ford's government for doing the same thing: failing to consult Ontarians before gutting environmental laws under the cover of COVID.
His government wasted no time in the first few months of the pandemic, suspending ALL public consultations on environmental changes, enabling the Ford government to undermine endangered species laws. Even after his government officially reinstated environmental consultations, he has turned to other methods to avoid being accountable to the public.
So what's the latest controversy now raging under Ford's relentless 'open for business' mantra?
The MZO: Ford's new favorite tool for avoiding accountability
Doug Ford's government has approved dozens of building projects since April via Minister's Zoning Orders (MZOs). An MZO allows Ontario's minister of municipal affairs and housing to skip the normal approval process and make an executive decision about how a piece of land will be used. So no local planning requirements, no environmental impact assessment, no consultation with citizens – and no recourse to appeal.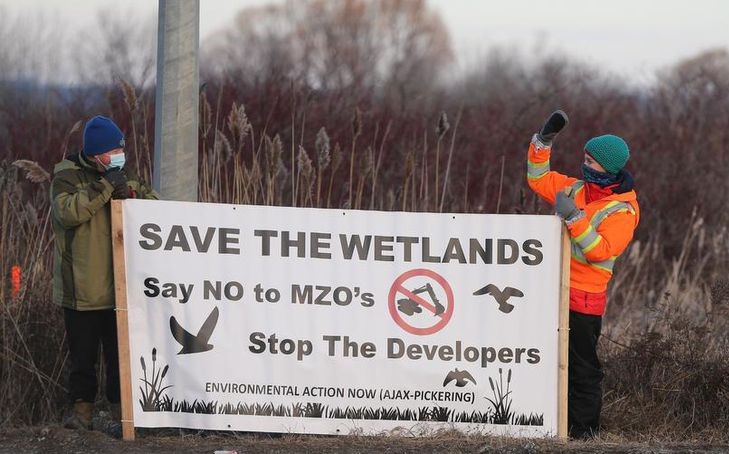 Past governments have used MZOs for emergencies only. But not Ford. MZOs have become his government's standard practice. They've been used to approve sites for warehouses, factories, restaurants, retail stores and single-family housing. Ford has also been changing rules that would otherwise limit MZOs' power – including retroactively changing the law to avoid getting sued. That's like the Avengers going back in time but instead of using their powers to protect the planet, they use them to destroy the planet more. Is this Ontario's environmental Endgame?
Not only is this anti-democratic, but many of the projects carry serious environmental concerns.
They would destroy wetlands and agricultural lands, build in flood-risk areas, or risk compromising the local water supply. Adding to the controversy, independent reporting has linked Ford's MZOs to companies that donated to the Ontario Conservative Party and an organization that campaigned for them. Conflict of interest much?
And despite significant public opposition, Ford's government is showing no signs of slowing. They issued 6 new MZOs this past Monday.
Paving over a wetland to build a warehouse: the fight to protect the Duffins Creek wetland in Pickering
And as flooding increases in frequency and intensity due to the impacts of climate change, the existence of untouched wetlands becomes all the more critical. But Ford seems to be taking Joni Mitchell's words 'pave paradise and put up a parking lot' as his own personal instructions.
One of the most controversial projects in Ford's MZO saga is a proposed distribution centre and production facility that would pave over the provincially-significant Lower Duffins Creek wetland in Pickering. Provincially-significant wetlands are especially important for flood control, water quality and biodiversity. Hence why they are awarded the title of 'provincially significant' in the first place.
While the Pickering municipal council supports the project, there is strong opposition from Pickering residents, the next-door municipality of Ajax, Williams Treaties First Nations – who called the development a 'blow to reconciliation', the Toronto Region Conservation Authority (TRCA) – who is responsible for preventing flooding, along with many concerned individuals from across the province who have already sprung into action.
The TRCA said it would reject the project despite the October MZO (remember that conservation authorities are responsible for protecting people from flooding?). So Doug Ford changed the law in December so that his government can now force conservation authorities to issue permits for projects approved via MZOs – even if it is environmentally irresponsible to do so. Can anyone define the term 'bully' for us?
The development company Triple Group is offering an agricultural property and $3.5 million to build a new, "replacement" wetland elsewhere. Besides the question of whether a destroyed wetland can ever truly be replaced, the TRCA says that the land being offered could only accommodate a wetland one quarter the size of the one that would be destroyed.
Any surprise that Triple Group has donated $15,000 to Doug Ford's Progressive Conservative party since 2018? When asked if he feels like Doug Ford's government is playing favourites, Ajax mayor replied, "I don't even think I need to answer that, I think the actions speak louder than words."
UPDATE as of March 15: A huge step forward in the fight to protect the Duffins Creek wetlands from development
It all unfolded on Friday, March 12. First, Amazon announced it would no longer consider the Duffins Creek location as the site for its future mega-warehouse, citing environmental concerns. Then the Ford government announced it would be willing to amend or revoke the MZO granting permission to develop the wetland if Pickering officials were to ask for it. Then Pickering's mayor called for any further disruption to the site to be paused.
But the MZO is still in place, and the TRCA has given the project a conditional permit – made "under duress" in time to meet the government-mandated deadline Friday night. A Triple Group subsidiary has signed a court undertaking not to damage the wetland – for now. This is only legally binding until the courts decide whether the Ford government's MZO to destroy a provincially significant wetland is actually legal.
In other words – the fight is not over yet to protect the Duffins Creek wetland. Nor the other environmentally-sensitive sites currently threatened by Doug Ford's MZOs. It is more important than ever to keep the pressure up.
Ontario, #YoursToProtect: What you can do to protect the Duffins Creek wetland and Ontario's nature from development
The people have stopped environmentally destructive projects issued under MZOs before – notably a controversial glass factory in Stratford, Ontario. The people can do it again.
Opposition is mounting, but it's still not enough. The Duffins Creek wetland and dozens of other natural sites are on the line. This is urgent: Add your voice to pressure Doug Ford to back down from MZOs and protect the Pickering wetland.
Tweet at Doug Ford:
.
@fordnation
is bending the rules for wealthy developers to pave over Ontario's #Nature. Doug Ford, if you're 'for the people': ➡️Stop using
#MZO
to destroy Nature ➡️Protect
#DuffinsCreek
#SaveDontPave
Ontario,
#YoursToProtect
@GreenpeaceCA
https://act.gp/3laCq2W
#ONpoli