First comes the clearcut.
Then, as the forest begins to regrow, helicopters fly over. They spray glyphosate herbicide – a key ingredient in Monsanto's Roundup – across the landscape.
The chemical poisons and wipes out the regrowing trees, shrubs and plants. It remains in the ecosystem for years.[1]
Finally, when the trees are dead, the logging industry returns to replant just a handful of tree species most valuable for logging. The natural forest has effectively been replaced by a near monoculture of pine and spruce, thanks to the help of glyphosate.
And this is happening every summer in Ontario's forests. Indigenous scientific knowledge, observations from people living close to the forest, and an emerging body of Western science all confirm that the impacts are catastrophic.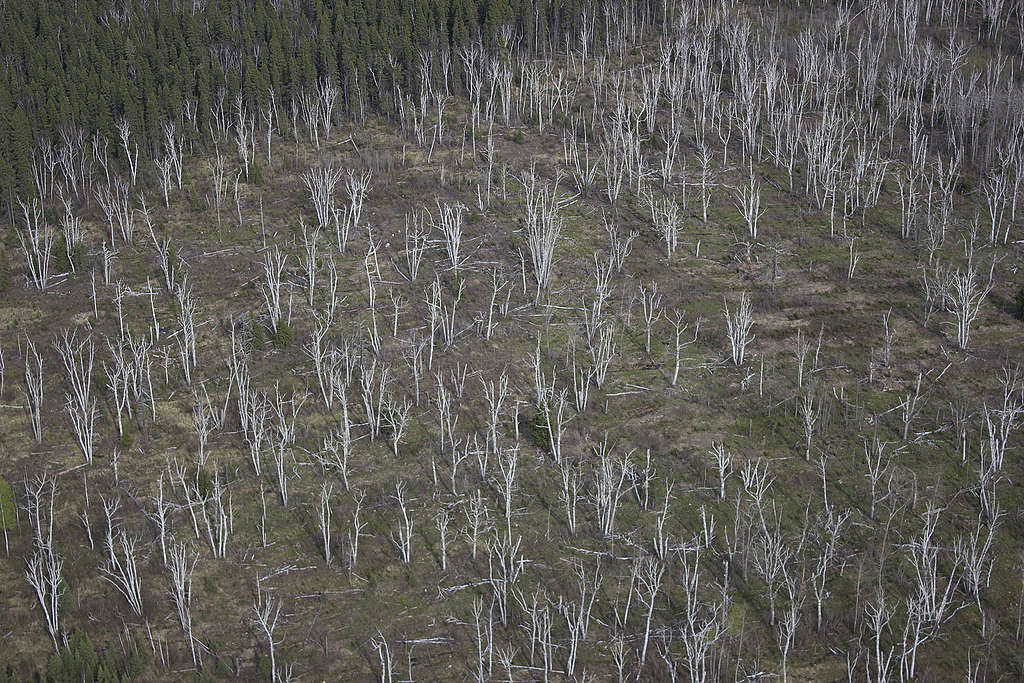 The Traditional Ecological Knowledge (TEK) Elders of the North Shore of Lake Huron, Ontario report wide reaching impacts throughout the ecosystem: "We believe that glyphosate and the additives that enhance its potency are harming the health and well-being of the water, soil, birds, plants, fish, amphibians, invertebrates, humans and other mammals." [2] They warn of plummeting numbers of wildlife like beaver, porcupine, skunks, birds and bees. [3]
Plants that survive the initial glyphosate spray show strange mutations. Small amounts of the chemical have been detected years later in their leaves, fruit, flowers and roots, [4] which are food sources for a wide variety of wildlife.
The conifer forest planted after the glyphosate spray doesn't provide the same range of habitat as a mixed forest. [5] It is hotter and drier, and more prone to devastating forest fires. [6] It also absorbs and stores less carbon. [7]
As our planet warms, we can anticipate devastating increases in climate-exacerbated weather events. Forest fire researchers project that "fire weather" will increase 50% in Western Canada and 300% in Eastern Canada by the end of the century. [8]
We must preserve mixed forests which serve as key natural resources that dampen the impact of forest fires.
Despite efforts by Monsanto [9], a growing body of scientific evidence has linked glyphosate to very serious human health problems. High glyphosate exposure is found to lead to a significant increase in specific types of cancer. [10] Consuming foods with so-called "safe" levels of glyphosate kills off beneficial gut bacteria, which can lead to a wide range of health issues including chronic disease and mental health problems. [11] Glyphosate acts as an endocrine (hormone) disruptor and is linked with a higher risk of birth defects, miscarriages, and a range of fertility and reproductive problems in men and women. [12]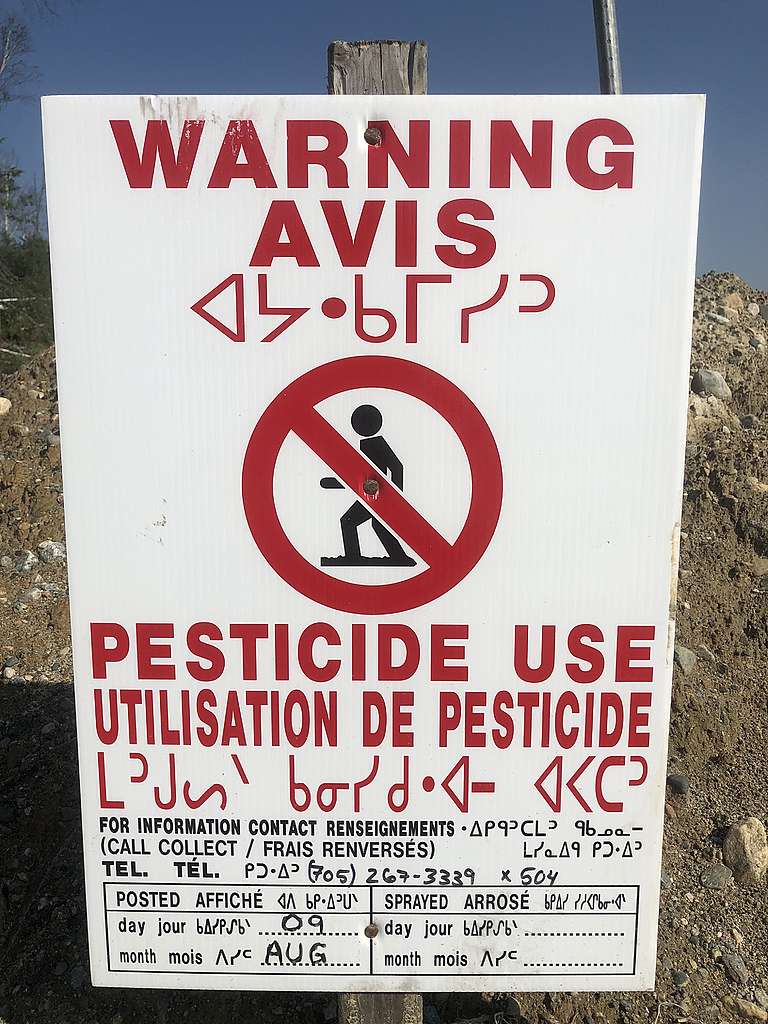 Yet the federal government maintains that "products containing glyphosate do not present unacceptable risks to human health or the environment when used according to the revised product label directions." [13] And provincial governments like Doug Ford's in Ontario use this position as justification to continue allowing aerial glyphosate spraying in forests. [14]
First Nations across Northern Ontario have been fighting for decades to end aerial glyphosate spraying on their territories. They see the direct impacts of the "rain of death", as many call it. The practice violates Indigenous peoples' fundamental rights – to health and safety, to harvest their traditional foods and medicines, and to consent to activities on their lands.
In February, First Nations leaders again called on Doug Ford to act. [15] But the Premier has refused.
Banning glyphosate for forestry is surprisingly simple – and it has already been done. Quebec banned glyphosate and all herbicides for use in forestry back in 2001. Instead, the province uses manual methods to manage forest regrowth, which actually creates more jobs. [16] It may cost logging companies a little more, but they've managed to stay in business just fine.
People-powered momentum to stop glyphosate spraying is increasing across Canada. Last year, protesters prevented forests from being sprayed in Nova Scotia. [17] Other grassroots movements in New Brunswick [18] and British Columbia [19] are similarly dedicated to banning use of the herbicide.
Now let's stop glyphosate spraying in Ontario's forests.
Doug Ford is once again prioritizing the interests of a handful of large corporations over Indigenous rights, over science, over the health and safety of people of Ontario, and over the environment.
We cannot let this stand. It's time to back First Nations' fight and demand Doug Ford ban glyphosate spraying in Ontario's forests – before more forest is poisoned!
And if we can win in Ontario, we can build momentum to the frontline fights to ban glyphosate in other provinces across Canada.
---
References
Wood, Lisa, 2020 lecture at UNBC, 'Let's talk about herbicide residues in forest communities: what are they doing?'.
TEK Elders website, 'Our Position on the Proposed Re-evaluation Decision for Glyphosate'.
APTN News, 2019, 'Poison on our Land' and TEK Elders website
Wood, Lisa, 2020 and 2019, 'The presence of glyphosate in forest plants with different life strategies one year after application', Canadian Journal of Forest Research.
Herb Hammond quoted in Rabble.ca, 2021, 'Stopping the 'rain of death' on Canada's forests'.
Lori Daniels quoted in CBC, 2019, 'Grooming forests could be making fires worse, researchers warn'.
Herb Hammond in Rabble.ca 2021
Climate Atlas of Canada, https://climateatlas.ca/forest-fires-and-climate-change
See "The Monsanto Papers" or "The Monsanto Secret Documents" published by law firm Baum Hedlund Aristei & Goldman.
Zhang, Luoping et al., 2019, 'Exposure to glyphosate-based herbicides and risk for non-Hodgkin lymphoma: A meta-analysis and supporting evidence', Mutation Research/Reviews in Mutation Research.
Barnett, Jacqueline A. & Deanna L. Gibson, 2020, 'Separating the Empirical Wheat From the Pseudoscientific Chaff: A Critical Review of the Literature Surrounding Glyphosate, Dysbiosis and Wheat-Sensitivity', Frontiers in Microbiology.
Muñoz, Juan P. et al, 2020, 'Glyphosate and the key characteristics of an endocrine disruptor: A review', Chemosphere.
Health Canada Pest Management Regulatory Agency, 2017, Re-evaluation Decision RVD2017-01, Glyphosate.
CBC, 2019 'Governments say glyphosate is safe, but some say 'poison' is being sprayed on northern forests'
The Robinson Huron Treaty chiefs via a February 24 joint letter. Source: APTN, 2021, 'Greens get behind Great Lakes Anishinaabeg in fights against controversial herbicide, Enbridge Line 5'
Roy, Vincent et al, 2003, 'Integrated Forest Vegetation Management in Québec (Canada): An Effective Alternative to Herbicides', Forest Research Branch, Ministère des Ressources naturelles, de la Faune et des Parcs du Québec.
CBC, 2020 https://www.cbc.ca/news/canada/nova-scotia/herbicide-spraying-glyphosate-annapolis-county-protests-occupy-land-cancel-1.5728775
Stop Spraying New Brunswick, http://www.stopsprayingnb.ca/?page_id=118
Stop the Spray BC, http://stopthespraybc.com/