RBC claims to be committed to climate action, yet Canada's largest bank (and the fifth largest financier of fossil fuels in the world) is allocating a mere 1% of its energy finance to renewable energy.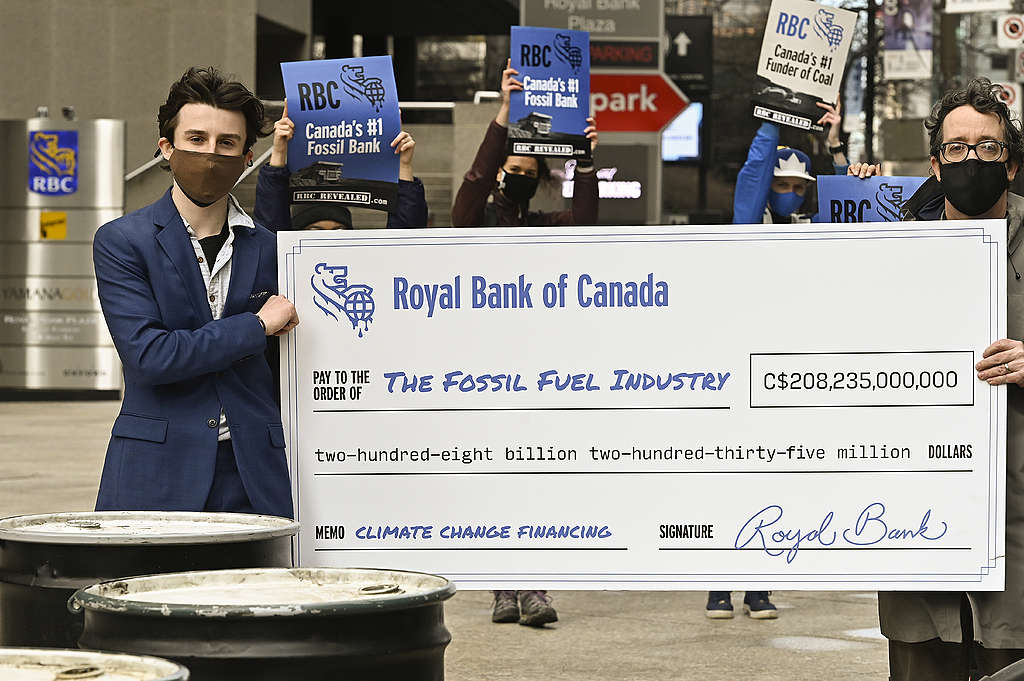 RBC is not the only climate arsonist. Since 2016, the world's 60 largest commercial banks provided $2.5 trillion (US dollars) in loans and bond underwriting to energy activities. Of that, $2.3 trillion (92%) was related to the production of fossil fuel energy and just $178 billion (7%) was related to clean energy activities such as wind and solar.
This needs to change.
What should the banks fund instead of more fossil fuels?
Rather than pouring billions into false solutions like carbon capture or fossil-derived hydrogen that extend the life of the destructive fossil-based energy system, banks should be investing in the energy system we need to live sustainably and respect, uphold and affirm Indigenous rights. While the details vary between scenarios, the electrification of transport and heating is at the core of any credible low-carbon future.
"As electricity generation becomes progressively cleaner, electrification of areas previously dominated by fossil fuels emerges as a crucial economy-wide tool for reducing emissions." – International Energy Agency, Net Zero by 2050.
Some of the things that banks should be supporting with the money they now give to fossil fuels:
We have the climate solutions we need – we just need to put people to work building them and that will require big investments.
Right now the banks – by continuing to put 99% of their energy finance into fossil fuels – are a part of the problem. If they won't do it on their own, then we should demand that our elected officials make them be part of the solution.