Brussels – As EU leaders discuss the future of the EU electricity market, new research reveals how much money goes to supporting coal, gas and nuclear in the form of so-called capacity mechanisms.
Almost €58 billion – 98% of these subsidies – [1] is being added to energy bills to prop up coal, gas and nuclear plants, according to analysis and data gathered by Greenpeace. In the last twenty years, spending on capacity mechanisms across the EU has nearly quadrupled [2].
Greenpeace EU climate and energy policy adviser Sebastian Mang said: "Big power companies are cashing in on subsidies that divert public money to keep unprofitable, polluting plants alive. Bankrolling dirty energy heats up the planet, contaminates the environment and endangers lives through air pollution and climate change. Propping up coal, gas and nuclear is also slowing down the transition towards 100% renewable energy, which is crucial to avert the climate chaos Europeans are beginning to experience in their everyday lives. European governments must end this dirty practice."
Capacity mechanisms are a type of controversial subsidy given to coal, gas and nuclear plants, supposedly to ensure supply in case extra power is needed. The plants that receive the subsidies are rarely called on (here are some examples from the UK and Germany) and, when they are, they often fail.
To date, capacity mechanisms have cost consumers €32.2 billion. A further €25.7 billion has been earmarked until 2040. The biggest users of capacity mechanisms are Spain, Poland, Belgium, Ireland and the UK.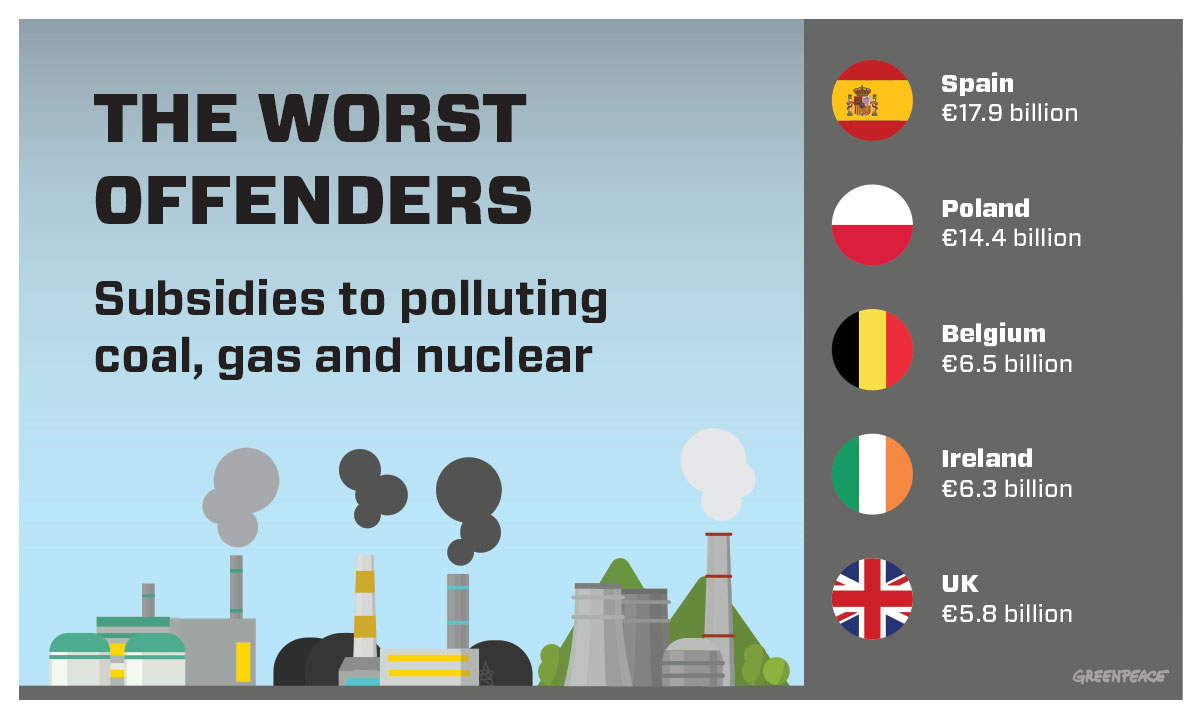 This autumn, national governments and the European Parliament will decide whether or not capacity mechanisms will be restricted by EU law. Whilst the European Commission and Parliament want restrictions, national governments have rejected them. Poland, the UK, and Greece are leading the charge in favour of capacity mechanisms so that they can continue to subsidise their unprofitable fossil fuel and nuclear power plants.
For more information, read our media briefing and consult the data.
Notes:
[1] This number was extrapolated from the available data on capacity mechanisms and which fuel sources received them. More information on methodology can be found in the data file.
[2] Data was gathered and analysed for past, existing and planned capacity mechanisms in Europe, from the time they started in 1998.
Contacts:
Sebastian Mang – Greenpeace EU energy policy adviser: +32 479 601 289, sebastian.mang@greenpeace.org
Laura Ullmann – Greenpeace EU press officer:  +32 476 988 584, [email protected]
For breaking news and comment on EU affairs: www.twitter.com/GreenpeaceEU
Greenpeace is an independent global campaigning organisation that acts to change attitudes and behaviour, to protect and conserve the environment and to promote peace. Greenpeace does not accept donations from governments, the EU, businesses or political parties.