UN panel exposes inadequacy of EU climate action
Brussels/Incheon (Korea) – In a special report released today in Korea, the United Nations' Intergovernmental Panel on Climate Change (IPCC) exposed the inadequacy of European action on climate change, said Greenpeace.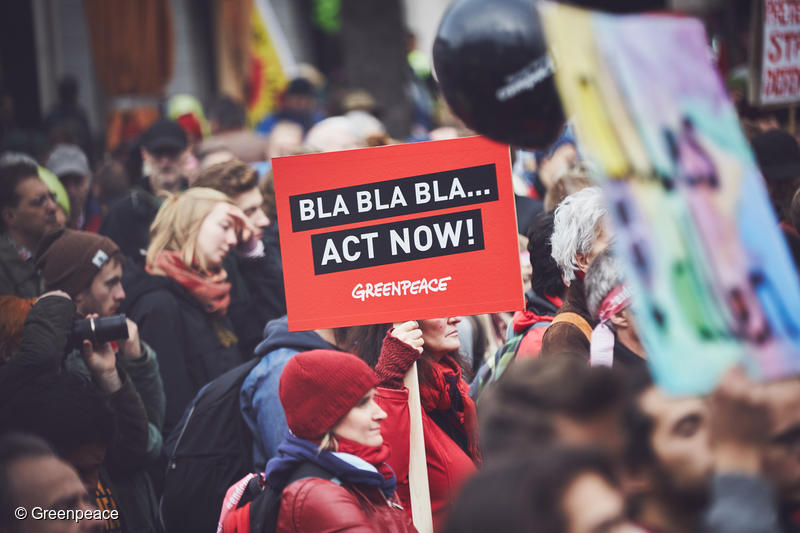 The IPCC warned that the world must halve carbon emissions by 2030, before falling to net zero by mid-century at the latest, to limit global warming to 1.5°C and avoid the worst impacts of climate change. At current rates, average global temperatures are expected to exceed 1.5°C somewhere between 2030 and 2052.
The European Union has pledged to cut its carbon emissions by at least 40% by 2030 and will review its long-term climate strategy in the coming months.
Greenpeace EU climate and energy policy director Tara Connolly said: "This report is the scientific equivalent of a kick in the ass. It clearly exposes the inadequacy of Europe's action on climate change, in a year when millions of Europeans have suffered tragic forest fires, deadly heatwaves and devastating drought. The world's top climate scientists have spelled out how much worse it will be if we go over 1.5°C of warming, but they've also said we still have a fighting chance.
"The good news is that Europe can play a major role in turning the tide on climate change. People are already taking action: from mass protests against the expansion of coal mines in Germany, to communities fighting energy poverty with solar power in Greece. Our governments and the EU need to catch up fast: the first steps must be to radically increase 2030 climate targets and commit to a carbon-neutral Europe by 2040."
European environment ministers will meet in Luxembourg on 9 October to agree the EU's negotiating mandate for the UN climate conference that will take place in Katowice, Poland, in December 2018.
The European Commission is expected to release its draft long-term climate strategy for 2050 on 28 November. EU governments are expected to agree on the EU's final long-term strategy in 2019.
IPCC report: key findings
To meet the 1.5°C target, coal consumption would need to be cut by at least two thirds by 2030 and fall to almost zero in electricity production by 2050. Renewables would need to supply 70-85% of electricity in 2050, although trends show even higher potential. The report finds that the substantial improvement in solar, wind and electricity storage technologies could be a sign that a system transition has already started.
Oil and gas use will need to decline rapidly too. A pathway that does not rely on unproven CO₂ removal technologies would see oil use declining by 37% below 2010 levels by 2030.
Natural climate solutions, such as forest protection and reforestation, have the potential to provide over a third of the cost-effective CO₂ mitigation needed by 2030 for a 2°C target, implying high potential for a 1.5°C target.
***For more detailed information on the special IPCC report, please see this media briefing.
Contacts:
Brussels
Tara Connolly – Greenpeace EU climate and energy policy director: +32 (0)477 790416, [email protected]
Greenpeace EU press desk: +32 (0)2 274 1911, [email protected]
Korea
Maria Elena De Matteo – Global communications strategist, Greenpeace East Asia:  +82 10 6829 0949, [email protected]
For breaking news and comment on EU affairs: www.twitter.com/GreenpeaceEU
Greenpeace is an independent global campaigning organisation that acts to change attitudes and behaviour, to protect and conserve the environment and to promote peace. Greenpeace does not accept donations from governments, the EU, businesses or political parties.