Brussels – Days after the international community failed to call for more climate action to limit global warming to 1.5°C at the UN climate conference in Poland, European governments pushed through legislation allowing EU countries to continue subsidising fossil fuels and nuclear power.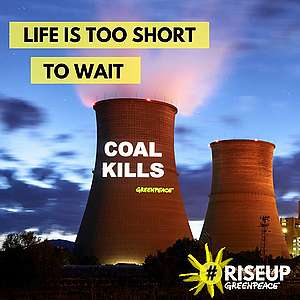 Greenpeace EU climate and energy policy adviser Sebastian Mang said: "At a time when Europeans are increasingly feeling the effects of climate change and struggling with rising living costs, governments continue to use taxpayers' money to prop up the worst polluters. Fossil fuel and nuclear industries rely on public money to be profitable. By refusing to stop subsidies to fossil fuels, many EU governments have shown they are not serious about climate action."
One of the main points of contention in negotiations between EU governments and the European Parliament was who should have the power to approve the subsidies – known as capacity mechanisms, a type of hidden subsidy given to coal, gas and nuclear plants supposedly to ensure supply in case extra power is needed. The European Commission and Parliament were pushing for these subsidies to be subject to an EU-wide evaluation of the power generation capacity. Governments wanted to maintain full control. The final agreement allows EU countries to disregard the EU assessment and base capacity mechanism attribution solely on their own assessments.
Linking emission limits to the subsidies, which will mainly affect coal plants, was also controversial. Under the final agreement, governments will not be allowed to grant capacity mechanisms to plants that emit more than 550g CO2/kWh. However, this limit will only come into force in 2021 for new plants, and 2025 for existing plants. Until late on Tuesday night, it seemed these emission limits would apply from as late as 2030, but due to a last minute push by a number of governments and persistence by the Parliament negotiating team a more favourable deal was reached.
Additionally, capacity mechanisms  authorised before the start of 2020 will be exempt from these new EU rules. This means some power stations, in Poland for example, could receive subsidies until 2035, without having to comply with the new regulations. In Europe, coal should be phased out by 2030 to be in line with the Paris Climate Agreement, says Greenpeace.
Power plants that receive capacity mechanisms are rarely called on (here are some examples from the UK and Germany) and, when they are, they often fail.
A recent Greenpeace report showed that governments are already covertly adding almost €58 billion to energy bills to fund capacity mechanisms. Of these subsidies, 98% go to fossil fuels and nuclear energy.
Contacts:
Sebastian Mang – Greenpeace EU energy policy adviser: +32 (0)479 601289, [email protected]
Greenpeace EU press desk: +32 (0)2 2741911, [email protected]
For breaking news and comment on EU affairs: www.twitter.com/GreenpeaceEU
Greenpeace is an independent global campaigning network that acts to change attitudes and behaviour, to protect and conserve the environment and to promote peace. Greenpeace does not accept donations from governments, the EU, businesses or political parties.