European political leaders attending a crucial summit in Brussels on 20 and 21 June will face three major tests of their commitment to tackle the climate crisis.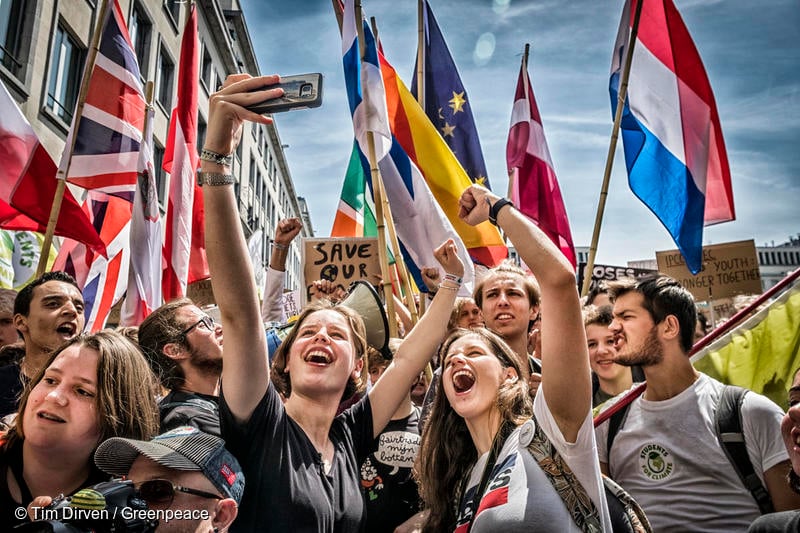 Test #1 – top job
European leaders are expected to settle on their choices for the EU's top jobs: European Commission president, president of the European Council – the permanent chair of EU summits – and the EU's foreign policy chief. The choice of Jean-Claude Juncker's successor as Commission president is expected to be the most contentious decision.
The Commission president wields a significant amount of power. The institution has the exclusive right to table new EU laws, to draft the EU budget, to negotiate trade deals, to represent the EU at international level, and to hold national governments to account when they flout common EU rules.
Whoever national governments pick for the job must show credible commitment to confront the climate and ecological crisis and make it a priority for the Commission. Stopping climate breakdown and the destruction of our natural life support systems cannot be an afterthought.
The development of an environmentally and socially sound economic system founded on wellbeing, quality of life and human rights must be the yardstick for EU policies on all levels, from the environment to the EU budget, from farming to trade, from energy to competition, and from immigration to state aid.
The EU needs a Commission president with genuine vision, steely dedication and the guts to stand up to powerful vested interests. Appointing a reluctant climate convert as the next Commission president will signal that Europe is not ready to respond to humanity's greatest ever challenge.
Test #2 – top priority
European leaders meeting later this month will also set the European Union's political direction and top priorities for the next five years.
An early leaked draft of the strategic agenda 2019-2024 showed that some governments are still reluctant to embrace policies that truly address the existential climate and ecological crisis, while also redressing social inequalities and protecting human rights.
While the draft lists climate action as one of its four priority areas – and mentions a litany of green buzzwords – it fails to refocus the EU's economic and trade agenda so that it benefits people and planet. It also does not recognise the urgency of steep emission cuts, as demanded by science. What is worse, it makes any progress on climate conditional on "national circumstances" and other non-EU countries stepping up action.
Instead, the draft indicates that European leaders want to prioritise economic growth for its own sake, and pursue an overblown anti-immigration and defence agenda. If confirmed, this approach would continue driving the climate and ecological crisis and social inequalities, and fuelling division and conflict.
As it stands, the EU's five-year plan is out of touch with climate science and people. A growing number of Europeans, especially young people, are calling for a socially just environmental transition. During the recent European Parliament elections, environmental issues were hot topics in many countries, and parties focused on the environment got record levels of support.
European governments still have a chance to revise the EU's five-year plan before it is submitted to heads of state and government for final approval. They need to show that the EU is prepared to rethink its priorities and that it will take on a leading role in advancing global climate and environmental action.
Test #3 – top gear
The final and most urgent test will be whether European leaders acknowledge the need to bolster the EU's current climate commitments for 2030 and back a new net-zero target for greenhouse gas emissions.
These issues may not get top billing at the summit, but time is running out for the EU – which has cumulatively caused more emissions than any other region in the world after the US – to pull its weight in the global fight against climate breakdown. European climate leadership will in fact be tested well before the new Commission and Council presidents take office towards the end of the year.
The June summit is the last chance for the EU to show it is prepared to shift climate action into top gear ahead of a special UN climate summit in New York in September. United Nations' secretary-general António Guterres has called on governments to urgently upgrade their commitments to keep global heating below the threshold of 1.5°C above pre-industrial levels.
Current global climate commitments would result in well over 3°C of global heating, unleashing cataclysmic effects for humanity and the natural world. The EU's targets, which were agreed before the Paris climate agreement, do not comply with the 1.5°C objective. If the EU is serious about leading global efforts to stop climate breakdown, European governments need to signal in June that they are prepared to correct this.
Ultimately, this would require raising the 40% 2030 target to a 65% cut in emissions, and introducing measures to ensure that poorer and vulnerable people are not disproportionately impacted by climate policies. Instead, those most responsible for causing emissions, in particular some of the world's wealthiest and most powerful corporations, should mainly carry the cost of climate action, or else the poor and powerless will bear the much greater cost of inaction.
European leaders must also endorse a net-zero climate target with a deadline no later than 2040. This essentially means that by then, the very small amount of greenhouse gases still emitted in Europe is balanced out by climate measures like planting trees. The Commission has made clear that reaching net-zero emissions is not only feasible, but also in Europe's economic interest, with health benefits worth billions, savings of trillions in oil and gas imports, and millions of new jobs.
A sizeable pack of around a dozen EU governments, led by France, Spain, the Netherlands, Belgium, Sweden, Portugal, Denmark, and Luxembourg, have backed deeper emission cuts by 2030 and a 2050 net-zero target. After sitting on the fence for a considerable time, German chancellor Angela Merkel will have to prove her commitment and help bring all countries on board.
What is certain is that, as European students enter exam season on the back of a tumultuous year of climate protests, Europe's political leaders will face a much tougher test of their climate credibility.
Contact: Greenpeace EU press desk: +32 (0)2 274 1911, [email protected]
For breaking news and comment on EU affairs: www.twitter.com/GreenpeaceEU
Greenpeace is an independent global campaigning organisation that acts to change attitudes and behaviour, to protect and conserve the environment and to promote peace. Greenpeace does not accept donations from governments, the EU, businesses or political parties.