Poland blocks progress with small number of opponents
Brussels – After talks at an EU summit in Brussels, European leaders have failed to back an EU target to reach net-zero greenhouse gas emissions by 2050, and passed up the last opportunity to raise the EU's current 2030 targets ahead of a crucial UN climate summit in September.
They also adopted a set of four priorities for the EU over the next five years, including climate action. But the strategic agenda 2019-2024 fails to recognise the urgency of steep emission cuts, as demanded by science and millions of Europeans.
Greenpeace EU climate policy adviser Sebastian Mang said: "Hollow words can't rebuild a house flattened in a mudslide or repay a farmer who's lost their harvest to drought. Merkel and Macron failed to convince Poland and bring others on board. With people on the streets demanding action and warnings from scientists that the window to respond is closing fast, our governments had a chance to lead from the front and put Europe on a rapid path to full decarbonisation. They blew it."
"European leaders must call for an emergency EU climate summit to salvage Europe's credibility ahead of a crucial UN meeting in September," added Mang.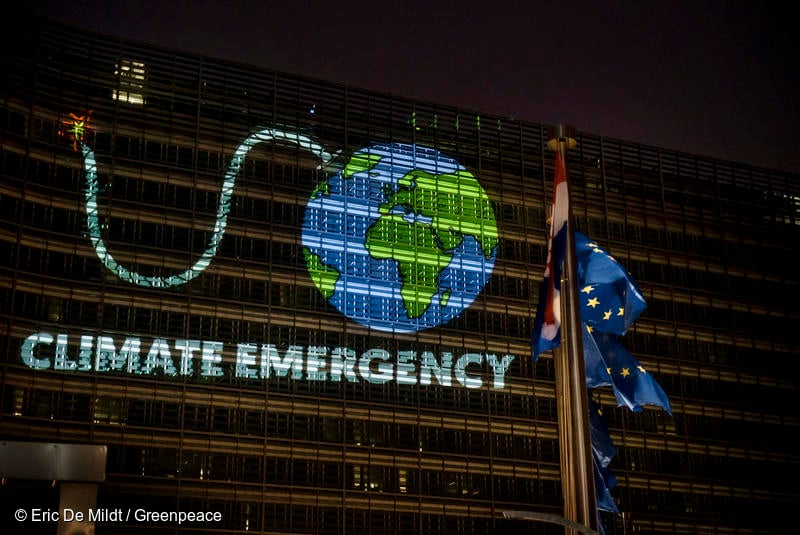 A vast majority of governments supported the European Commission's proposed target of net-zero emissions by 2050 in the lead up to the EU summit, with several countries, including Germany, only confirming their support late in the negotiations. Poland, Hungary, the Czech Republic and Estonia opposed the target. The agreement only notes in a footnote that a "large majority" of countries supported a 2050 target and does not mention plans to increase the EU's 2030 target.
Greenpeace is calling on the EU to cut greenhouse gas emissions by 65% by 2030 (compared to 1990 levels) and to achieve net-zero emissions by 2040, in line with scientific advice to prevent a full-blown climate crisis. A net-zero target would require almost completely eliminating greenhouse gas emissions, with any remaining emissions compensated for by measures like planting trees.
The EU's strategic agenda prioritises economic growth for its own sake, and pursues an anti-immigration and defence agenda. Greenpeace warned that this approach would continue driving the climate and ecological crisis and social inequalities, and fuelling division and conflict.
Greenpeace EU democracy policy adviser Ariadna Rodrigo said: "The short-term growth agenda pursued for decades in Europe has failed to deliver a liveable planet and a fair society. Unfortunately, this strategic agenda continues business as usual, when it should make confronting the climate emergency, reducing inequality and promoting people's wellbeing the top priorities of the next Commission."
**Greenpeace video projection on Brussels EU buildings ahead of EU summit**
Contacts:
Sebastian Mang – Greenpeace EU climate policy adviser: +32 (0)479 601289, [email protected]
Greenpeace EU press desk: +32 (0)2 2741911, [email protected]
For breaking news and comment on EU affairs: www.twitter.com/GreenpeaceEU
Greenpeace is an independent global campaigning network that acts to change attitudes and behaviour, to protect and conserve the environment and to promote peace. Greenpeace does not accept donations from governments, the EU, businesses or political parties.