Incoming EU Commission President greeted in The Hague with burning globe
The Hague – Greenpeace activists greeted incoming President of the European Commission, Ursula von der Leyen, this evening in The Hague with a burning globe of several metres high and a banner reading "Climate Crisis: Save Forests Now". Von der Leyen was visiting Dutch Prime Minister Rutte at his residence to discuss climate policies, among other issues.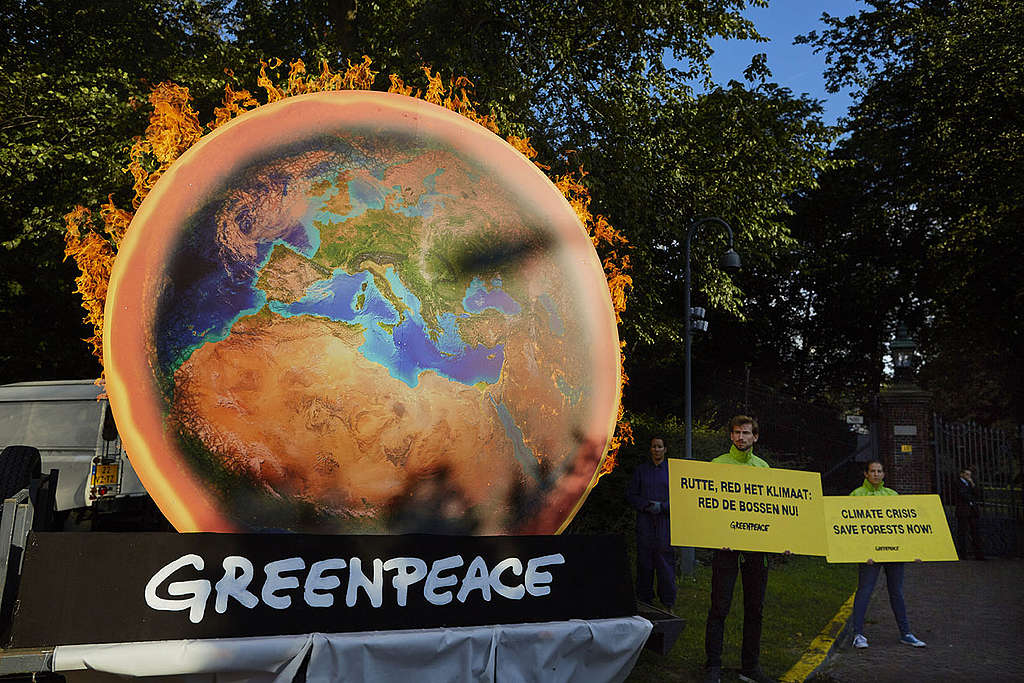 **Print-quality photos available here**
Hilde Stroot, Greenpeace Netherlands spokesperson, said: "Forests are one of our best defences against climate breakdown, but European consumption and investments are driving forest destruction around the world. Ms von der Leyen and Mr Rutte must urgently bring EU climate policies in line with science, and that must include new laws ensuring that the products Europeans buy, or the banks they save in, are not funding deforestation of the Amazon or anywhere else. We call on the EU to radically reform its common agricultural policy so that Europe produces and consumes less and better meat and dairy, and curb our contribution to global deforestation."
Climate emergency
In order to avoid catastrophic climate impacts, global temperature increases must be limited to 1.5 degrees Celsius. Greenpeace calls on incoming Commission President von der Leyen and Prime Minister Rutte to draw up a European climate emergency plan in line with science. Europe must reduce its greenhouse gas emissions by at least 65% by 2030 and achieve net zero emissions by 2040 at the latest.
EU action to protect forests needed
Greenpeace believes that the drastic reduction of Europe's global forest footprint must be part of this emergency plan. European consumption of products such as soy (for animal feed), meat and palm oil leads to deforestation and nature destruction around the world. Greenpeace is calling on the EU to introduce new laws that would ban products from the European market if they are linked to forest destruction, and prevent European companies or financial institutions from investing in projects that drive deforestation or leading to violations of the rights of indigenous peoples. In addition, the EU must radically reform its common agricultural policy and take other measures to reduce the EU's production and consumption of meat and dairy, and to ensure that the meat and dairy produced and consumed is ecological.
Mercosur
Greenpeace is also calling on the EU to suspend the Mercosur trade agreement until the protection of the Amazon and other natural areas in the Mercosur countries is guaranteed. The current deal will only increase European imports of products that encourage deforestation.
Self-regulation fails
In 2010, 400 major companies committed to free their supply chains from deforestation by 2020. The recent Greenpeace report Countdown to Extinction shows that none of these companies are on track to fulfil these promises.
Greenpeace, together with 25 other civil society organisations, sent a letter on combating deforestation to the heads of the European Commission and European Parliament and to European heads of state and government, including Dutch Prime Minister Rutte. The letter calls on them to introduce new laws to end the EU's contribution to forest destruction and to suspend the Mercosur trade deal.
For more information please contact:
Greenpeace Netherlands press desk Margaux Tjoeng: + 31 (0)6 27 00 00 63 / +31 (0)6 21 29 68 95
Greenpeace EU press desk:  +32 (0)2 274 1911, [email protected]
For breaking news and comment on EU affairs: www.twitter.com/GreenpeaceEU
Greenpeace is an independent global campaigning organisation that acts to change attitudes and behaviour, to protect and conserve the environment and to promote peace. Greenpeace does not accept donations from governments, the EU, businesses or political parties.