189 civil society organisations support a statement declaring "we need a firewall that protects our democratic institutions and our decision-making from fossil fuel industry interference: no more private lobby meetings, partnerships or collaboration."
Read the full statement with all signatories here
Read the research showing the lobbying activities in Brussels of the five largest oil and gas companies
Read our joint press release with Corporate Europe Observatory, Friends of the Earth Europe and Food and Water Europe here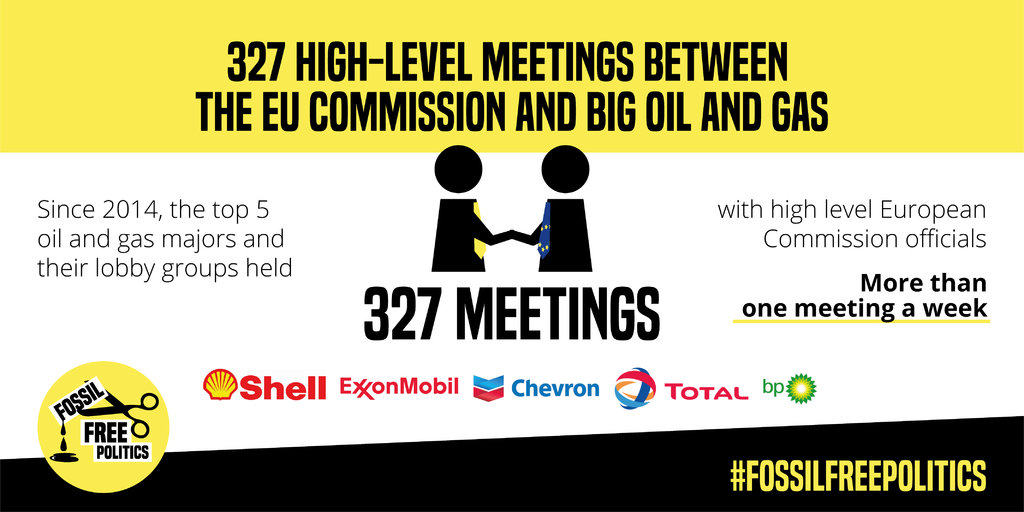 Dear decision-makers,
We are facing a climate emergency, created by the fossil fuel industry. We demand fossil free politics.
Communities are already feeling the impacts of climate chaos, with record storms, droughts, and fires – hitting the global South especially hard. Our right to life, health, food, and an adequate standard of living is at risk, while a privileged few live a life of luxury.
More than two-thirds of man-made greenhouse gas emissions come from one single source: the fossil fuel industry. To prevent global climate breakdown, the vast majority of these companies' reserves of gas, oil and coal must stay in the ground. We need large-scale and urgent action to shut down fossil fuels and transition to 100% renewable energy, putting workers and communities first.
The fossil fuel industry is one of the most lucrative sectors in history – with Shell, BP, and ExxonMobil alone pocketing nearly $55 billion in 2018.
The industry has for decades polluted our politics to protect its profits. Fossil fuel companies have relentlessly tried to deny science, and delay, weaken, and sabotage climate action – despite knowing their business heats the planet and destroys communities all along the supply chain. Their business model is killing our present and our future.
The world's governments pledged in the Paris Climate Agreement to keep global heating below 1.5 degrees. But since it was signed, the big five fossil fuel corporations – Shell, BP, ExxonMobil, Total, and Chevron – have spent $1 billion on lobbying and advertising undermining this goal.
These corporate lobbying tactics have been devastatingly effective: the EU and European governments are continuing to set inadequate emission limits and renewable energy
targets, still encouraging us to consume fossil fuels, still subsidising new gas pipelines and coal plants, and are still promoting false solutions.
This stops now. Millions of young people have taken to the streets, joining forces with others across the world to demand climate justice and a fossil free future. We can no longer allow
the fossil fuel industry to be involved in democratic decision-making to halt climate chaos, fix our energy system, and protect people and planet.
The only way forward is to ensure that climate and energy policy is conducted entirely in the public interest. Similar to existing restrictions on tobacco industry lobbyists,
we need a firewall that protects our democratic institutions and our decision-making from fossil fuel industry interference: no more private lobby meetings, partnerships, or collaboration.
We need fossil free politics – before it's too late.
We call on our political institutions to champion fossil free politics:
1) Institute a firewall to end fossil fuel industry access to decision-making: no lobby meetings; no seats in expert and advisory bodies;
no role in governmental research bodies.
2) Avoid conflicts of interest of decision makers: no revolving door between public office and the fossil fuel industry; no industry side jobs or placements; no hiring of industry consultants.
3) End preferential treatment of the fossil fuel industry: no involvement in climate negotiations; no place on government delegations to international negotiations or trade missions; no more subsidies or incentives for fossil fuel related activities.
4) Reject partnerships with the fossil fuel industry: no sponsorships or partnerships; no sharing platforms with industry representatives; no hosting or attending of industry events; no party or candidate donations.
Read the full statement with all signatories here
Read the research showing the lobbying activities in Brussels of the five largest oil and gas companies
Read our joint press release with Corporate Europe Observatory, Friends of the Earth Europe and Food and Water Europe here