EU must take immediate action to cut emissions
Brussels, 28 November 2019 – Today the European Parliament is expected to adopt a resolution declaring a climate emergency. The move is likely to be approved by all political groups, the EPP, S&D, Renew Europe, the Greens and GUE, with the latter two objecting to the lack of substance in the declaration.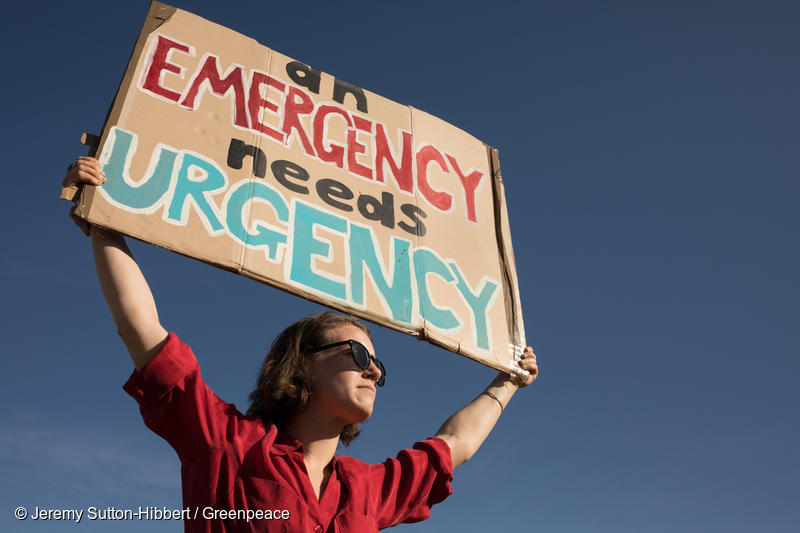 Members of the European Parliament are also expected to adopt a separate resolution on the 2019 UN climate change conference starting on 2 December in Spain. This resolution reconfirms the European Parliament's position of raising the 2030 EU emission reduction target to 55%. Unfortunately, the 55% target would not yet be sufficient to limit global heating to 2°C, let alone to 1.5°C. To avoid a full-blown climate crisis, environmental groups are calling on the EU to cut greenhouse gas emissions by at least 65% by 2030 (compared to 1990 levels) and to achieve net-zero emissions by 2040.
Greenpeace EU climate policy adviser Sebastian Mang said: "Our house is on fire. The European Parliament has seen the blaze, but it's not enough to stand by and watch. To put out the flames, we have to take immediate measures in line with the science, drastically reduce emissions, protect and restore the natural environment. Holding fossil fuel companies responsible, investing in rail and public transport, supporting communities investing in renewable energy, banning pesticides and ending subsidies for factory farms are just some of the bold ways to take action now."
For more information about the political timeline and the relevant science, please refer to our media briefing.
Contacts:
Sebastian Mang – Greenpeace EU climate policy adviser +32 (0)479 601289, [email protected]
Greenpeace EU press desk: +32 (0)2 274 1911, [email protected]
For breaking news and comment on EU affairs: www.twitter.com/GreenpeaceEU
Greenpeace is an independent global campaigning organisation that acts to change attitudes and behaviour, to protect and conserve the environment and to promote peace. Greenpeace does not accept donations from governments, the EU, businesses or political parties.