No new laws to tackle deforestation despite green deal pledge
Brussels – The European Commission could derail the prospects of a global climate deal at the end of this year by delaying a plan to upgrade the European Union's 2030 emission reduction target until after the summer, warned Greenpeace.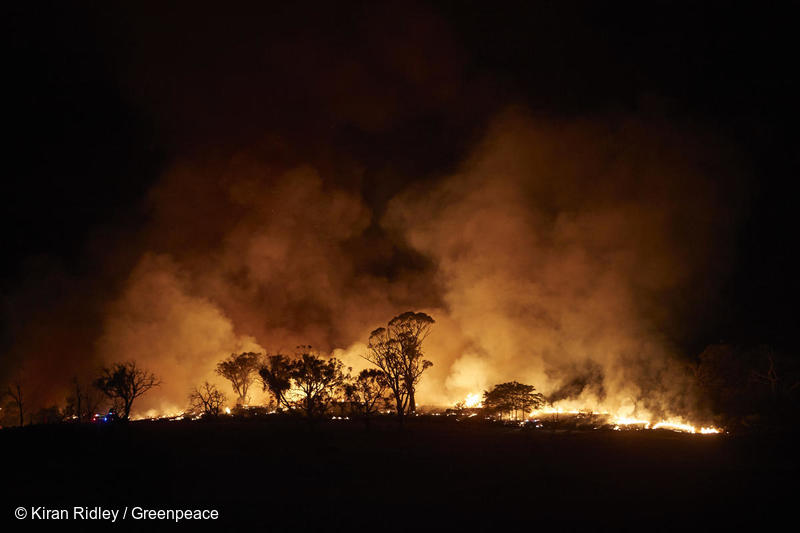 According to an annual work programme released on Wednesday, the Commission would not table a plan to increase the EU's current 40% emission reduction target for 2030 until the second half of the year. The work programme also implies that the Commission would not include a revised 2030 target when it releases a draft EU climate law in late February. This would leave governments only one EU summit in October to agree the new target in time for a UN climate summit in November in Glasgow.
Greenpeace EU climate policy adviser Sebastian Mang said: "Commission President von der Leyen recognises that our house is on fire but says Europe should wait until autumn to even talk about dousing the flames. If the Commission is serious about climate action, it must put forward a science-based 2030 climate target well before an EU summit in June. Delaying until September would be a major blow to the Commission's green deal ambitions and its aim to encourage other blocs to get behind a global climate deal."
Under the Paris climate agreement, governments must submit new or updated 2030 climate plans before the Glasgow summit. These plans must commit governments to measures limiting global heating to as close as possible to 1.5°C, in order to avoid full-blown climate breakdown. The delayed timetable means the EU could go to Glasgow empty handed.
Governments needed over a year to agree to reduce EU emissions to net-zero by 2050, after opposition from Poland and a handful of other countries.
Earlier this month, the European Parliament called for a 55% 2030 target to be included in the draft climate law, well ahead of an EU-China summit in September and the climate summit in November.
To limit global heating to 1.5°C, Greenpeace is calling on the EU to upgrade its 2030 target to at least 65% cuts in emissions (compared to 1990 levels) and achieve climate neutrality by 2040.
A UN report shows that current global climate pledges will lead to 3.2°C of global heating, while the EU's current targets would lead to up to 3°C of heating.
Deforestation
The Commission's work programme also fails to mention any new legislation to ensure deforestation-free supply chains for goods sold on the EU market, despite the Commission promising in its green deal that it would announce measures "from 2020". The EU has pledged to halt global deforestation by the end of 2020.
Both governments and the European Parliament have called for new legislation to ensure deforestation-free supply chains. Greenpeace is calling on the EU to introduce new laws by the end of 2020 to ensure that no soy, meat, palm oil or other products sold in the EU drive further forest destruction or human rights violations.
Contacts:
Sebastian Mang – Greenpeace EU climate policy adviser: +32 (0)479 601289, [email protected]
Greenpeace EU press desk: +32 (0)2 274 1911, [email protected]
For breaking news and comment on EU affairs: www.twitter.com/GreenpeaceEU
Greenpeace is an independent global campaigning organisation that acts to change attitudes and behaviour, to protect and conserve the environment and to promote peace. Greenpeace does not accept donations from governments, the EU, businesses or political parties.