*** Photo and video material available here ***
Brussels, 4 March 2020 – The European Commission's draft EU climate law, set to be published today, includes no measures to boost emissions cuts by 2030. Cuts in greenhouse gas emissions over the next 10 years are definitive for the success – or failure – of climate action, according to UN scientists. 
Greenpeace EU climate policy adviser Sebastian Mang said: "With no plans for a science-based 2030 target, nor measures to end fossil fuel subsidies, we're setting ourselves up for failure. Decades of dithering and half measures have led us to a point where the very survival of life on Earth is at risk from climate breakdown. The time to act is now, not in 10 years."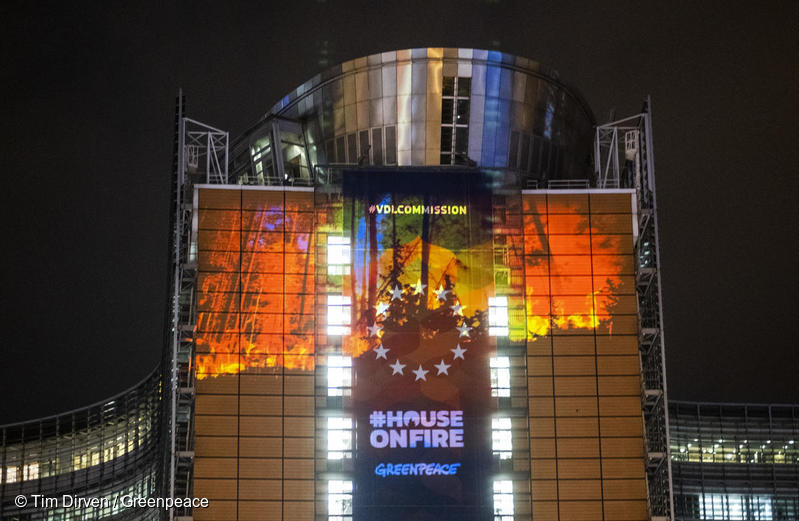 The draft climate law's only binding commitment is an EU-wide target, already agreed by national governments in December 2019, to reach net-zero climate emissions in 2050. While the draft law mentions an "intermediate trajectory" for greenhouse gas emission reductions, it fails to propose new targets for 2030. Instead, the draft reiterates the decision by the Commission to delay an impact assessment on the revision of the EU's 2030 climate target until September, meaning the EU governments would find it extremely difficult to agree a new target before a crucial UN climate conference in November.
A dozen countries including Austria, Denmark, Finland, France, Italy, Latvia, Luxembourg, the Netherlands, Portugal, Slovenia, Spain and Sweden have sent a letter to the Commission calling for the EU 2030 climate target to be drawn up "as soon as possible", in order for the EU to lead by example ahead of the vital UN talks in Glasgow later this year.
The climate law text also says that the European Green Deal sets out "a new growth strategy" for Europe, although this is at odds with warnings from the European Environment Agency that "Europe will not achieve its sustainability vision of 'living well within the limits of the planet' by continuing to promote economic growth and seeking to manage the environmental and social impacts".
The von der Leyen Commission has suggested an emission reduction target of 50-55% for 2030. A recent UN report calculated that "had serious climate action begun in 2010, the [global] cuts required per year to meet the projected emissions levels for 1.5°C would only have been 3.3% per year on average. However, since this did not happen the required cuts in [global] emissions are now 7.6% a year on average." This means that the EU must commit to yearly reductions of 7.6% a year between 2020 and 2030, reaching just over a 65% cut in emissions by 2030. The longer governments wait to reduce emissions, the steeper and tougher these cuts will need to be.
For more information and analysis, please refer to our EU climate law media briefing.
Yesterday, Greenpeace projected "Climate Emergency – 2050 is too late – EU Act Now – #HouseOnFire" together with a burning planet on the European Commission.
*** Photo and video material available here ***
Contacts:
Sebastian Mang – Greenpeace EU climate policy adviser: +32 (0)479 60 12 89, [email protected]
Greenpeace EU press desk: +32 (0)2 274 19 11, [email protected]
This media briefing is available on www.greenpeace.eu
For breaking news and comment on EU affairs: www.twitter.com/GreenpeaceEU
Greenpeace is an independent global campaigning organisation that acts to change attitudes and behaviour, to protect and conserve the environment and to promote peace. Greenpeace does not accept donations from governments, the EU, businesses or political parties.