Brussels – Today the European Parliament Committee on Regional Development (REGI) voted on the Commission's Just TransToday the European Parliament Committee on Regional Development (REGI) voted on the Commission's Just Transition Fund proposal, including passing an amendment that allows fossil gas to receive public money under the fund.
The Committee's members also voted for a budget increase and to open the fund to combating energy poverty – particularly in social housing, to promoting energy efficiency, and to investment in culture, education and community building.
Greenpeace EU climate campaigner Lorelei Limousin said: "Declaring a climate emergency while allowing fossil fuels to receive public money meant to support communities is a travesty. Not only does it delay the urgent phase out of polluting energy sources and contribute to the climate emergency itself, it also literally takes public funds meant to support Europeans and puts it in the pockets of the companies that have created the disaster in the first place."
The vote follows the decision by EU countries to exclude all fossil fuel – including gas – and nuclear energy projects from the scope of the Just Transition Fund.
According to the European Commission, the purpose of the Just Transition Fund is to "create the necessary investment to help workers and communities which rely on the fossil fuel value chain." As part of the Covid-19 recovery package, the European Commission proposed increasing the fund from €7.5 billion to €40 billion, with €30 billion from the EU "Next Generation EU" coronavirus recovery fund and €10 billion from the EU's budget for 2021-27.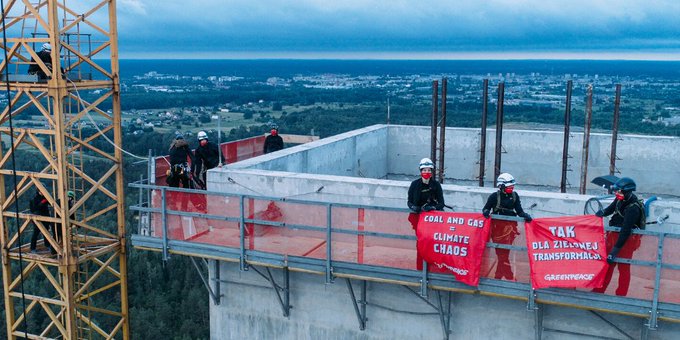 More than 60 NGOs have called on the REGI committee to recognise that fossil gas infrastructure is not compatible with most renewable gases, and almost certainly not for renewable gases at scale. The European Commission and the International Energy Agency (IEA) have successively scaled down gas demand projections for 2030.
Environmental groups are calling for all access to the fund to be conditional on countries' committing to climate neutrality and coal phase out dates. Over one million people and 100 environmental NGOs across Europe are calling on the European Union to restart its economy by launching the biggest green investment plan the world has ever seen, which would exclude funding of fossil fuels.
A plenary vote on the Just Transition Fund is expected in September. Heads of state and government will meet on 17-18 July to discuss the EU recovery plan.
Contacts:
Lorelei Limousin – Greenpeace EU climate campaigner : +32 (0)477 79 04 15 [email protected]
Greenpeace EU press desk: +32 (0)2 274 19 11, [email protected]
For breaking news and comment on EU affairs: www.twitter.com/GreenpeaceEU
Greenpeace is an independent global campaigning organisation that acts to change attitudes and behaviour, to protect and conserve the environment and to promote peace. Greenpeace does not accept donations from governments, the EU, businesses or political parties.