Brussels – MEPs in the European Parliament's budget and economic affairs committees are today expected to open up the possibility for the fossil fuels industry to access an unprecedented €672.5 billion in EU coronavirus recovery funds.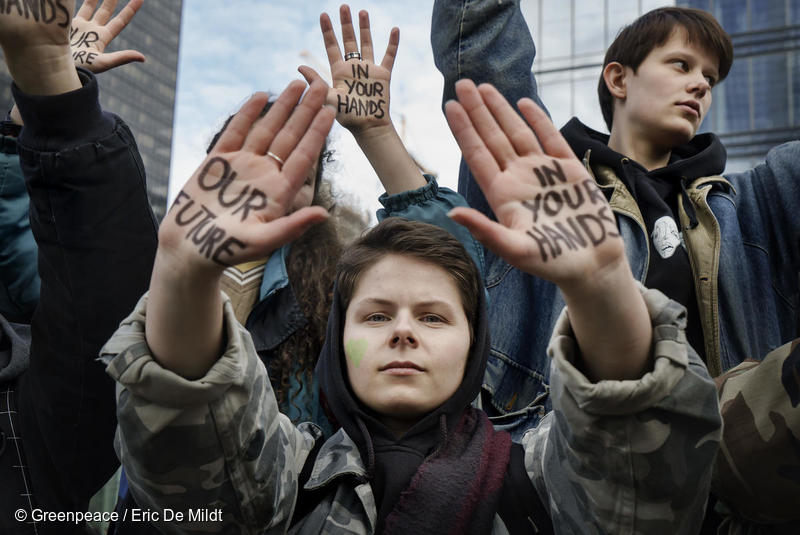 Amendments to exclude fossil fuels from the funds were removed ahead of a crucial vote Monday afternoon, following a broad cross-party deal between the centre-right EPP group, the Renew Europe group, the centre-left S&D and the Greens.
Instead, MEPs have put their faith in a 40% climate and biodiversity spending target, which could be based on so-called 'taxonomy' criteria, a future EU rulebook that will determine what investments can be labelled as 'green'. The gas industry has been putting pressure on the EU to agree criteria that would categorise gas as a green fuel.
Less than a month ago, the European Parliament's environment committee voted to exclude all fossil fuels from the Recovery and Resilience Facility, which makes up the largest chunk of the EU's €750 billion recovery fund.
Greenpeace EU climate campaigner Silvia Pastorelli said: "MEPs have blown their chance to secure a green recovery that rules out fossil fuels, and have handed the pen to gas lobbyists to write the rules. This vote is a double betrayal of young people, who will have to pay back the mountain of cash fuelling the climate crisis they will be living in."
The absence of an explicit ban on fossil fuel funding in the Recovery and Resilience Facility leaves the door open to investments in gas infrastructure, locking Europe into decades of gas use at a time when greenhouse gas emissions from gas in Europe have overtaken emissions from coal.
As the industry seeks to greenwash its image, gas companies present themselves as a low-carbon bridge to renewable energy. Around 80% of gas is made of methane, the second most important contributor to global heating, after CO2. While less present in the atmosphere, methane is 84 times more powerful than CO2, making leaks during extraction, transport and use extremely damaging to the climate.
The European Parliament will now have the option to put the Recovery and Resilience Facility before all MEPs in a plenary vote, or to give the budget and economic affairs committees a mandate to immediately begin negotiations for a final deal with representatives of European governments.
Contacts:
Silvia Pastorelli – Greenpeace EU climate campaigner: +32 496 12 20 94, [email protected]
Greenpeace EU press desk: +32 (0)2 274 1911, [email protected]
For breaking news and comment on EU affairs: www.twitter.com/GreenpeaceEU
Greenpeace is an independent global campaigning organisation that acts to change attitudes and behaviour, to protect and conserve the environment and to promote peace. Greenpeace does not accept donations from governments, the EU, businesses or political parties.
EU Transparency Register: 9832909575-41