Brussels – The European Investment Bank (EIB) board of directors approved a climate roadmap for 2021-2025 that fails to require all companies and intermediaries receiving funding to adopt adequate decarbonisation plans, said Greenpeace. [1]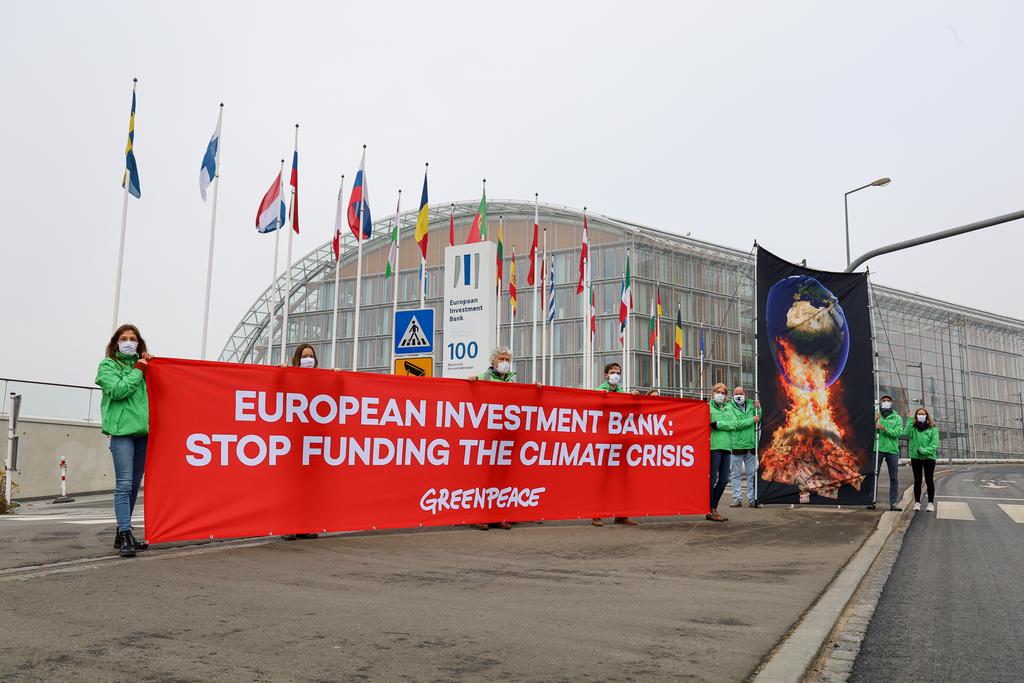 Greenpeace finance campaigner Piotr Wojcik said: "The EIB wants to call itself the EU climate bank, but keeps the door open to polluters. We are in the middle of a climate emergency, it is time to invest public money to build a fair and green society and create future-proof jobs, not to hand blank cheques to polluting projects like motorway expansion, industrial farming or others with no plans to decarbonise."
The EIB failed to require all high-carbon companies and financial intermediaries to adopt time-bound, science-based targets and decarbonisation plans to align with the goal of the Paris climate agreement to restrict global heating to 1.5°C. The roadmap also adopted a 'transition period' up to 2022 during which it would not exclude projects which are not aligned with the Paris climate agreement, ignoring the EIB's commitment to do so by the end of 2020. Despite excluding airport capacity expansion projects as called for by campaigners, the EIB leaves the door open to projects that worsen the climate emergency or harm biodiversity such as motorways, fossil gas projects and industrial animal farming. —end—
Note to Editors:
[1] The EIB Board of Directors is made of the representatives of all EIB shareholders (the 27 member states of the European Union) and the European Commission.
Contacts:
Piotr Wojcik – Greenpeace finance campaigner: +48 532 751 517, [email protected]
Mihaela Bogeljić – Greenpeace communications: +385 92 2929 265, [email protected]
For breaking news and comment on EU affairs: www.twitter.com/GreenpeaceEU
Greenpeace is an independent global campaigning organisation that acts to change attitudes and behaviour, to protect and conserve the environment and to promote peace. Greenpeace does not accept donations from governments, the EU, businesses or political parties.
EU Transparency Register: 9832909575-41