***Photos and videos will be available here
Brussels, 10 December 2020 – With the European Union's climate credibility hanging by a thread, activists floated a 27-metre hot air balloon at a make-or-break summit on Thursday to warn that governments are not doing enough to confront the climate emergency.
The balloon, depicting planet Earth, was placed near the Brussels building where European government leaders were expected to agree a new EU-wide climate target. The balloon displayed a 10×7-metre message that read: "EU: What planet are you on?!" A small group of physically distanced activists also held smaller banners in German, French, Italian, Spanish, Polish, Romanian, Dutch, Hungarian and Bulgarian.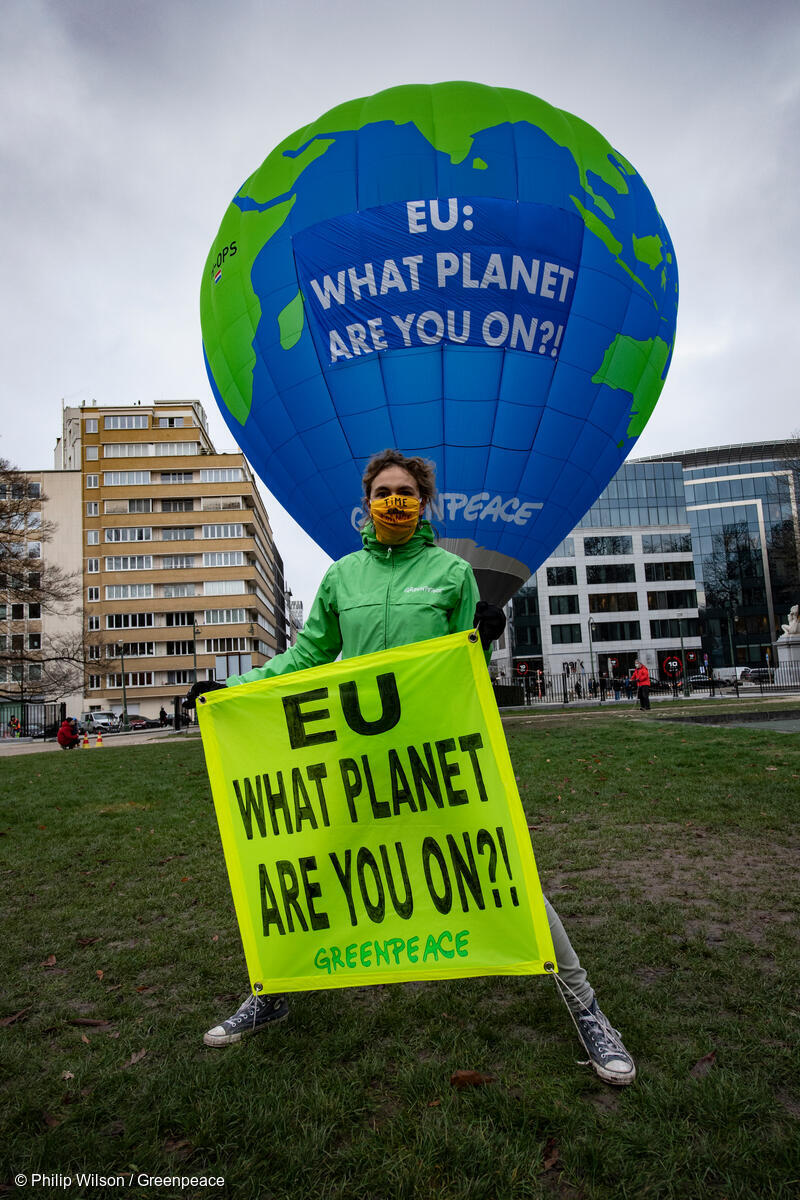 The summit takes place amid a row over the new EU budget and Covid recovery fund. The governments of Poland and Hungary don't want access to the funds to be conditional on respect for the rule of law.
Almost exactly five years since the EU signed the Paris climate agreement, and one year since the European Commission tabled a European Green Deal, Greenpeace said governments continue to favour greenwashing over climate science. Most governments back a 55% cut in EU emissions by 2030, but several central and eastern European countries want more funds for gas and nuclear energy in exchange for support.
Greenpeace EU climate policy adviser Sebastian Mang said: "Claiming a 55% climate target full of loopholes is an achievement would be like celebrating a marathon win when you're still ten kilometres short of the finish line. The truth is the target is not supported by science. To make things worse, governments are peddling the lie that our struggling forests can compensate for continued pollution from energy, transport and farming. They want people to believe the EU is on the verge of achieving something historic, but they're refusing to cut off polluting industries and taking us closer to climate catastrophe."
The UN estimates that the governments should cut emissions by at least 7.6% every year to have a chance of limiting global heating to 1.5°C. A 55% emission reduction target would manage only 5% a year.
The Commission and some countries want to further weaken this target by making it a net-emissions target. According to the Commission's own impact assessment, a 55% net-emissions target could translate to as little as a 50.5% cut in real emissions from polluting sectors like energy, transport and factory farming, while relying on carbon sinks like forests to make up the rest. A 50.5% cut in real emissions would mean a paltry 4.1% annual cut in emissions.
Based on existing climate measures and targets, the EU is already on track to reduce emissions by 46% in 2030.
The European Parliament has backed a 60% cut in emissions by 2030 and has rejected the Commission's controversial inclusion of emissions absorbed by carbon sinks to inflate the 2030 climate target.
A new report by Greenpeace illustrates how relying on carbon sinks to cut emissions won't stop climate breakdown and only lets polluters off the hook.
To increase the chances of limiting global heating to 1.5°C and avoid the worst effects of climate breakdown, Greenpeace is calling for at least a 65% cut in EU emissions from polluting sectors by 2030.
Under the Paris Agreement, the EU must submit a revised 2030 target before the end of 2020. Earlier this week, the United Kingdom announced a target to cut its emissions by 68% by 2030.
***Photos and videos will be available here
Contacts:
Sebastian Mang – Greenpeace EU climate policy adviser: +32 (0)479 601289, [email protected]
Greenpeace EU press desk: +32 (0)2 274 1911, [email protected]
This press release is also available on www.greenpeace.eu
For breaking news and comment on EU affairs: www.twitter.com/GreenpeaceEU
Greenpeace is an independent global campaigning organisation that acts to change attitudes and behaviour, to protect and conserve the environment and to promote peace. Greenpeace does not accept donations from governments, the EU, businesses or political parties.
EU Transparency Register: 9832909575-41