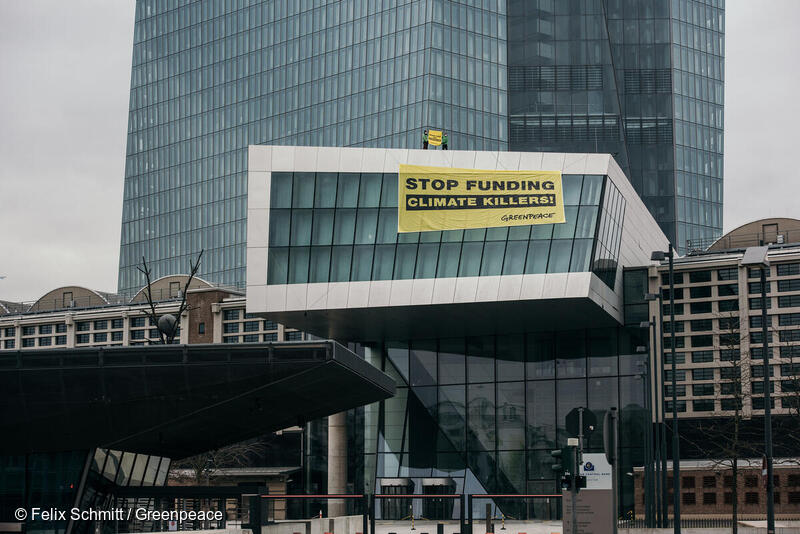 Brussels/Frankfurt – The European Central Bank (ECB) has agreed today that soon only companies in line with the Paris climate agreement will be eligible for corporate sector asset purchases.
In its new monetary strategy, the bank recognises the overall impact of climate change and commits to stay in line with the EU's climate goals and objectives, although Greenpeace warned that the implementation period should be accelerated to respond to the escalating climate crisis. The new policy makes the ECB the first large central bank to prepare the ground to meet the EU's climate objectives.
Dr Mauricio Vargas, Greenpeace Germany financial expert, said: "It is positive that the ECB has agreed to adjust its monetary policy to address the burning issue of the climate crisis. It was high time for the bank to make the EU's climate neutrality objective a binding constraint on monetary policy and to start removing the worst polluters from its portfolio. The new policy is promising, but vague – so we will keep watching and make sure it's followed by concrete action. This sets the bar for all central banks: they should follow the ECB's lead on climate, but faster."
Contacts:
Mauricio Vargas – Greenpeace Germany financial expert: +49 151 11765567, [email protected]
Mihaela Bogeljić – Greenpeace Central and Eastern Europe communications: +385 92 2929 265, [email protected]
For breaking news and comment on EU affairs: www.twitter.com/GreenpeaceEU
Greenpeace is an independent global campaigning network that acts to change attitudes and behaviour, to protect and conserve the environment and to promote peace. We do not accept donations from governments, the EU, businesses or political parties. Greenpeace has over three million supporters, and 26 independent national and regional organisations with offices in more than 55 countries.
EU Transparency Register: 9832909575-41