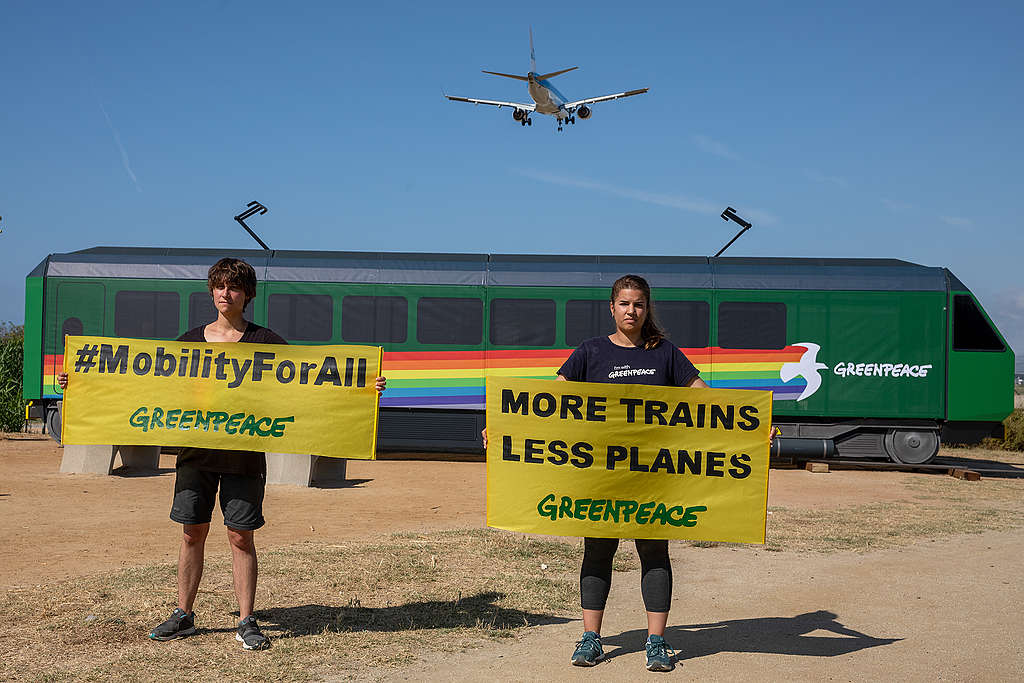 Greenpeace calls on EU to ban short-haul flights and make train alternatives accessible to all
Brussels, 27 October 2021 – One third of the busiest short-haul flights in Europe have train alternatives under six hours, whereas many trips could be made easier by train, according to research by OBC Transeuropa (OBCT) commissioned by Greenpeace's European Unit. The findings support Greenpeace's demand that the EU ban short-haul flights where there is a train alternative under six hours and adopt measures to make daytime and night train alternatives across Europe more accessible to all.(1)
Greenpeace EU climate and energy campaigner Lorelei Limousin said: "The aviation industry is one of the most climate-damaging and unjust industries on earth. Instead of continuing to back major polluters like airlines and airports, public money should be going towards more climate-friendly and efficient alternatives like trains. Our analysis shows that one-third of short haul flights have train alternatives under six hours in the EU. European policy-makers and countries should ban short-haul flights wherever a viable alternative already exists and invest in rail to create a European transport system that's good for the planet while also being affordable and accessible to all."
The research analysed the 150 busiest short-haul flights in the EU and the 250 busiest short haul flights in Europe (EU, UK, Norway and Switzerland) as well as routes involving France, Germany, Italy, Spain, Belgium, the Netherlands, and Austria (islands connections were not analysed except where there is a train connection, like in Sicily).
Some of the key findings of the study:
34% (51) of the 150 busiest short-haul flights in the EU have train alternatives under six hours
29% (73) of the 250 busiest short-haul flights in Europe (EU, Norway, Switzerland and UK) have train alternatives under six hours
Only 27% (41) of the 150 busiest EU flights have direct night train alternatives in 2021
Since 2019, travelling across borders by train in Europe has become extremely difficult. In countries like Spain, Portugal, France and Italy, night trains were cancelled, while service has improved on several international routes like Brussels-Vienna, Stockholm-Berlin and Amsterdam-Munich.
62% of Europeans support a ban on short-haul flights, according to a survey conducted by the European Investment Bank (EIB), and a large majority of people in Germany (63%), France (72%), Poland (73%), Spain (80%) and the Netherlands (65%) want to take more night trains, at reasonable costs.
Alongside the new research, Greenpeace published an interactive map of Europe where anyone can add the train routes they would like to see created or improved.
Greenpeace calculated that just banning the EU's busiest short-haul flights and shifting to rail wherever a train connection under six hours already exists would save 3.5 million tons of CO2e per year. If countries add new daytime and night train connections and services, better wagons and tracks, improve accessibility for all and make tickets cheaper, Europe could replace almost all of the top 250 short-haul flights and save some 23.4 million tons of CO2e per year, as much as the annual CO2 emissions of Croatia.(2)
In recent decades, aviation has been the fastest-growing source of greenhouse gas emissions (GHG) in Europe (+29% between 2009 and 2019 in the EU) and the industry estimates it will reach pre-COVID air traffic levels by 2024, doubling air traffic globally by 2037.
Flights under 1,500 km are responsible for 25% of European aviation's CO2 emissions. Although long-haul flights account for the biggest chunk of aviation emissions, many short-haul flights can already be replaced by trains, leading to immediate CO2 emission reductions. The Madrid-Barcelona flight for instance is one of the busiest flights in Europe and the busiest in Spain. Yet flying this route emits up to nine times more CO2e than taking a train, which covers the distance in 2.5 hours, faster than the time the overall plane journey takes.
As part of the Smart and Sustainable Mobility Strategy, the European Commission committed to make collective travel under 500 km "carbon neutral". Yet the threshold does not apply to many short-haul flights that can be done by train under six hours and the Commission's proposal falls short on binding measures that will reduce air travel and shift passengers to trains in the short term. The European Commission is expected to adopt an action plan on cross border and long distance rail by the end of 2021.
END
Notes to Editors
CO2e stands for CO2 equivalent, which includes CO2 and non-CO2 climate impacts (like NOx, water vapours).
Contacts:
Lorelei Limousin, Greenpeace EU climate and energy campaigner: +32 (0)477 79 04 15 [email protected]
Greenpeace EU press desk: +32 (0)2 274 1911, [email protected]
For breaking news and comment on EU affairs: www.twitter.com/GreenpeaceEU
Greenpeace is an independent global campaigning network that acts to change attitudes and behaviour, to protect and conserve the environment and to promote peace. We do not accept donations from governments, the EU, businesses or political parties. Greenpeace has over three million supporters, and 26 independent national and regional organisations with offices in more than 55 countries.
EU Transparency Register: 9832909575-41