Brussels, 10 March 2022 – The windfall profits that fossil fuel companies have received during the recent energy crisis must be used to rapidly wean Europe off gas, oil and coal, Greenpeace has said ahead of a meeting of EU leaders to discuss the energy implications of the war in Ukraine.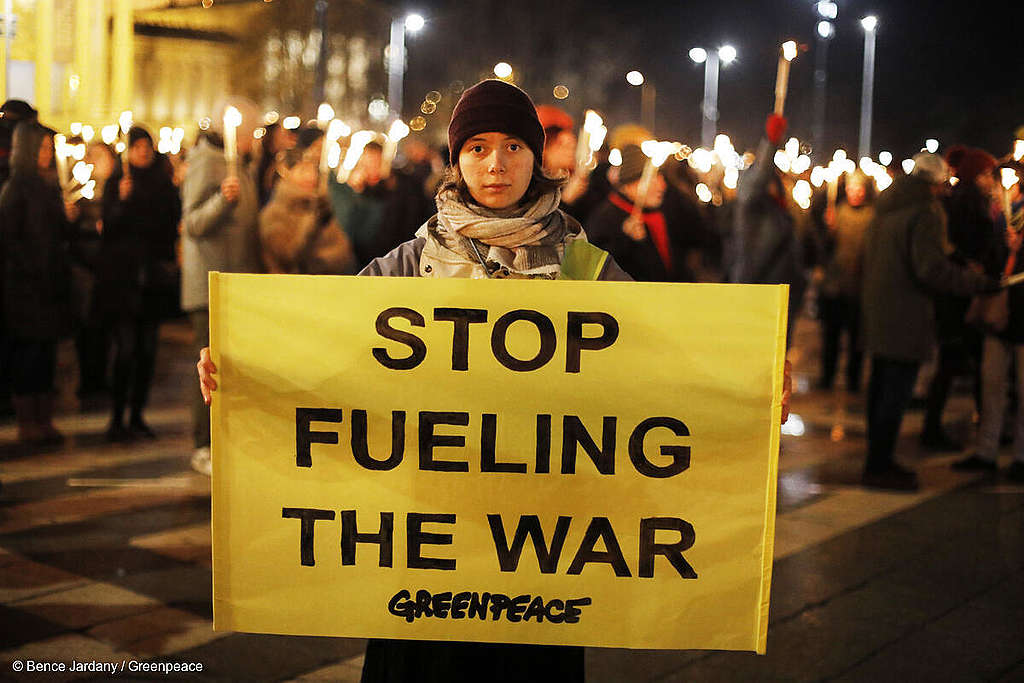 Heads of EU governments meet today and tomorrow in Versailles to discuss Russia's invasion of Ukraine, and the impacts on EU energy, food and military policy, including a European Commission proposal to cut EU imports of Russian fossil fuels.
Greenpeace EU climate and energy campaigner Silvia Pastorelli said: "The companies most responsible for the climate crisis have also been the ones lining their pockets and funneling money to Putin's war machine over the course of the months-long energy crisis. European governments must tax these ill-gotten gains and invest all of it in moving Europe away from fossil fuels for good. A handbrake turn in Europe's energy systems – to insulate people's homes, build renewables at unprecedented levels, and fully decarbonise transport – will defund conflict, protect the vulnerable from energy poverty and steer us away from climate crisis."
Greenpeace is calling on EU leaders to rapidly reorder Europe's energy systems with large investments in energy savings, accelerate deployment of renewable energy, and phase out fossil-powered transport to cut Europe's reliance on all fossil fuels of all origins. Greenpeace is calling for a windfall tax on the oil, gas and coal companies, who profited massively during the recent energy crisis, to pay for this transition, and ensure that the most vulnerable in society are protected from increased energy and transport costs.
Russia is the largest source of the European Union's fossil fuel imports. In 2019, two-fifths of the EU's fossil gas imports came from Russia, as did over a quarter of crude oil imports and almost half of the coal imported. EU imports of energy from Russia were worth €60.1 billion in 2020.
Greenpeace and over 600 other organisations have called for an end to imports of fossil fuels from Russia.
European Commission plans risk causing new problems
The European Commission's "REPowerEU" plan to cut dependency on energy imports from Russia includes developing supplies of liquified fossil gas, hydrogen and biogas, which Greenpeace is warning could have disastrous knock-on effects.
Alternative supplies of fossil gas would keep Europe locked into dependence on high-carbon energy and make European households still vulnerable to spikes in global market prices. Renewable hydrogen is a very scarce resource, and much biogas is produced using crops grown on farmland that competes with food production or nature protection.
While the European Commission, in its current proposal, suggests reducing Europe's dependence on fossil fuels for heat and and power, the proposal completely ignores the transport sector that consumes almost 70% of the oil in the EU. Recent analysis found that ending short-haul flights in the EU, where a rail alternative already exists, would save enough jet fuel to reduce the bloc's annual oil imports from Russia by around €2 billion.
Contacts:
Silvia Pastorelli, Greenpeace EU climate and energy campaigner: +32 478 523 383, [email protected]
Greenpeace EU press desk: +32 (0)2 274 1911, [email protected]
For breaking news and comment on EU affairs: www.twitter.com/GreenpeaceEU
Greenpeace is an independent global campaigning network that acts to change attitudes and behaviour, to protect and conserve the environment and to promote peace. We do not accept donations from governments, the EU, businesses or political parties. Greenpeace has over three million supporters, and 26 independent national and regional organisations with offices in more than 55 countries.
EU Transparency Register: 9832909575-41