Greenpeace proposes ten steps to cut EU oil use immediately and keep cutting it
Brussels – Short-term measures in the transport sector could cut the EU's oil consumption by 40 million tonnes and allow Europe to slash 28% of Russian oil worth €19.7 billion within a matter of months, according to new analysis by Greenpeace. The measures would also reduce the EU's greenhouse gas emissions by 144 million tonnes annually, equal to 93 million cars, accelerating the decarbonisation of the transport sector, which causes more than a quarter of the EU's total greenhouse gas emissions.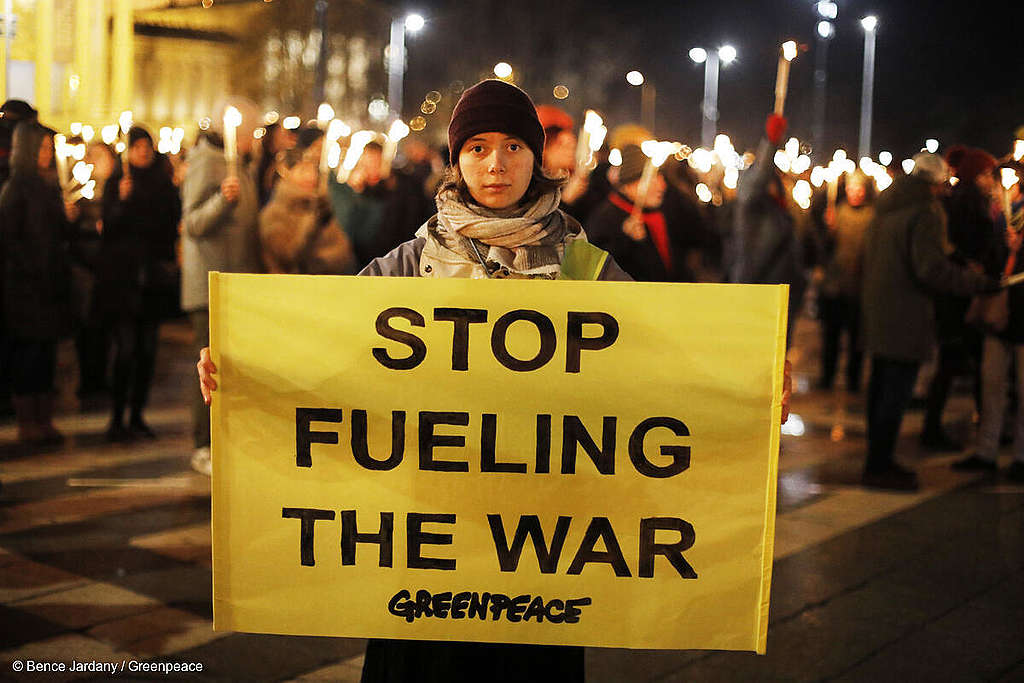 The analysis examines the oil-reducing potential of ten short- and mid-term measures in the transport sector, which consumes almost two thirds of the oil in the EU. Five short-term measures would enable the first steps towards independence from oil, including a ban on short-haul flights, lower speed limits, affordable tickets for public transport, and an extension of working from home, and could cut the EU's overall demand for oil by 7.1%. Currently around 25% of the oil consumed in the EU comes from Russia.
Herwig Schuster, transport campaigner for Greenpeace's mobility for all campaign, said: "Every day our oil-addicted transport system fuels Russia's war in Ukraine. To support peace, the EU must immediately ban Russian oil, and start a phase-out of short-haul flights, more home working and boosting public transport and bicycles. Fossil fuels are driving conflicts all over the world – as well as the climate crisis, which is itself leading to more violence and suffering. Politicians must plan for a transport system completely free from oil, and stop bankrolling the destruction and misery we see in Ukraine."
The EU continues to bankroll the war in Ukraine through its imports of Russian fossil fuels. The EU and the UK send almost €200 million to Russia every single day for oil imports alone.
As European leaders develop their response to Russia's war against Ukraine, they have been reluctant to include oil in the sanctions, despite it being Russia's main source of income. While the US and the UK have banned Russian oil, the EU has still failed to agree on an oil embargo, with Austria and Hungary still blocking and Germany rejecting a rapid phase-out.
The European Commission is expected to propose a plan in May to phase out the EU's dependence on Russian fossil fuels. The Commission's initial proposal completely omitted the transport sector and focused largely on the diversification of the EU's fossil gas imports, as well as developing imports of hydrogen and biogas.
Greenpeace is calling on the Commission and governments to foster peace in Europe by banning Russian oil and cutting European oil use with short-term measures in the transport sector. Governments and the EU should also accelerate the phase out of all fossil fuels, which have a history of fuelling war and conflicts and are the root cause of the climate crisis. Greenpeace has laid out a plan to decarbonise the European transport sector by 2040 at the latest, powering it with renewable energy, without relying on false solutions, such as biofuels, nuclear energy or carbon offsetting.
Contacts:
Herwig Schuster, transport expert for Greenpeace's European Mobility for All campaign: [email protected], +43 664 431 92 14
Greenpeace EU press desk: +32 (0)2 274 1911, [email protected]
For breaking news and comment on EU affairs: www.twitter.com/GreenpeaceEU
Greenpeace is an independent global campaigning network that acts to change attitudes and behaviour, to protect and conserve the environment and to promote peace. We do not accept donations from governments, the EU, businesses or political parties. Greenpeace has over three million supporters, and 26 independent national and regional organisations with offices in more than 55 countries.