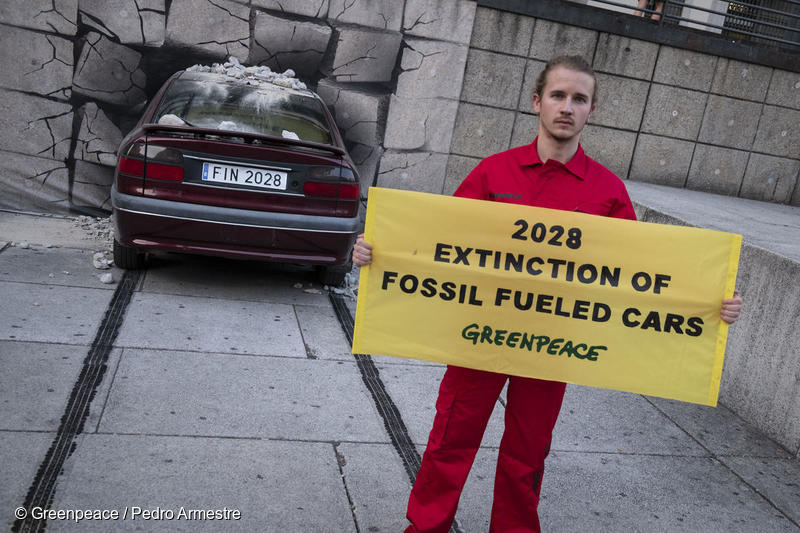 Brussels – Negotiators for the EU Commission, EU Parliament and national governments reached an agreement on Thursday evening to phase out sales of new cars with internal combustion engines in the EU by 2035, a deadline which Greenpeace says falls well short of the EU's climate commitments and will cost drivers hundreds of billions in fuel in the midst of a spiralling energy crisis.
In 2020, Greenpeace Belgium published a detailed roadmap to decarbonise the European transport sector by 2040. This research found that new sales of fossil fuel-burning cars must end by 2028 at the latest, in addition to measures to cut unnecessary journeys and shift to cleaner modes of transport to meet the Paris climate agreement commitment to limit global heating to below 1.5°C.
Additional analysis by Greenpeace Germany this June found that phasing out internal combustion engines by 2028 would save drivers more than €635 billion on fuel, compared to the 2035 deadline.
Greenpeace EU transport campaigner Lorelei Limousin said: "The EU is taking the scenic route, and that route ends in disaster. A European 2035 phase-out of fossil fuel-burning cars is not quick enough: new cars with internal combustion engines should be banned by 2028 at the latest. The announcement is a perfect example of where politicians can bask in a feel-good headline that masks the reality of their repeated failures to act on climate. The UN has just confirmed that the climate crisis will spiral out of control unless governments take rapid and decisive action, including a shift to cleaner modes of transport."
The agreement includes a review clause for the Commission to assess developments in the car market in 2026. A non-binding recital leaves the door open to the potential use of polluting e-fuels after 2035.
The UN Environment Programme Emissions Gap Report 2022, also published on Thursday, calls for "an urgent system-wide transformation" to avert climate breakdown, including through the full decarbonisation of transport, a massive shift to better public transport and the reduction of private car journeys by up to 14% by 2030.
Transport accounts for 30% of the EU's total greenhouse gas emissions and almost two thirds of the oil used in the EU. Greenhouse gas emissions from transport in the EU have risen by over 25% since 1990. Transport is the only sector in the EU where CO2 emissions have been rising since 1990, when they should be dropping rapidly.
Contacts:
Lorelei Limousin, Greenpeace EU transport campaigner: [email protected], +32 (0)477 79 04 15
Greenpeace EU press desk: +32 (0)2 274 1911, [email protected]
For breaking news and comment on EU affairs: www.twitter.com/GreenpeaceEU
Greenpeace is an independent global campaigning network that acts to change attitudes and behaviour, to protect and conserve the environment and to promote peace. We do not accept donations from governments, the EU, businesses or political parties. Greenpeace has over three million supporters, and 26 independent national and regional organisations with offices in more than 55 countries.
EU Transparency Register: 9832909575-41