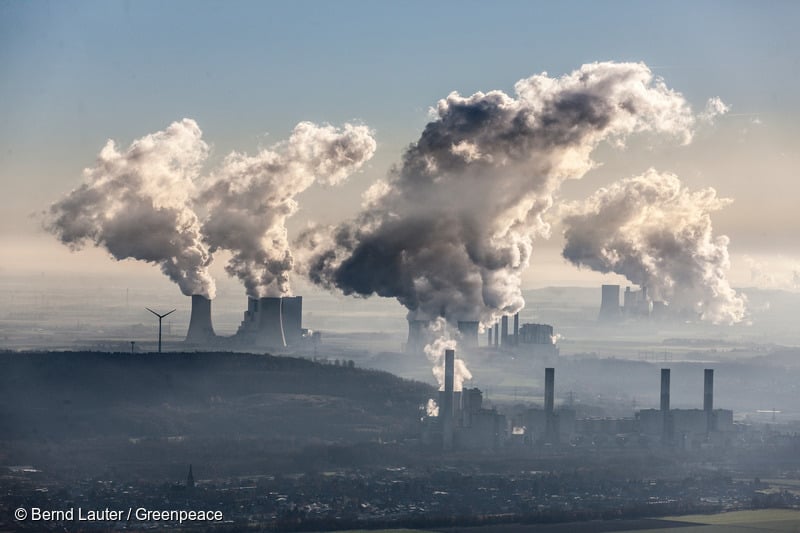 Brussels, 19 December 2022 – New analysis commissioned by Greenpeace Nordic shows how the EU's national governments could quickly save up to 278 TWh of energy this winter – almost equivalent to the annual electricity consumption of Italy – by adopting immediate measures to tackle the wasteful over-consumption of gas, oil and electricity. Greenpeace is calling for mandatory demand reduction targets of 15% for gas, 10% for electricity and 13% for transport energy use in the EU.
The energy savings identified in the report do not require new investment or infrastructure: they are the lowest-hanging fruit. Even still, the carbon emissions saved would be equivalent to the annual greenhouse gas emissions of Poland, the EU's fourth-largest emitter.
In July, EU governments agreed to a 15% target for the reduction of overall gas demand, but this is not mandatory. In September, ministers adopted a mandatory target of reducing peak electricity demand by 5% and a non-mandatory overall reduction in electricity demand of 10%. The EU has not even discussed an oil demand reduction target, let alone a mandatory one, despite oil accounting for just over 35% of primary energy consumption.
Greenpeace EU climate campaigner Lorelei Limousin said: "European leaders seem to see the energy crisis only as a problem of not enough supply, leading them to make disastrous short-sighted decisions like reigniting coal power plants. The truth is that there is an excess of demand, in the form of wasteful energy consumption. EU governments must tap into the huge potential for energy savings in oil, gas and electricity by making it mandatory to reduce demand. Doing so will not only bring down people's bills amid the cost of living crisis, it will be good for the environment and the climate too."
The new analysis on which Greenpeace's policy recommendations are based was carried out by researchers from the Institute for Sustainable Futures at the University of Technology, Sydney, and published by Greenpeace Nordic.
The report looks at short-term potential to reduce energy demand fairly. That means targeting energy savings in industrial sectors first, then commercial sectors, and then at the level of wealthy households and individuals, while supporting and protecting the most vulnerable.
A fair reduction in energy demand would also bring down utility bills, reduce the risks of shortages and blackouts, and alleviate the cost of living crisis that is driving millions of people in Europe into energy poverty.
Key findings in the report from the Institute for Sustainable Futures include:
For GAS: The EU-27 could reduce fossil gas consumption by 15% across sectors this winter by March 2023, even without new investment in energy measures. This would require significant reductions from Germany, France, Spain, Italy, and the Netherlands – the top 5 fossil gas consuming countries – which together account for over 66% of all fossil gas use in EU-27 manufacturing.
For ELECTRICITY: Reducing electricity demand by 15% in public, commercial and residential sectors coupled with a 20% electricity savings in industry would reduce total primary energy consumption in EU-27 by over 6.5%. The reduction would be greater than the 2021 total primary energy consumption of Sweden, Austria and Luxembourg combined.
For OIL: Reducing the speed limit on motorways from e.g. 130 to 110 km/h and introducing measures that enable people to drive their cars 10% less, like affordable public transport tickets, would result in the biggest savings in terms of millions of barrels of oil a year.
In addition to these non-investment measures, EU governments should also invest massively in home insulation programmes, energy efficiency, public transport, solar heating for homes and industry, and heat pumps; as well as accelerate the transition to a 100% renewable energy system in Europe by 2040.
Read more about Greenpeace's policy recommendations here and the full report here (under embargo to 19 December 2022, 00:01 CET).
Contacts:
Lorelei Limousin, Greenpeace EU climate campaigner: +32 (0)477 79 04 15, [email protected]
Greenpeace EU press desk: +32 (0)2 274 1911, [email protected]