Amsterdam/Brussels – A major new study by Greenpeace International finds that EU governments are planning to build so much liquefied fossil gas (LNG) import capacity that, if constructed, it would increase the bloc's greenhouse gas emissions by up to the equivalent of 950 million tonnes of carbon dioxide (CO2) each year, or 32% of the EU's total CO2 emissions in 2019.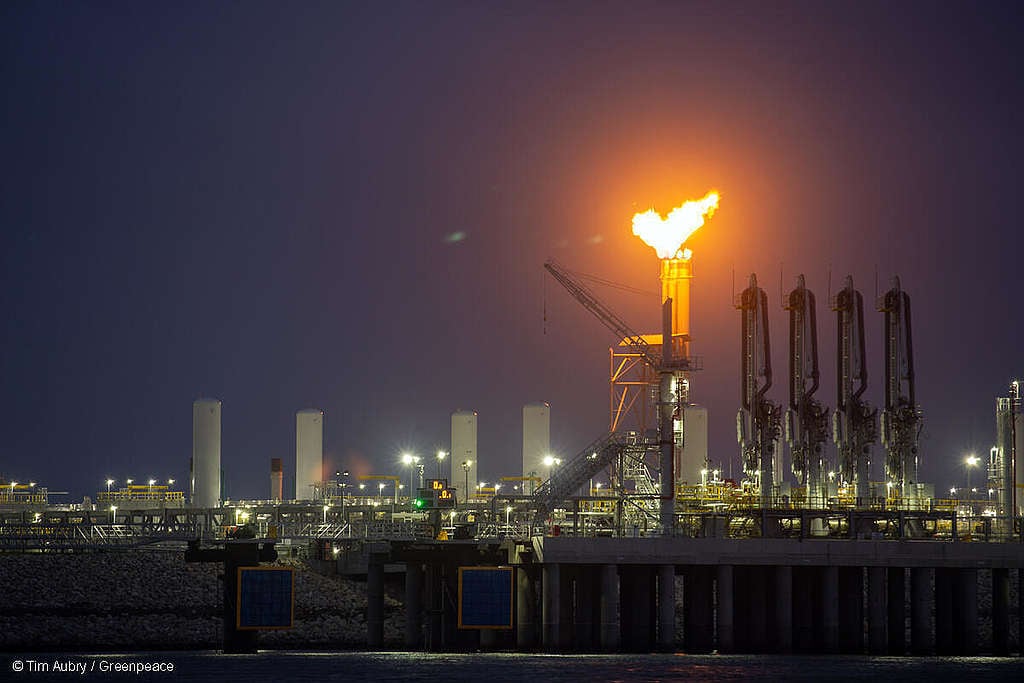 In the report "Who Profits From War – How Gas Corporations Capitalise from War in Ukraine" [1], Greenpeace International tells the entire story of a broken energy system that serves the interests of polluters, not people. The report shows all parts of the system, from the communities that suffer because of fracking in the USA, to the middle-men of the gas industry (the European Network of Transmission System Operators, ENTSO-G) who manipulate and undermine climate and energy policies, to the households who will once again have to pay for it all while fossil fuel companies rake in record profits.
The report analyses developments in US-EU trade in LNG. It shows that the USA has plans to double its export capacity while the EU is more than doubling the amount it can- collectively import. Eight new LNG import terminals have already been approved in the EU and 38 more are pending. These developments threaten to create a massive structural over-supply of fossil gas in Europe which will accelerate the climate crisis, create dependencies which weaken European energy security, and create billions of euro worth of stranded assets.
Greenpeace EU climate and energy campaigner Silvia Pastorelli said: "The fossil fuel industry has cynically capitalised on the invasion of Ukraine. The middle-men of the gas industry use their scandalous proximity to decision-makers to push for favourable treatment. And politicians go along with them. Is it any wonder that there's still no phase-out date for fossil gas, or that the EU's gas demand reduction targets are merely optional? Governments must lead in the climate fight, not be puppeteered by gas operators who sacrifice the health and safety of communities simply to boost their profits."
The speed with which the gas industry and EU governments have come up with plans which could increase the EU's greenhouse gas emissions by up to one-third contrasts starkly with warnings from the Intergovernmental Panel on Climate Change. Its latest report concludes that the emissions from the fossil fuel infrastructure that already exists will be enough to warm the planet more than the 1.5 degrees Celsius limit set by world governments in 2015.
Fracking hypocrisy
European countries have banned the controversial gas drilling method of hydraulic fracturing, or "fracking", at home, yet many EU governments and banks encourage these methods in the USA to satiate European demand for gas. The extraction and transport of LNG in Texas, Louisiana and New Mexico has resulted in worsening air quality, contaminated water, respiratory diseases, birth issues, and elevated cancer rates for communities living near the gas fields and export terminals. Many of the affected communities are predominantly Black, Brown, Indigenous, and have low incomes.
John Beard, a community advocate who lives within 10 km of the biggest US export terminal (Sabine Pass LNG), another terminal under construction (Golden Pass LNG), and the Port Arthur LNG project said: "These LNG projects will result in a massive increase of CO2 emissions. This would lead to disastrous consequences for the planet and for people. There is no such thing as 'freedom' gas. It comes with a cost. That cost is the lives and health of people in the Gulf South and deadly climate consequences worldwide."
Phase out gas, kick out polluters
The report also sheds more light on the central role that fossil fuel industry lobbyists like ENTSO-G (the European Network of Transmission System Operators for Gas) play in vital decisions about climate and energy policies in the EU.
Greenpeace is calling for the EU to stop the construction of new LNG terminals, to ban new long-term gas contracts, to set a phase-out date for fossil gas no later than 2035, to make the EU's 15% target for reducing fossil gas demand mandatory, and to address conflicts of interest and kick the fossil fuel industry out of decision-making by banning oil, coal and gas companies and their representatives from lobbying the EU on climate and energy policy.
Notes
[1] The link to the study on Greenpeace International's website will go live at 00:03 CET Thursday 27 April. An advance copy is attached to this message. This copy has been compressed for email distribution, which reduces the clarity and quality of some of the images.
Contacts:
Silvia Pastorelli, Greenpeace EU climate and energy campaigner: +32 496 12 20 94, [email protected]
To arrange an interview with activists in the USA whose communities are affected by fracking and fossil gas extraction, contact Luisa Colasimone: +351 910 678050 [email protected]
Greenpeace EU press desk: +32 (0)2 274 1911, [email protected]
For breaking news and comment on EU affairs: www.twitter.com/GreenpeaceEU
Greenpeace is an independent global campaigning network that acts to change attitudes and behaviour, to protect and conserve the environment and to promote peace. We do not accept donations from governments, the EU, businesses or political parties. Greenpeace has over three million supporters, and 26 independent national and regional organisations with offices in more than 55 countries.
EU Transparency Register: 9832909575-41