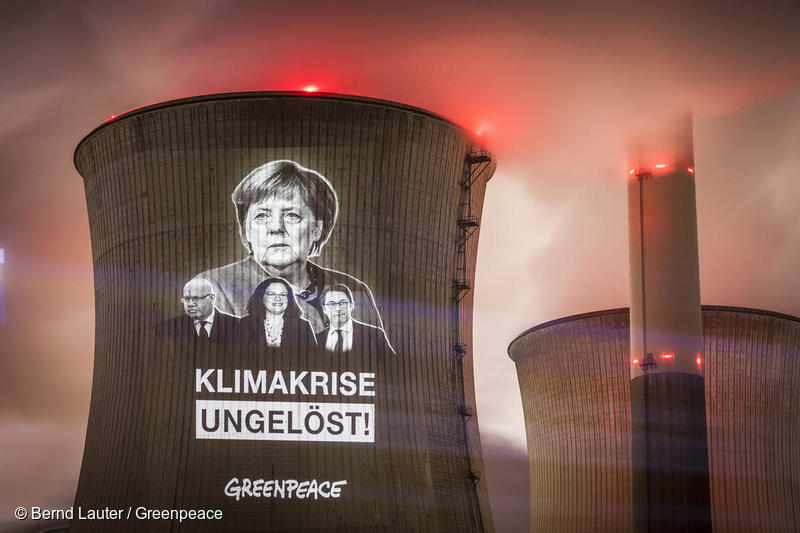 Brussels/Berlin – After months of dithering, German chancellor Angela Merkel has shown support for a target to make the European Union climate-neutral by 2050, and asked her government to investigate how Germany would achieve it.
Speaking at the Petersberg Climate Dialogue in Berlin on Tuesday, Merkel said her cabinet would not discuss "whether we can reach [the 2050] goal but about how we will reach it".
Last week, Germany drew criticism for failing to support a call from France, the Netherlands and several other countries for EU climate neutrality in 2050. EU leaders will discuss a European Commission plan to achieve the target at a summit on 20 and 21 June in Brussels.
Greenpeace EU climate policy adviser Sebastian Mang said: "Merkel's comments are a sign that Germany does not want to stand in the way of EU climate action. This shift makes it possible for EU governments to endorse climate neutrality. But to regain its credibility as a climate champion, Germany must push to bring EU 2030 climate targets in line with scientific advice and support drastic action to avoid climate breakdown."
To keep global warming to 1.5°C and prevent a climate catastrophe, Greenpeace is calling on the EU to achieve total decarbonisation by 2040 and to cut greenhouse gas emissions by 65% by 2030.
Contacts:
Sebastian Mang – Greenpeace EU climate policy adviser: +32 (0)479 601289, [email protected]
Greenpeace EU press desk:  +32 (0)2 274 19 11, [email protected]
For breaking news and comment on EU affairs: www.twitter.com/GreenpeaceEU
Greenpeace is an independent global campaigning organisation that acts to change attitudes and behaviour, to protect and conserve the environment and to promote peace. Greenpeace does not accept donations from governments, the EU, businesses or political parties.