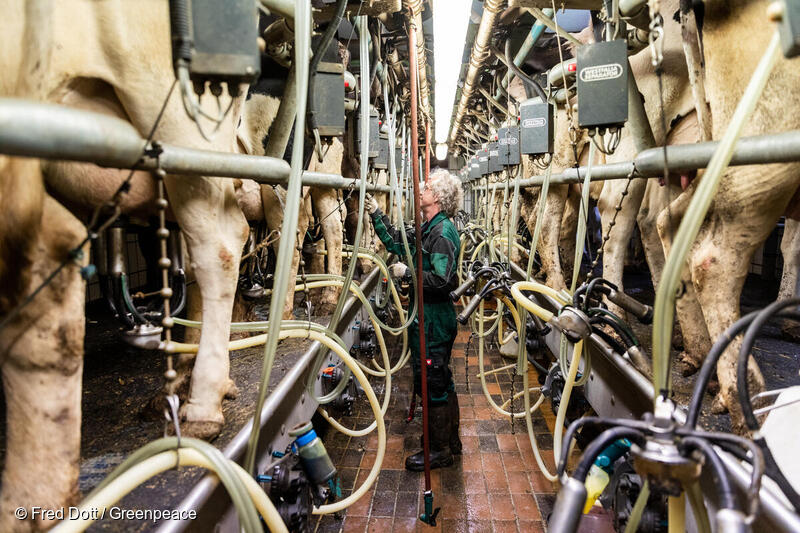 Strasbourg/Brussels – In a blow to EU nature protection, MEPs have voted to exempt even the most polluting factory farms from regulation under the EU's industrial emissions directive.
The largest and most toxic cattle farms, as well as thousands of pig and chicken factory farms, will be allowed to continue polluting our air, soil and water.
An alliance of conservative and right-wing MEPs, supported by a contingent of liberal members, blocked the measures, which the European Commission estimates would have affected less than 2% of the EU's most polluting cattle farms.
Greenpeace EU agriculture policy director Marco Contiero said: "The industrial farming lobby's enduring influence in the European Parliament means super-polluting farms that pack in animals in horrid conditions will continue to poison our air, soil and water. It's a major blow for the future of sustainable farming, effectively rewarding polluting industrial agriculture and making it harder for small and medium family farms to operate within nature's limits. Industrial farms are destroying the ecosystems we rely on to produce food and live healthy lives and are robbing the vast majority of farmers of a viable future, but they remain untouchable."
MEPs rejected any broadening of the scope of the directive, despite support from EU governments and the European Commission. The Parliament vote effectively weakens current legislation, lowering requirements even for industrial pig and poultry farms subject to the directive since 1996. Farms with fewer than 2,000 pigs and/or 750 sows, or 40,000 poultry (and all cattle farms) would now be exempt from regulation under the EU's industrial emissions directive.
Conservative and right-wing MEPs are on an offensive against draft EU laws which aim to regulate polluting industrial farms and restore nature, as attention shifts to another vote in the European Parliament on Wednesday, which will determine the fate of a new law to restore degraded natural areas in the EU.
Factory farm pollution
According to the European Environment Agency, the livestock sector alone accounts for 54% of all of the EU's man-made methane emissions, mostly from cattle. Animal farming also pollutes water, air and soil through ammonia and nitrogen oxide emissions, with animal farming accounting for 73% of water pollution from EU agriculture. Farming is responsible for 94% of ammonia emissions, the vast majority of which comes from the livestock sector, again mostly from cattle.
Next steps
Negotiators from the European Parliament, the European Commission and representatives of EU governments will now begin talks for a final agreement on the industrial emissions directive, with a final deal expected in October.
Contacts:
Marco Contiero – Greenpeace EU agriculture policy director: +32 (0)477 77 70 34, [email protected]
Greenpeace EU press desk: +32 (0)2 274 1911, [email protected]
For breaking news and comment on EU affairs: www.twitter.com/GreenpeaceEU
Greenpeace is an independent global campaigning network that acts to change attitudes and behaviour, to protect and conserve the environment and to promote peace. We do not accept donations from governments, the EU, businesses or political parties. Greenpeace has over three million supporters, and 26 independent national and regional organisations with offices in more than 55 countries.
EU Transparency Register: 9832909575-41