Hope in a New Generation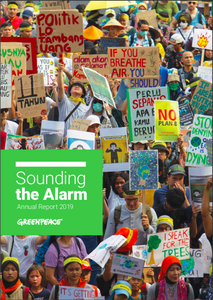 At the UN Climate Action Summit in New York, I watched Greta Thunberg deliver her impassioned speech. "How dare you!," she thundered at world leaders as she berated mount a significant response them for not doing enough to address the climate emergency.
At that moment, I was transported to six years ago at the UN Summit in Warsaw, where I talked about the staggering devastation Typhoon Haiyan wreaked in my country, the Philippines. Back then, I had dared climate change deniers to see firsthand the effects of climate-driven calamities throughout the world, including the Philippines. In New York, Greta brought renewed hope that change would be possible.

Greta also stood at Battery Park, rallying hundreds of thousands of people to demand action from world leaders gathered in New York. I stood and witnessed how this amazing young woman made people believe in hope for our future. Building on the global momentum inspired by Greta's courage and conviction, in 2019, Greenpeace Southeast Asia provided opportunities for young people to dare make their voices heard. Right across the region, we saw young people stepping up and taking part in protests like never before.

But we need your support more than ever in warding off more serious threats to our forests, oceans, food security and our rights to safe and peaceful ecology. We hop you'll continue journeying with us, especially as we go full blast on our 3-year strategic plan, focusing on campaigns that will allow us to reach new levels of strategic partnership and value in the organisation.

We will continue guiding our young people, who, like Greta, are growing more and more indignant and are increasingly finding out that they are not powerless. The youth are tomorrow's leaders but also today's game changers, challenging everyone, including themselves, to do more for their communities and for the environment. Greenpeace Southeast Asia gathers inspiration from these young people whose passionate vigilance has the potential and the power to change the world.
Message from Greenpeace Southeast Asia's Executive Director
Yeb Saño