QUEZON City — The Philippines will remain a preferred destination for waste shipments as long as the government continues to refuse calls to enforce a comprehensive ban on all waste imports, environment groups Greenpeace Philippines and EcoWaste Coalition warned today following the interception of US waste materials at the Subic Bay International Terminal on Wednesday.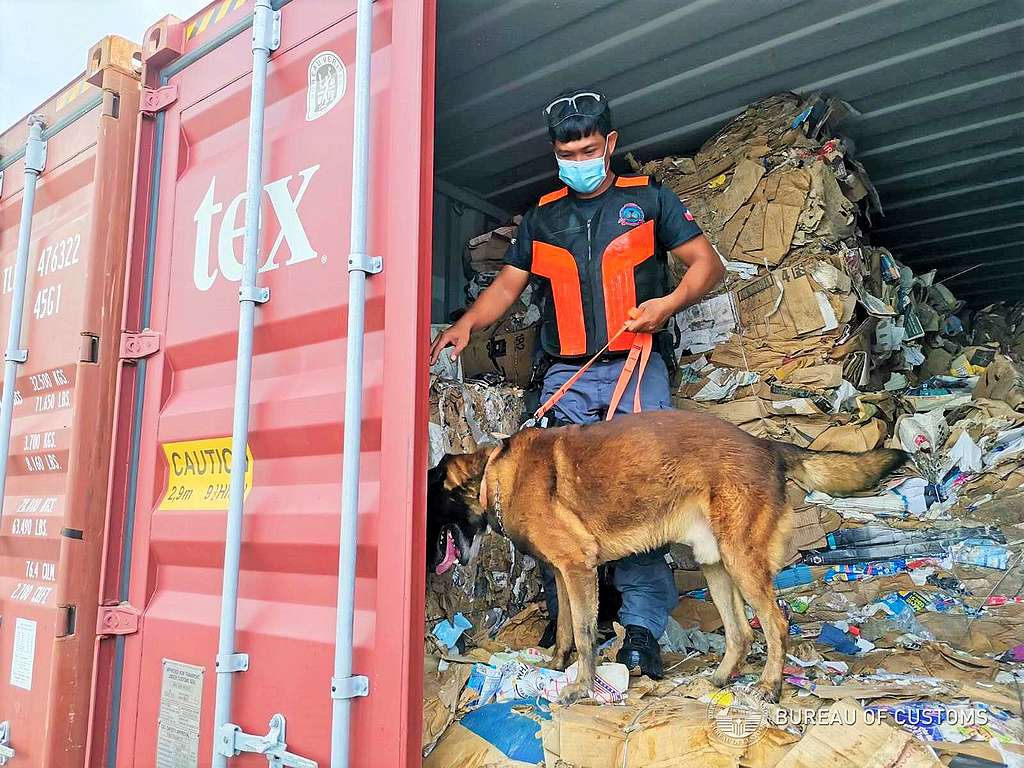 This latest waste importation incident involving containers loaded with mixed waste (including old cardboard, plastic packaging and used face masks) which was misdeclared as old corrugated cartons, shows how richer countries, like the US, continue to prey on the Philippines' loose regulations on waste importation.
Data from The Last Beach Cleanup shows that while the volume of plastic waste imports from the US has decreased since 2019, the Philippines still imported over a million kilograms of plastic waste from the US from January to August 2020 alone [1]. However, this data does not include unreported or misreported waste imports which continue to hound the country.
"Waste trade continues to happen because it is permitted," Greenpeace Philippines Campaigner Marian Ledesma said. "The fact that we continue to be a dumping ground of countries like the US shows that the government has not been doing enough to stop waste imports: the sad reality is that we don't have strong policies in place to prevent it."
Greenpeace and EcoWaste have been calling on the Duterte administration to ratify the Basel Convention Ban Amendment [2], which will align Philippine policies with global efforts to curb waste trade, as well as certify as urgent the pending bills calling for a comprehensive ban on waste importation. So far, there has not been significant movement on the two much-needed policy actions.
"To put an end to foreign waste dumping, the government must see to it that these twin legal measures are acted upon without further delay. The ratification of the Basel Convention Ban Amendment and a total ban on waste importation will send a strong message that the Philippines is not a dumping ground, and that rich countries must take full responsibility for managing their waste instead of exporting them to other countries," said Aileen Lucero, National Coordinator, EcoWaste Coalition.
According to the two groups, there is now a greater imperative to ensure the two policy measures are enacted. The current COVID crisis has caused a tremendous increase in waste generation globally, which may translate to a rise in the volume of illegal waste imported to countries like the Philippines. In Southeast Asia, the Philippines may continue to be a likely destination; its neighbors have announced impending, or are already implementing, strong waste import regulations or bans [3].
Ledesma said that by continuing to accept garbage from other countries, the government is opening up our nation to exploitation, which aggravates the country's health and environmental problems. "This is a great injustice to Filipino communities. Illegal shipments have resulted in added waste management costs shouldered by Filipinos, community exposure to hazardous waste and environmental contamination. These injustices are bound to occur again and again until the Philippines bans waste imports completely."
A March 2020 report [4], co-published by Greenpeace and Ecowaste, details the policy loopholes that turn the Philippines into a dumping ground for developed countries. Aside from ratifying the Basel Ban Amendment, the country must also streamline the definition of "waste" in the Philippine laws, as well as implement stringent monitoring systems to ensure the proper handling of imported waste, which are often exploited by origin countries and regions.
---
Notes to editors:
[1] The Last Beach Cleanup October 2020 Plastics Exports & Facts Briefing https://drive.google.com/file/d/1dRpL3kMN4gRIdHIMRkhfkKLKIQ5d9AKi/view
[2] The Philippines has yet to ratify the Basel Ban Amendment, which prohibits the export of hazardous wastes from developed to developing countries.
[3] Indonesia and Malaysia have both ratified the Basel Convention Ban Amendment. Thailand has announced its goal to end imports of waste by 2021, while Vietnam plans to ban plastic scrap imports by 2025. https://www.cfr.org/in-brief/trash-trade-wars-southeast-asias-problem-worlds-waste
[4] "Waste trade and the Philippines: How local and global policy instruments can stop the tide of foreign waste dumping in the country"
Media contact:
Angeli Cantillana
Communications Campaigner,
Greenpeace Southeast Asia – Philippines
[email protected] | +63 998 595 9733