Year 2021 – we found out that there is an intention to build LNG terminal on Danube river near city center of Bratislava, really bizare, stupid one on land, basically pump station for future LNG ships, sooo…
we collaborated with movements, made some protests
View this post on Instagram
had guerilla signs across the city to raise the awareness and lead people to our website page to sign up petition
and of course start putting the topic of LNG into the mainstream & media sphere
View this post on Instagram
collaborated with illustrators and made leaflets and poster directly on LNG in Bratislava targeting the Bratislava citizens, went to city center and asked shops, libraries, coffee bars and restaurants to put on their entrance this poster – mobilization of people living in Bratislava, cause we dont want this bullshit here in our city
View this post on Instagram
worked, we got it to media and even supported first city action camp made by movements which ended up with NVDA on the very place where LNG terminal is suppose to stand and made our comments on EIA
View this post on Instagram
we tried to test out billboard OOH campaign (too little time, not very creative visuals, limited spaces for billboards that we could choose from so not really had THE EFFECT we wanted
View this post on Instagram
but we ended the year with super successful video with stand up comedian – exposing gas industry greenwashing that went VIRAL…
View this post on Instagram
Ou and sure some geeky fact were needed, we had opinion poll on gas and renewables – showed for example that people have no clue whether gas is good or bad for climate, but 68 % agreed that Slovakia should until 2035 switch from gas-based energy production to production of energy based on domestic renewable sources ….
2022
We continued in toxification of gas and exposed methane leaks from gas infrastructure all over Slovakia, hmm did not fly much…
View this post on Instagram
beside this we tried to use few online trends on social media, like this stop scrolling squirrel
Experienced huge shitstorm cause of Energy4Peace project when war in Ukraine started and we joined the petition stop Russian gas, so instead of talking only about Russian gas and the problems started to talk about solutions and opportunities for us how to get rid of gas – counted the gas consumption and how we can replace it with all available renewables – infographics
and we tried to push more for renewable energy and subsidies – this huge sun in the middle of the square with mane volunteers and activists – nice engagement for volunteers/activists but in the end lot of work with no impact
View this post on Instagram
we joined forces with movements and Friend of the Earth cause of the taxonomy and gave european representatives in slovakia a gas a school certificate by the end of the school year and guess what? it failed
oh and btw do you like memes and reels ? we do and people do to! you can be funny or serious and spread your campaign message easier and who "loves" hates memes? politicians 🙂
Then winter came…. energy crisis in full force, so we focused more on people than gas and tried to work more on social issues & energy poverty
made an open call in our database where people can wrote us if they had unrenovated or partially renovated or new house and we came and with thermocamera documented "heat leaks" (sooo many people replied and wanted to be part of the projects 🙂
had another opinion poll that showed people want renewables and energy efficiency solutions, progressive subsidies for RES/EE, 100 % subsidies for low income households ,but also want gas and nuclear still in the energy mix ….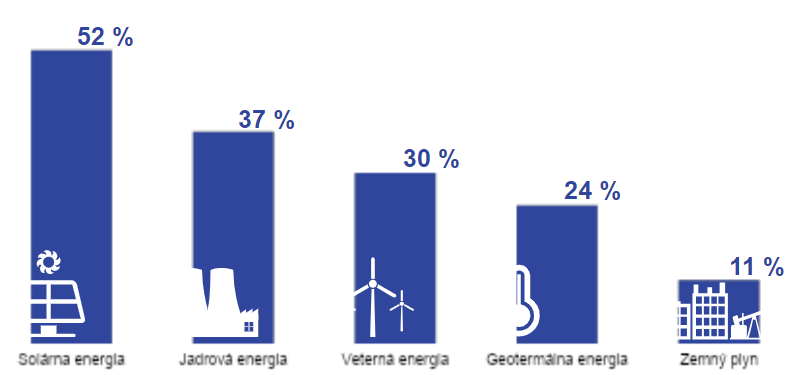 So we created another video with stand-up comedian but this time more serious (so not that viral anymore) basically mocking governments and showing solutions that should be in place for RES/EE
and with agency build up our beautiful interactive website for energy crisis solutions pushing our demands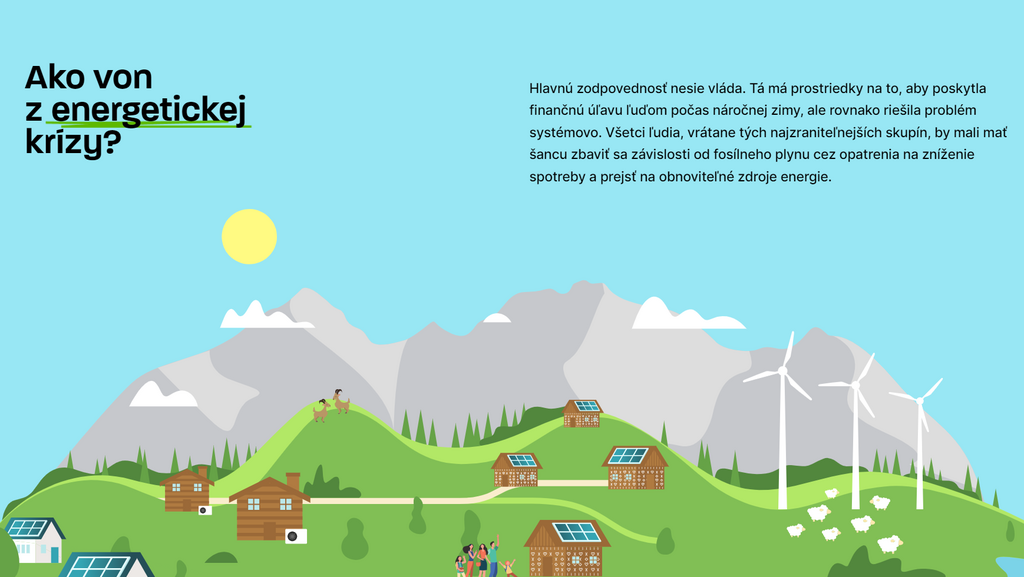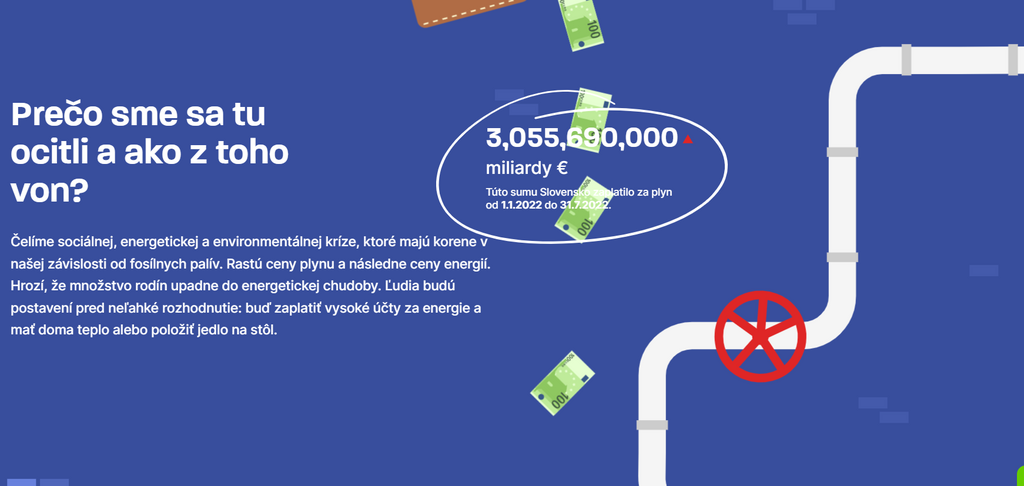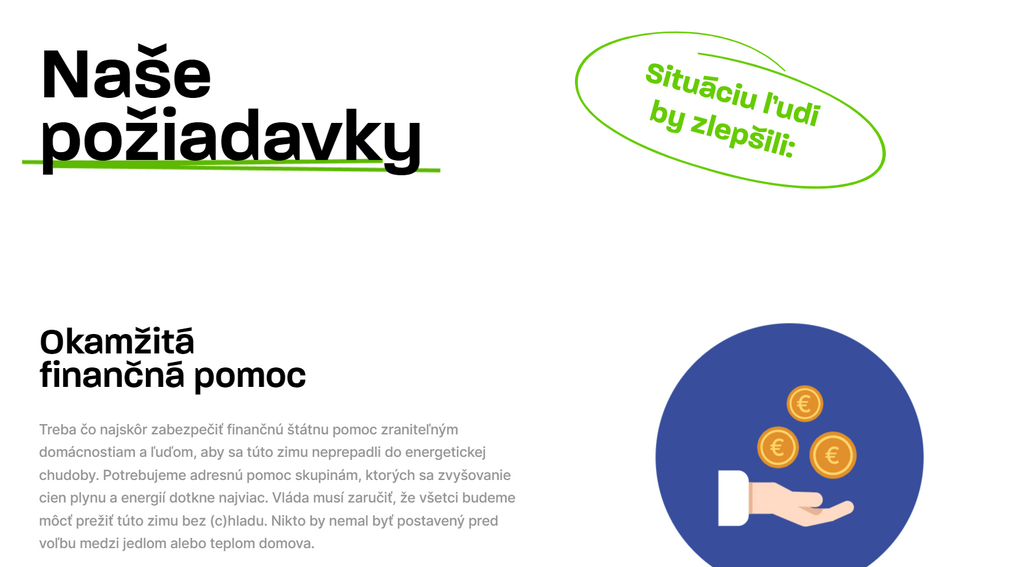 and after a lobbing, advocacy work and lot of media articles we had small win: people from low income households and suffering from energy poverty will have fully 100 % subsidied the renovation of the house (energy efficiency solutions – solar panels, new windows, insulation…)
View this post on Instagram
Takeaways? Don´t be afraid to test, innovate and let creative experts from outside Greenpeace help you with tactics to make it less nerdy one, do more reels, more faces, more actions, more honesty, more authenticity, stories, simplified language so people understand us…
What do we plane next in SK in engagement ?
Mobilize Bratislava against LNG
Upgraded guerilla(ambient) signs
More stories why not LNG terminal
Public discussions
AI exhibition of how Bratislava will look like with LNG terminal in a few years or when explosion happens (cancelled but still a good idea to do)
Billboards/ Ambient/Outdoor ads more strategically situated like on a tram/bus in front of ministry
Video content poll in the streets with a stand up comedian – spreading awarreness
Website (new "bombastic" part of the city with LNG terminal – showing all the "benefits" that LNG in Bratislava has – )
Postcards from future bratislava – SK famous artists painting future with lng (bad emisisons, climate, water, air, etc… ) – offline/online – collecting protest postcards with messages for minister… one standalone postcard in the city center greetings from future you dont want to have….
NVDA
+ gas stoves CLASP health impact of cooking on gas