13 April, Johannesburg – The devastating torrential rains in Kwa-Zulu Natal continue to claim lives and drive loss, damage and displacements in the region. This has quickly become a humanitarian crisis, further marred by South Africa's ill-prepared infrastructure and our weak adaptive capacity as a nation.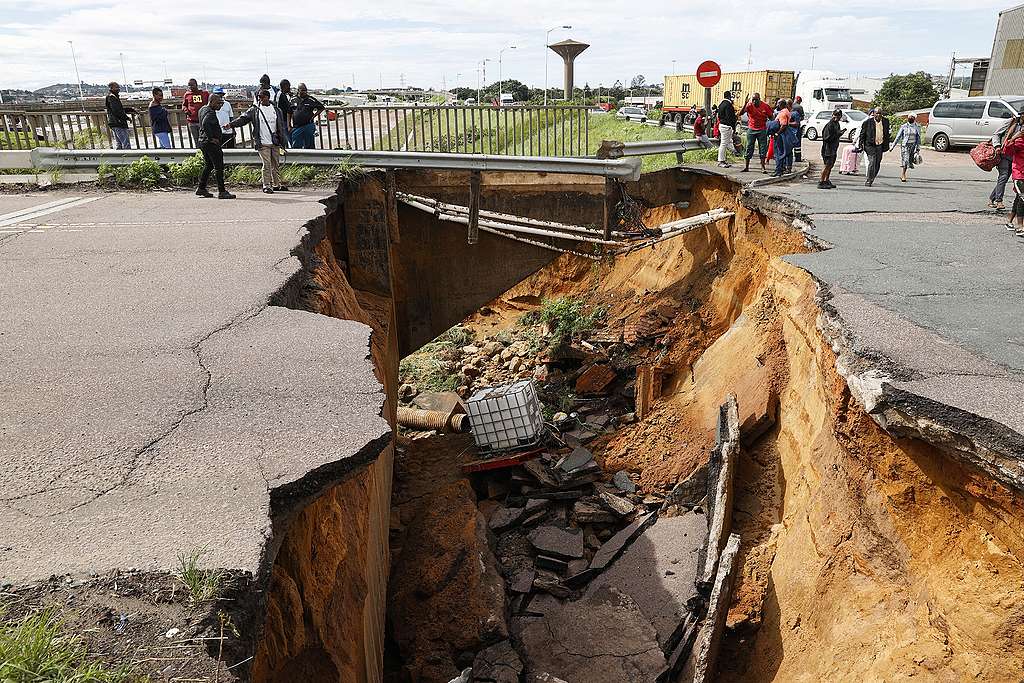 When asked for comment Climate and Energy Campaigner Thandile Chinyavanhu said, "Greenpeace Africa offers its solidarity to the people impacted by the floods in KZN. Climate change is unfolding violently before our eyes. It is not imminent – it is happening now. Experts concur that the impacts are occurring at a faster pace than previously assessed. There are complex drivers behind our weather patterns, and rising global temperatures have disrupted these systems.
"The scenes from KZN are a demonstration of how climate change threatens to disrupt every aspect of our lives: education, access to healthcare, water and food security. Crops will fail, supply chains will be disrupted, jobs will be threatened and hunger will persist. The government needs to recognise the socio-economic imperative behind climate action. Greenpeace Africa demands President Ramaphosa declare a climate emergency to unlock resources to implement contingency plans to mitigate further harm and enable South Africans to adapt to our quickly changing climate."
NOTES
[1] Greenpeace Africa released a report titled "Weathering the Storm: Extreme weather events" which details the impacts of climate change across Africa.
[2] Greenpeace International's press release on the Intergovernmental Panel on Climate Change's Impacts, Vulnerabilities and Adaptation report.
[3] Greenpeace Africa released a blog titled "Distressing findings of Intergovernmental Panel on Climate Change Report signal climate litigation to come" available here.
Contact details
Greenpeace Africa Press Desk: [email protected]
Chris Vlavianos, Greenpeace Africa Communications Officer: +27798837036, [email protected]