Shell is suing Greenpeace – threatening an $8m damages claim and trying to stop us protesting anywhere in the world. We need your help to fight Shell in court.
Earlier this year, six Greenpeace International activists managed to board and occupy a moving Shell oil platform. The platform was making its way towards the North Sea to unlock new oil wells.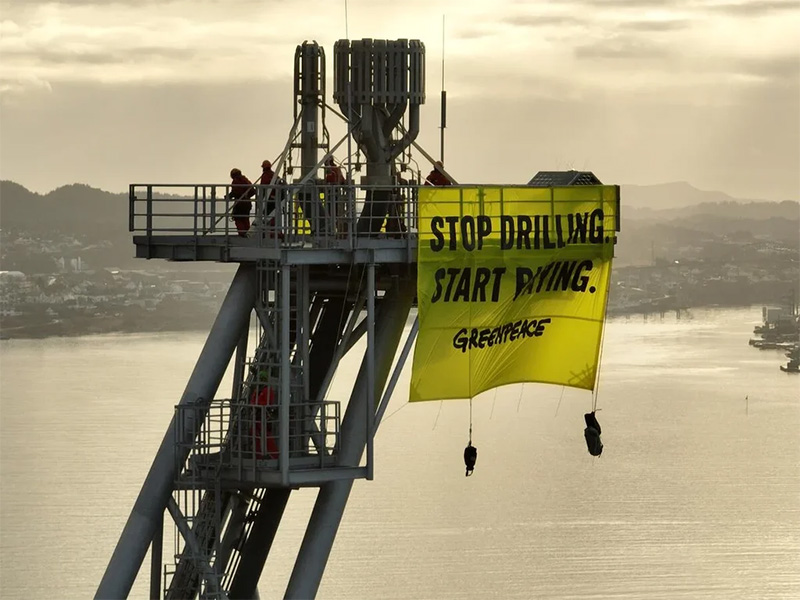 Their demand was clear: Shell must stop drilling for new oil and gas, and start paying up for causing decades of climate damage.
The protest continued for 13 days and almost 4,000km. During this time, Shell reported record annual profits of nearly $40bn. But they won't pay a penny towards fixing the climate chaos they've caused.
Like so many of us all over the world, the activists who occupied Shells' platform all experience the climate crisis in different ways – from rising energy bills and flooding to heatwaves and cyclones. This protest took the fight for climate justice straight to Shell, in a way they couldn't ignore. Standing with millions of people worldwide, who are losing their lives, loved ones and homes to climate breakdown caused by fossil fuel giants.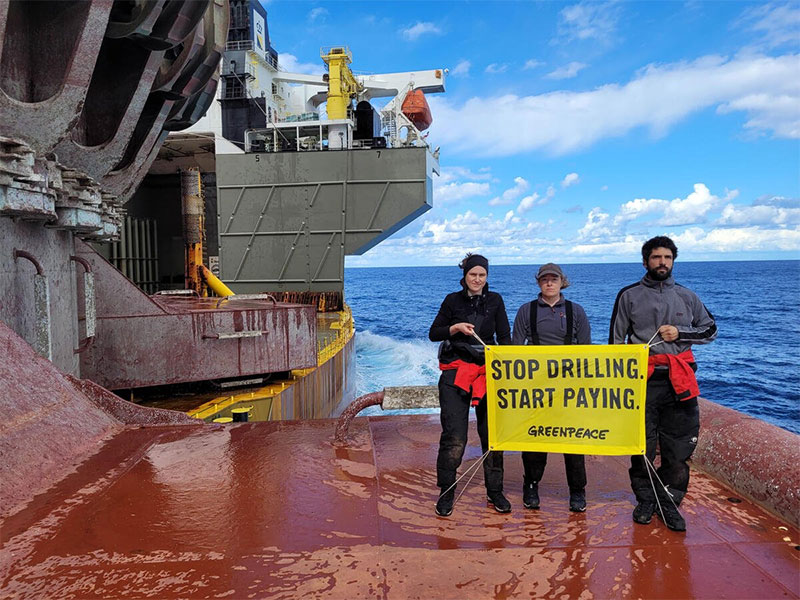 Well, we got Shell's attention. Now they're suing Greenpeace UK and Greenpeace International, threatening an $8m damages claim and a protest ban.
These bullying tactics threaten the global fight for climate justice. Will you help us stand up to Shell and donate today to the Stop Shell Fund?
Why is Shell suing Greenpeace?
Shell is trying to silence us. They're demanding we stop protesting at any of their facilities at sea or in port, anywhere in the world, ever again, or otherwise face an $8.6m damages claim and a wide-ranging injunction to limit our right to protest.
Our protest was peaceful, safe and carefully planned. We caused no damage. It's Shell who must pay for the climate devastation they're causing globally, all to chase profit.
What's at stake for climate action?
This is huge. For more than 50 years, Greenpeace has campaigned to defend people and our natural world from extractive and destructive forces like Shell.
But these aggressive legal tactics, the huge sums of money and attempts to block the right to protest pose a massive threat. It could stop Greenpeace being able to make a real difference on the things that matter most.
This is even bigger than us too.
It's part of a growing trend by powerful corporations and governments to crush peaceful protest – using draconian laws or intimidation lawsuits like this. It seeks to silence the people most impacted by the climate crisis. This threatens the global fight for climate justice.
We won't give up. This is Shell versus all of us.
We will fight this in the courts, but to do that we need your help. Please donate to fund Greenpeace's legal fight.
The new threat of oil exploration in Aotearoa New Zealand
Here in Aotearoa, we now face the disturbing prospect of a new Luxon-led Government hell-bent on overturning New Zealand's celebrated ban on new offshore oil and gas exploration.
The oil and gas ban was the most significant thing the previous Government did on climate, and it was something we fought for nearly a decade, alongside iwi, hapū and thousands of others, to achieve.
Nobody wants to see oil spilling into the sea and onto their coastlines and beaches, nor harming precious wildlife. Nobody wants to see climate change-induced storms like Cyclone Gabrielle happening even more frequently or more communities devastated by fires and floods.
The science is very clear: If we are to avoid total climate collapse, even known fossil fuel reserves cannot be burned, let alone new ones.
So together, we sailed in flotillas, we marched in the streets, we jumped in front of oil ships, and so much more. We pushed out oil giant after oil giant and made it very clear that here in Aotearoa New Zealand, we will not sit by and see big international oil companies risk oil spills in a pointless search for oil that cannot be burned.
From that long campaign and others like it, we know that people-power works.
And we know that when we stand together, we win. So we will resist Shell's attempts to shut down peaceful protest and climate activism, and we will resist oil exploration here in Aotearoa again.
Add your name to the open letter of resistance.