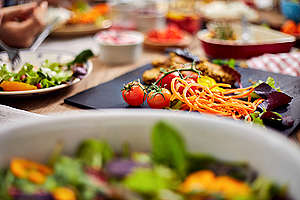 (Montreal / Toronto / Vancouver) – In an open letter published today, 65 scientists from 11 different countries, including prominent Canadian geneticist and broadcaster David Suzuki, called on mayors around the world to address the climate crisis and improve urban health by reducing city meat consumption.
Lead author of the Intergovernmental Panel on Climate Change (IPCC) and signatory to the scientists' letter Professor Pete Smith at the University of Aberdeen said: "Cities can play a crucial role in helping citizens to reduce their consumption of livestock products, and to enable the changes necessary to meet ambitious climate change targets."

The letter will be delivered to a network of megacities representing a quarter of the world's economy, including Montreal, Toronto and Vancouver, that will soon meet at the C40 World Mayors Summit in Copenhagen, Denmark, from October 9-12.
In advance of the Mayors Summit, Greenpeace Canada is asking Montreal Mayor Valérie Plante, Toronto Mayor John Tory and Vancouver Mayor Kennedy Stewart to embrace these expert recommendations for healthier cities and a healthier planet. Livestock emissions, including land-use change from deforestation for meat and feed production, account for over 14% of all greenhouse gas emissions, which is comparable to emissions from the transport sector worldwide.
In Toronto, Greenpeace Canada Nature and Food campaigner Yasmeen Peer: 
"This week Mayor John Tory declared a climate emergency. Today these scientists are giving him key advice on how creating new food policies must be part of solving it. Including meat reduction as part of the city's climate action plan will cut Toronto's carbon footprint and improve our communities' health. 
"The new Canada Food Guide also recommends people get more protein from plant-based sources. Mayor Tory can make a major impact in Toronto's fight against climate change by making nutritious, local fruit and vegetables more accessible to all."
Speaking in Montreal, Greenpeace Canada Climate campaigner Patrick Bonin:
"More and more people are calling for change to solve the climate emergency. The 500,000 people who gathered in Montreal last Friday are the latest example of a growing movement for ambitious climate action. Valérie Plante, mayor of Montréal and global ambassador for local biodiversity has promised to be a leader in the fight against climate change by reducing the city's greenhouse gas emissions by 55% by 2030," said Patrick Bonin, Climate and Energy Campaigner at Greenpeace Canada.
"These commitments are good, but much remains to be done. After giving Greta Thunberg the keys to the city, we hope that Mayor Plante will move forward with ambitious sustainability policies. Ensuring Montreal addresses the impacts our food has on vital ecosystems and the climate would show that the city is listening to both scientists and citizens' concerns," concluded Mr. Bonin.
In Vancouver, Greenpeace Canada head of Oceans and Plastics Campaign Sarah King: 
"Lots of people living in Vancouver already know that our food impacts more than just our health. From industrial livestock on our shelves to that can of tuna fished halfway around the world, the carbon footprint and impact on ecosystems can be devastating. Mayor Stewart is well positioned to play a role in reducing demand for meat and fish through the Greenest City Initiative."
-END-
For more information and images please contact:
Mojgan Mohammad, Communications Officer, Greenpeace Canada
[email protected] +1 514 400 3313