Today I delivered a message on behalf of more than 250,000 Greenpeace supporters to the global headquarters of Restaurant Brands International (RBI) — the company that owns Burger King.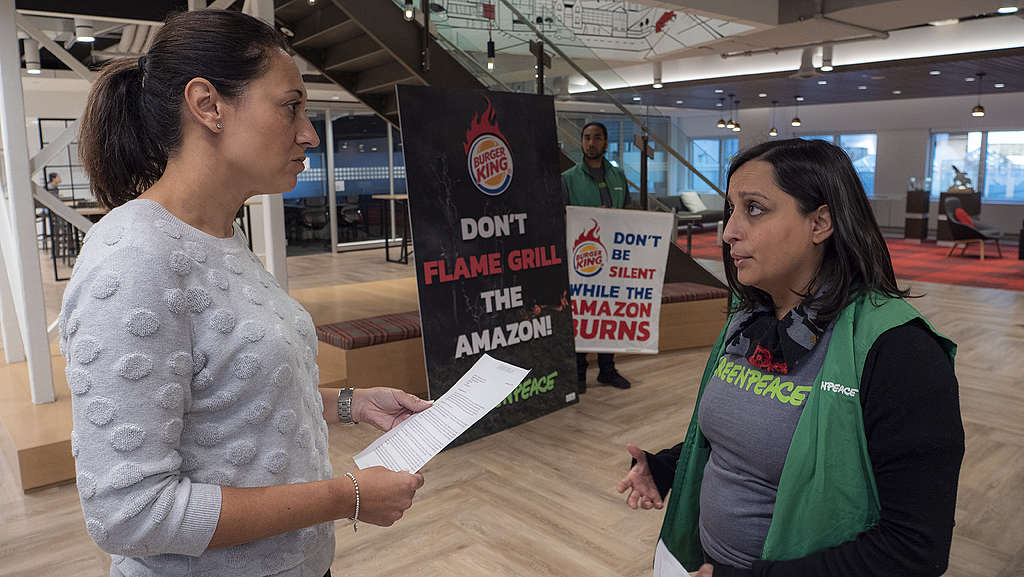 When we discovered that the company's global HQ was just a few blocks from Greenpeace Canada's office in downtown Toronto, we knew we had to deliver our message directly to their doorstep.
Burger King is selling meat through its global supply chain that is sourced from Brazil. The global demand for meat from companies like Burger King is driving the raging fires in the Amazon. This forest, home to many Indigenous Peoples, is being deliberately set on fire, fuelled by President Bolsonaro's vision to exploit and replace Brazilian forests with industrial soya plantations and cattle ranches.  
While the media may have moved on to the next big story, the Amazon is still on fire. Fast food companies like Burger King are standing by as it burns. Instead, they need to reject products linked to forest destruction across Brazil. The more of us that speak out now, the more pressure we can build. 
So far, Burger King has stayed silent during this crisis, so today we delivered a message they can't ignore: a giant sign reading "Don't flame grill the Amazon" that we brought to their global HQ in downtown Toronto.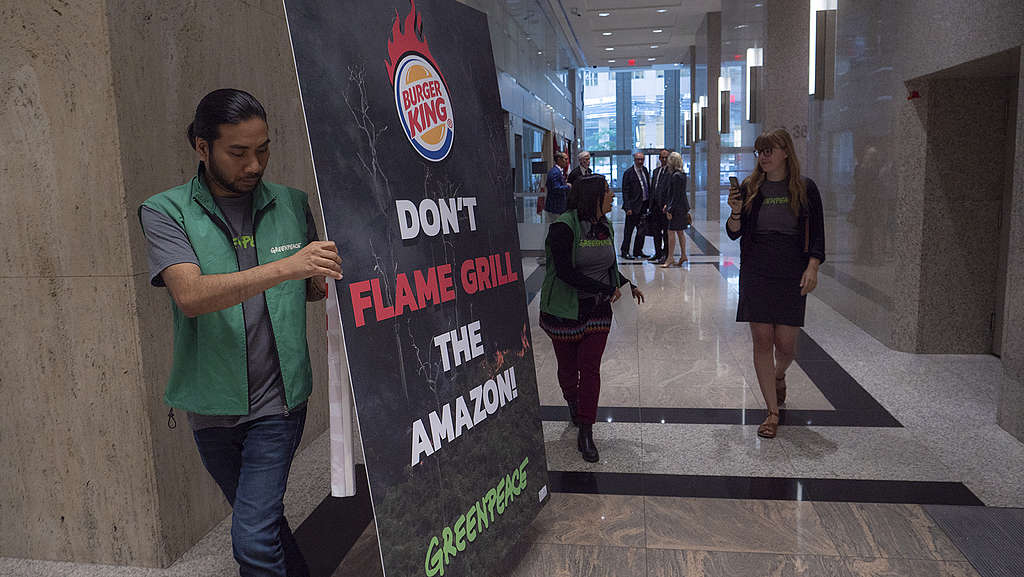 Fast food companies buying from Brazil cannot continue business as usual while the biggest rainforest in the world is being burnt down for cattle farms. If they reject products linked to the destruction of the Amazon and forests across Brazil, that would send a strong message to the Brazilian President, Jair Bolsonaro, that his anti-environmental and anti-human rights agenda is not only fueling climate change, it's also bad for business. 
We just delivered a message to global HQ of the company that owns @Burger King: Don't flame grill the Amazon! Add your voice 👉 https://t.co/479tBlyMQg #SaveTheAmazon #LessMeatMoreForests pic.twitter.com/v81vgozrtY

— Greenpeace Canada (@GreenpeaceCA) September 18, 2019
Right now, Greenpeace is on the ground working alongside Indigenous and local communities that call the Amazon rainforest home. At the same time, we need to build global pressure on companies like Burger King that could help stop these fires for good.
To have the biggest impact, we need to keep up the pressure — and flood Burger King's social media with our demands. The more of us that speak out now, the harder it will be for Burger King to stay silent. Click here to send tweets to Burger King calling on them to take a stand against Amazon destruction.
Seems fitting for #nationalcheeseburgerday ….Greenpeace message to Burger King owners: Don't Flame Grill the Amazon via @GreenpeaceCA https://t.co/e0GN4IMpTe #lessmeatmoreveg #amazon #forestfires

— sarah king (@sckinger) September 18, 2019