It was historic.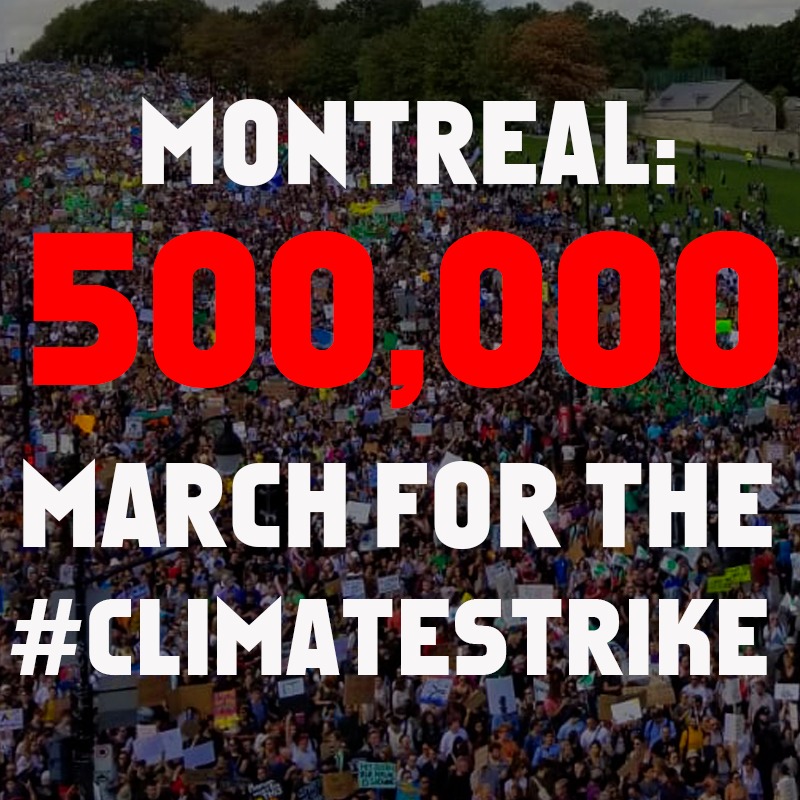 Over 750,000 people across Canada, more than 7.6 million people across the planet in 170 countries, at 6383 events.
It was the largest planetary mobilization for action on the growing climate crisis ever. Record numbers came out across Canada – including over half a million people in Montreal alone in the largest single global march for climate action in history.
Send a message to your political candidates today. 
And it was led by young people, by students, and Indigenous youth.
All around the world people took to the streets to push for action on an issue that is already making its presence felt in their neighbourhoods and communities.
Extreme climate fuelled weather events are already becoming commonplace. Rising seas and growing wildfires are erasing entire cities. Floods, droughts and heat waves are already displacing homes, forcing migration, and killing people.
When the students that led this week's marches look at the science they know that their future is literally on the line.
They've heard the 11-year window scientists have given us to act and cut our emissions in half (even shorter if you live in an industrialized nation like Canada) and they see our world leaders failing.
Send a message to your political candidates today. 
They see our politician's commitments falling far short of what is necessary and they see them failing to treat a crisis that directly impacts the safety of their future, like the emergency it is.
That is why a little over a year ago today Greta Thunberg made her sign and started the first climate strike. She sat alone and then with a few friends and now, a year later, she stands with millions.
Friday was beautiful.
I was at the march in Montreal while as the speeches began km's away (and hours after the march started) the end of the march finally left its starting point. The streets were full of the hope and the rage of people all following the Indigenous youth that led the way.
Other than Conservative leader Andrew Scheer, all the major political party leaders were in the marches.
You'd think with that type of awareness and common understanding Canada would have already acted and be leading the way in the transition but that's the exact disconnect these marches are trying to bridge – the disconnect between the talk and the actions and decisions our governments make.
I heard from many strikers that they are tired of the accolades they get from adults. They don't want to know how much you admire them, they want to know what you are going to do to save their future and our collective present.
Friday was a clear demonstration that people across Canada want action on the climate crisis.
In the days, and months and years ahead we are going to have to fight for that future again and again. So make a commitment with me here today that yesterday won't be just a historic event but will be the turning point. Let's commit to fighting for that world and supporting each other while we do in the streets, in the courthouses, our office places and at the ballot box.
Onwards.
M
Send a message to your political candidates today. 
And if you're in Vancouver or Montreal help continue the momentum this Saturday. Register now.
Here are some of the final wrap-up numbers for strikes in Canada:
Vancouver – 80,000
Victoria – 20,000
Montreal – 500,000!!!!!!
Halifax – 10,000
Edmonton – 4,000
Winnipeg – 10,000
Ottawa – 10,000 – 30,000
Toronto – 50,000 – 100,000
Sherbrooke – 5,000
Quebec City – 20,000 – 25,000
Sackville NB 150
Sudbury ON 1000
Iqaluit NU 50
Fredericton NB 1000
Charlottetown PEI 100s
Kitchener-Waterloo ON >5000
Nelson BC 1000
Saskatoon 2000
Barrie On 1000+
Saskatoon 3000
Windsor ON 500
Woodstock NB 150
StJohns NL thousands
Peterborough 100s
Bracebridge ON 200
Calgary AB 1000
Caraquet NB 300
Chambly QC 300
Collingwood 500
London 500
Yellowknife 1000
Edmundston NB 1000
Mississauga 100
Milton 100
Nicolet, QC 360
NorthBay 110
Penticton, BC 400
Regina 1000
Revelstoke -100's
Sarnia 700
ThunderBay 600
VaudreuilDorion, QC 3000
Woodstock ON 150
Wolfville NS 100
Saint-Jérôme, QC 800