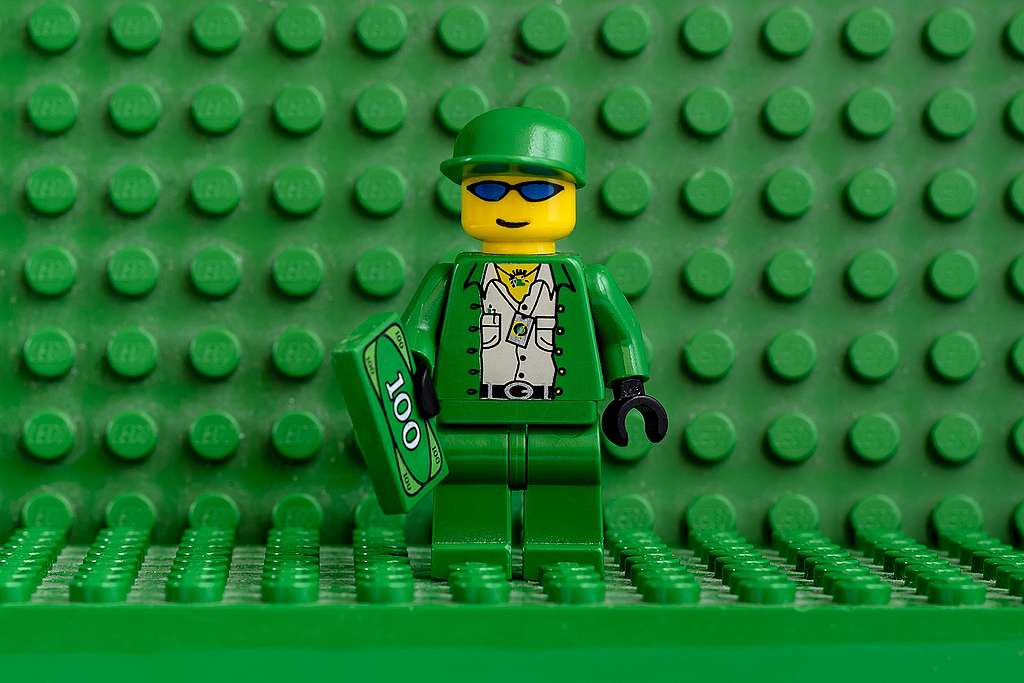 Our economy is no doubt suffering due to the COVID-19 pandemic, but some among us have financially benefited from this crisis.
One month into pandemic lockdowns, 5.5 million Canadians had either lost their jobs or seen their hours cut more than half. While many people are struggling to pay bills, major grocery store owners have raked in millions in profits. So when major supermarkets decided to cut the $2-an-hour pay bump (called "Hero Pay" or "Pandemic Premiums") to frontline workers, it raised more than one eyebrow.
Following widespread public outrage,executives of Loblaw Companies Ltd., Metro Inc. and Empire Company Ltd. have been summoned to appear before a Parliamentary committee today to explain the apparently coordinated pay cuts. As Liberal MP Nate Erskine-Smith, who initiated the motion for these hearings, put it, "To see record profits and grocery store executives slash pandemic pay in the middle of pandemic, it doesn't sit right."
Contact your MP and tell them you support a wealth tax for the rich and a living wage for employees
Many employees along with their unions have been hurt by this decision, which has been called unjustified. A letter from a grocery store worker from Kingston Ontario, says it best: "I get paid minimum wage and most of my earnings go towards paying rent. […] We don't want to be labelled as 'heroes'. All we need is a better pay – during all times. We need some protection from getting exposed at work and essential workers deserve a better life too."
These grocery store giants are justifying their decision by saying things have now normalized. But even if businesses are reopening their doors, the pandemic is not over. If anything, this pandemic has exposed long-standing injustices and brought about a greater awareness of income inequality and health risks faced by retail workers.
Greenpeace has long been pushing grocery store retailers like Loblaw, Sobeys, Metro and Save-on-Foods to take responsibility for the environmental impact of what's on their shelves, from ensuring they're stocking sustainably caught seafood, dealing with their plastic packaging problem, to reducing food waste. Let's stand with frontline workers to ensure that grocery stores, their investors and wealthy owners clean up their act and take responsibility for the wellbeing of who's stocking their shelves, too.
Read on to learn more.
Pay cuts for workers, payouts to investors
Here's the skinny on the Canadian grocery stores and their owners that have cut pandemic pay to frontline workers in their stores … even as their pandemic-fuelled profits keep rolling in. As you can see in the chart below, big supermarket owners have raked in more than $700 million in net earnings and announced dividends to shareholders, as of the early part of 2020.
A
B
C
D
Grocery chains
Loblaw, No Frills, Real Canadian Superstore, Maxi
Sobeys, Safeway, FreshCo, IGA, Foodland, Farm Boy, Thrifty Foods, Rachelle Béry
Metro, Metro Plus, Super C and Food Basics
Save on Foods, Quality Foods, Buy-Low Foods, Choices Market
Parent Company
Loblaw Companies Limited
Empire Co.
Metro Inc.
Jim Pattison Group
Pandemic pay cuts to workers
$2/hr Hero Pay top up ended June 13, with a bonus equal to two weeks of Hero Pay.
$2/hr Hero Pay top up ended June 13, with a bonus equal to two weeks of Hero Pay.
$2/hr Hero Pay top up ended June 13 and will provide a bonus of $200 for full-time staff and $100 bonus for part-time staff
Save-on-Foods' $2/hr Pandemic Premium top up ended May 30 (replaced with choice of 10% store discount or 30x store loyalty points on purchases).
Adjusted net earnings during COVID-19:
$352 million for the first quarter 2020 (ending 21 March 2020), which is up 21.4% compared to same quarter in 2019.
The pandemic influenced sales for this quarter jumped $751 million.
$181.2 million as of the quarter ending 2 May 2020 (up 43.2% compared to same quarter in 2019).
COVID-19 influenced sales to jump 37% during a 4-week period starting March 8.
$182.8 million as of the quarter ending 14 March 2020 (up 17.9% compared to same quarter in 2019).
The sales increase due to the COVID-19 pandemic is estimated at $125 million.
Not publicly available.
Dividends to investors announced during COVID-19?
Yes, payable on June 30/July 1.
Yes, payable on July 31 (also announced an annual dividend per share increase of 8.3%).
Yes, declared a quarterly dividend on 21 April 2020 that was12.5% higher than the same quarter in 2019.
Not publicly available.
The billionaires behind some of the brands
Galen Weston
W. Galen Weston is the Chairman Emeritus of George Weston Limited (his son is the company's Executive Chairman and CEO), which owns Loblaw Companies Limited, which in turn owns a number of grocery stores brands along with the leading pharmacy in Canada, Shoppers DrugMart / Pharmaprix. The Westons are some of Canada's wealthiest people. While the company has expressed a belief in a "progressive minimum wage" and would support "any government-led effort to establish a living wage", the proof is in the pudding, and this seems to try to pass the buck — after all, nothing is stopping them from paying employees a living wage. (And don't forget: back in 2017, the company complained to its shareholders about the financial risks of raising the minimum wage, which sparked accusations of trying to politically sabotage such a raise.)
Grocery chains owned
Net worth, as of 8 July 2020
Bloomberg Billionaire Index
Net worth growth during
COVID-19 lockdowns
Mar. 12 – July 8, 2020*
Loblaw, No Frills, Maxi, Provigo, Real Canadian Superstore, and more.
US$8.02 billion
US$790 million
*March 12th is the day after the WHO declared a pandemic.
Jim Pattison
Jim Pattison is reported to be the sixth richest man in Canada. He is the CEO and owner of the privately-held conglomerate Jim Pattison Group, which owns Save-on-Foods and other western supermarket chains. He also has stakes in natural resources, from forestry (Canfor, and West Fraser Timber), to diamond mining (Canterra Minerals) to fossil fuels like natural gas (with some carbon offsets) and coal (Westshore Terminals) — despite Pattison saying only last year that he is "a supporter of trying to do everything we can to help the environment."
Since the lockdowns in March 2020, his multi-billion dollar fortune has increased by about $1.08 billion, but that has not stopped him from claiming he has no say on the pandemic pay cuts for frontline workers at his Save-on-Foods grocery chain.
Companies owned
Net worth, as of 8 July 2020 Bloomberg Billionaire Index
Net worth growth during COVID-19 lockdowns
March 12 – July 8, 2020
Save on Foods, Quality Foods, Buy-Low Foods, Choices Markets
US$5.54 billion
US$1.08 billion

Weston and Pattison aren't alone. Others among Canada's wealthy elite have interests in the grocery sector, such as the Sobeys family, several members of whom sit on the board of Empire Co. (which owns Sobeys, Safe-ways, FreshCo, IGA, and Rachelle Béry). Back in 2018, their wealth was valued at $2.88 billion.
Sobeys, along with Loblaws, Metro and other retailers were also accused of collusion, allegedly fixing the price of bread for 14 years, starting back in 2001 – violating Canada's competition laws and increasing the price of bread, a food staple for many people. With such a history it is clear why MP Erskine-Smith said he "would like to ensure there is no such collusion to reduce the wages of our essential workers in the middle of a pandemic."
Solutions for people and planet? A wealth tax for billionaires; a living wage for employees
We already know that inequality matters when it comes to the environment. The biggest polluters tend to be the wealthiest, while climate change is expected to ramp up food prices significantly, which will hit the poorest people the hardest. To fix our planet's climate and biodiversity crises, we need to change the rules of the system that have allowed wealthy elites to prioritize profits over the relationships we have with each other and with nature.
No one should be allowed to unfairly amass wealth and influence by undercutting customers, workers or the planet we depend on — but if we don't take action now, that's exactly what's going to keep happening. A new report released last month by the federal government shows that wealth concentration in Canada is worse than we thought: the top 1% of families own a quarter of this country's wealth. Meanwhile, the middle-class own another quarter and the poorest 40% own a paltry 1.2%.
Our economic system is deeply broken. The fact that COVID-19 exposed it so unflinchingly gives us a chance to reset. That's why Greenpeace is advocating for systems change: ensuring that the Trudeau government's plans for the post-pandemic economic recovery (expected this fall) aim to fix the problems of inequality, injustice and environmental crisis right at the roots.
A wealth tax on the richest slices of society is one policy we support for bringing our society back into balance. A study released just last week, for example, found that such a tax could generate $5.6 billion in public funds, which could help support low-income households and help pay for a green and just recovery from the pandemic. We also need to ensure that essential supermarket and retail workers don't go back to normal because normal wasn't good enough. They deserve a living wage, as outlined in Unifor's "Fair Pay Forever" campaign.
Tell your MP you want a wealth tax and a green and just recovery