There is finally cross-party support for the federal government to stop bankers from pouring gasoline on the climate change-fueled bonfire (because bankers aren't going to do it out of the goodness of their hearts).
Liberal MP Ryan Turnball, with the support of NDP, Bloc and Green MPs, has introduced a new motion calling on the federal government to "use all legislative and regulatory tools at its disposal to align Canada's financial system with the Paris Agreement made by the Conference of Parties under the United Nations Framework Convention on Climate Change."
This could have globally significant impacts because Canadian banks are outsized contributors to the global climate crisis. According to the most recent Banking on Climate Chaos report, RBC was the top financier of coal, oil and gas in the world last year, while Scotiabank, TD, BMO and CIBC all made the top 15. Collectively, they have provided over CDN $1 trillion dollars to fossil fuel companies since the Paris climate agreement was signed.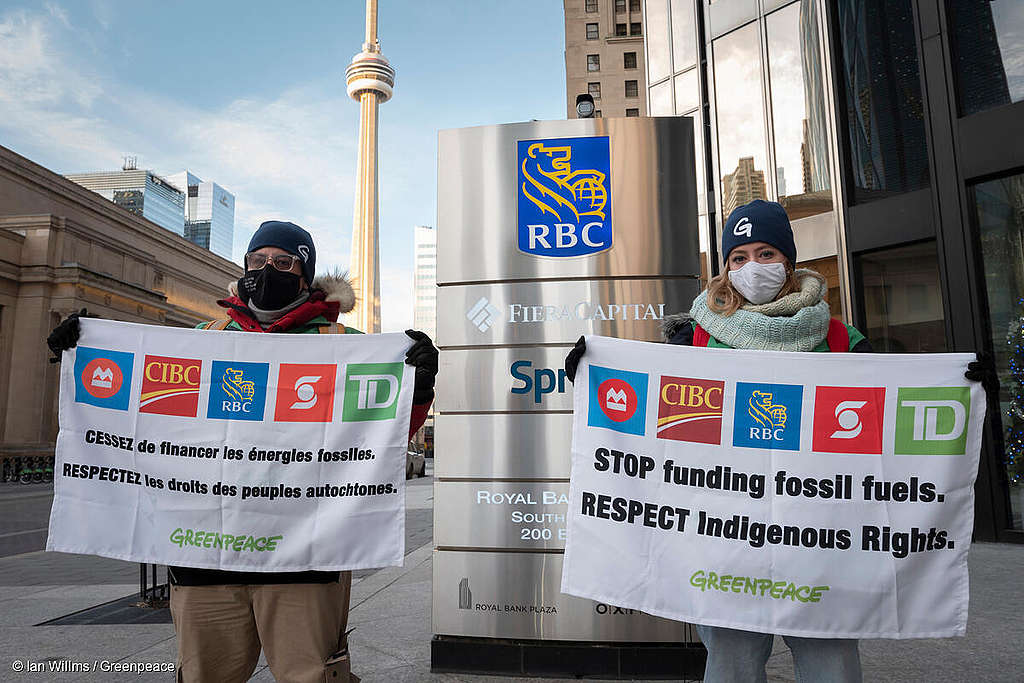 In spite of this oversized role in fueling the climate crisis, or perhaps because of the profits it provides to our highly-concentrated and politically powerful banking industry, Canada's Auditor General's office has found that we lag behind our global peers in regulating the financial sector with respect to climate change. This finding was echoed by a UN review, which found that Canada is "a low-regulation jurisdiction" that relies on voluntary measures to align business investment with responsible climate action.
This may be beginning to change. Canada's banking regulators are part of the global network of central banks re-assessing their role in the climate crisis. The Bank of Canada is preparing standardized scenarios for financial institutions to use to assess climate-related risks and has disclosed its own exposure to climate-related risks. In March 2023, the federal banking regulator (the Office of the Superintendent of Financial Institutions, or OSFI) released new guidelines related to the management of climate-related risks.
Yet those guidelines are focused on making banks more resilient to climate-related disruption and ignores the role of banks in causing climate change. When pressed on the latter point by the federal Commissioner of Environment and Sustainable Development (who is part of the Auditor General's office), OSFI said that they didn't believe that their legislative mandate allowed them to address the role banks in causing climate change, only to ensure that financial markets can continue to operate normally when significant climate-related financial risks arise.
The Commissioner disagreed: "Although OSFI's mandate has not changed, the Canadian legal landscape has, specifically as it relates to Canada's environmental and sustainable development goals." This new legal landscape, in his opinion, requires OSFI to support the transition away from carbon-intensive industries, such as oil and gas, because a low‑carbon economy would ultimately support long‑term financial stability.
The motion brought forward by MP Turnbull, and supported by three other parties, could be an important step in clearing up this confusion. It is not, however, the first step as there has already been a lot of thought put into how private finance can be aligned with our climate goals.
Senator Rosa Galvez has introduced a private members bill, the Climate Aligned Finance Act, that establishes climate alignment as a superseding duty for regulators and incorporates measures to enforce science-based targets on financial institutions, with an aim of ensuring greater climate resilience across our whole financial ecosystem.  
In parallel, environmental and investor groups have drafted a Roadmap to a Sustainable Financial System in Canada. The Roadmap's central pillar is a requirement for financial institutions, federal entities and corporations to adopt a Credible Climate Plan that formalizes, standardizes, and extends commitments that many Canadian financial institutions have already made under voluntary initiatives.
The fact that Canadian banks' fossil fuel finance is higher now than it was when the Paris climate agreement came into force is a clear sign that we can't continue to rely on bankers to do the right thing voluntarily. There is now cross-party support for federal action to force banks to align their loans and investments with a climate-safe future, so let's make it happen.
More to come on this soon…