Join the postering and stickering campain to demand Canada's dirty banks stop funding fossil fuels and other projects that violate Indigenous rights.

The five major Canadian banks — BMO Financial Group, CIBC, RBC, Scotiabank and TD — are listed in the top 25 global banks financing fossil fuels. Desjardins is part of the problem too. Together, they are pouring hundreds of billions of dollars into fossil fuel projects. In turn, they are violating Indigenous rights, enabling environmental destruction, and extending Canada's history of colonialism for short-term profits. This needs to stop!
Let's use public space to spread the message:

Fossil Banks – No Thanks!
Find a bank branch near you and plaster the neighbourhood with creative stickers & posters calling on them to stop funding destructive fossil fuel projects! The more people we inform through these activities, the more pressure we put on the banks to change. Using public space to spread our message will not only disrupt the banks, it will also help to inspire others to join! Ad busting and creative postering campaigns have often been used to build successful movements. So let's do this!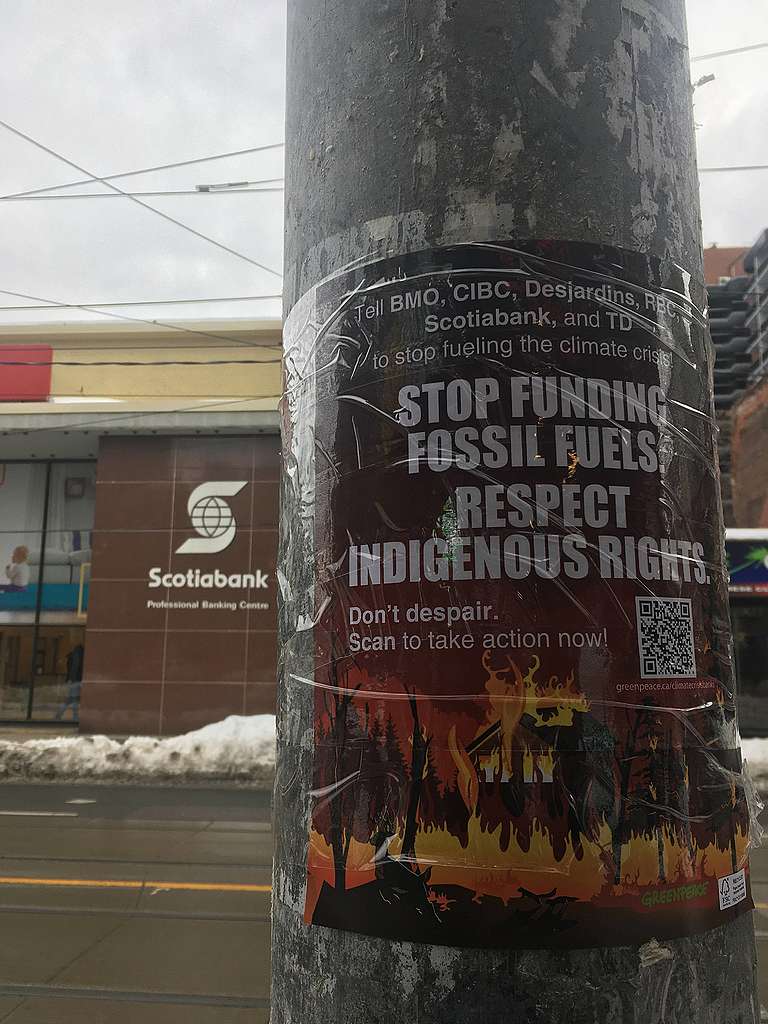 Step 1:
Make a plan.
Use maps to locate all the dirty 5 bank branches near you and plan your route! Choose a buddy to go with you –  it's important to consider both your safety and privilege. Be mindful that each municipality has its own laws around where you can poster, so best to dig in and learn about those bylaws first before you head out. 

Step 2:
Download and print your posters and stickers!
There are both colour and black and white options.

If you can't get them printed yourself, don't worry! Just email us at [email protected] so we can arrange a way to get them to you.

Step 3:
Choose your method.
Grab some tape, load your staple gun or make your own wheat paste …
Select a method that works best for your own style and comfort level.

Step 4:
Hit the streets!
Put up posters and stickers in public spaces and expose the banks' role in financing climate change. Choose locations that have high visibility. We want to get people's attention and spread awareness. It's high time people learn that banks are just as responsible as fossil fuel companies for their role in driving climate chaos.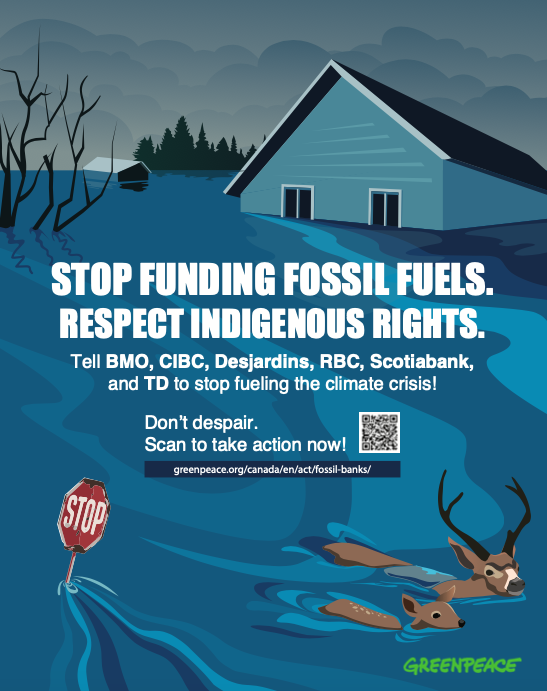 Step 5:
Spread the word! Document and amplify your actions.
Take photos of your action and add them to the tracker here.
Share your photos online, tag Greenpeace and tag the banks you are targeting and be sure to link folks to the petition.

Use hashtags
#DefundClimateChaos
#FossilBanks
#DefundCoastalGasLink
#FundFuturesNotPipelines
#RBCisKillingMe
#FossilBanksNoThanks
#KeepItInTheGround
#StopTheMoneyPipeline

Thank you for your passion and action!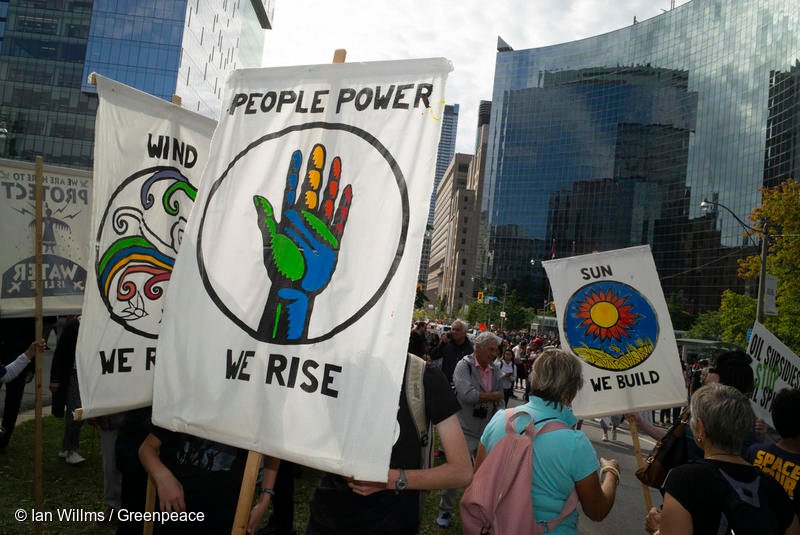 Want to get more involved with Greenpeace?
Need more activist resources?