Brussels, Belgium – If Europe is to honour its commitment to the Paris climate agreement to limit global warming to 1.5°C, sales of petrol, diesel and conventional hybrid cars must end by 2028. [1] These are the findings of a new study commissioned by Greenpeace Belgium, conducted by the German Aerospace Center (DLR). [2]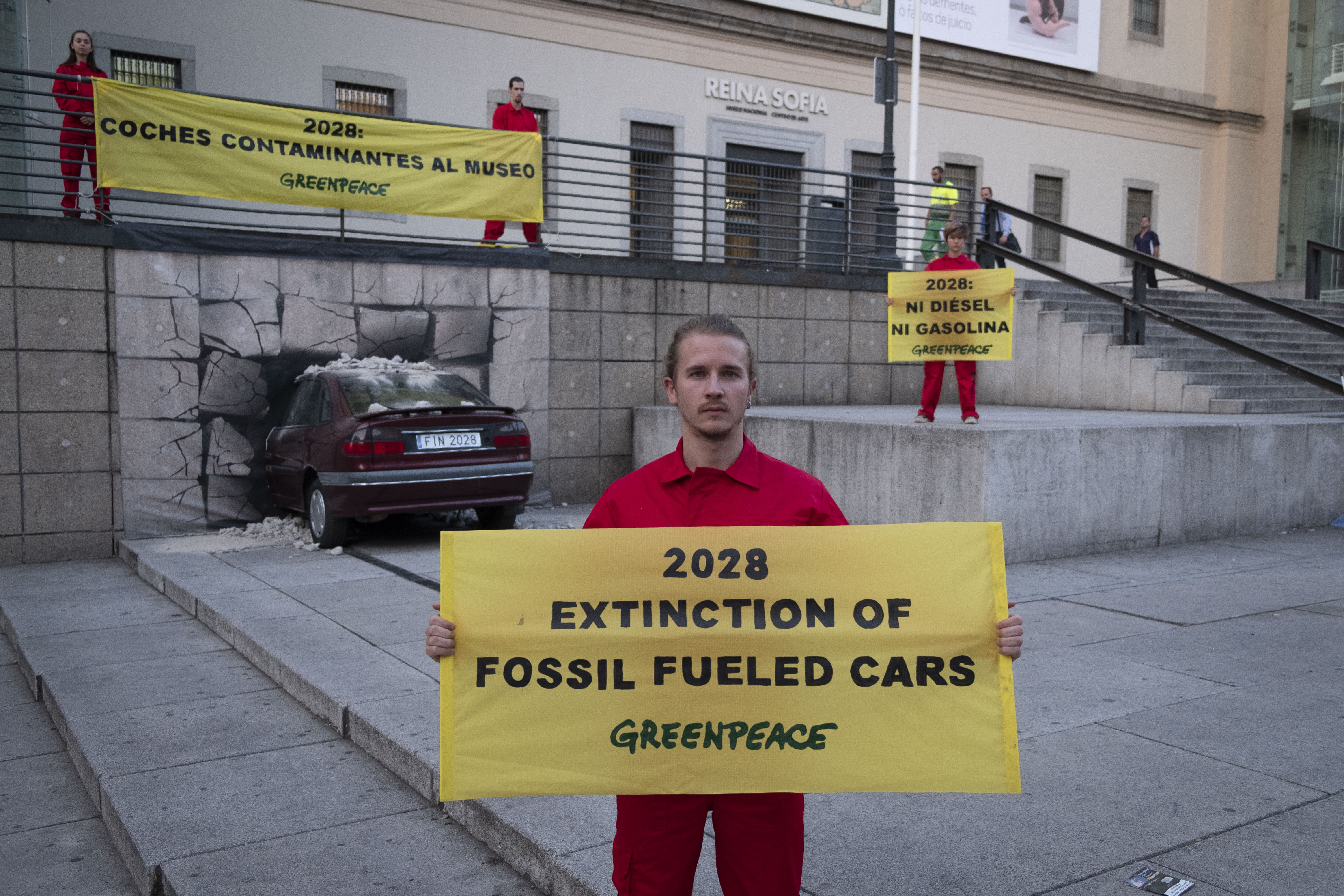 The report states that the number of diesel and petrol cars on the road in Europe will need to be reduced by over 80% by 2035, and that – unless governments and the car industry take targeted action – conventional cars will remain in the overall stock until the early 2040s.
"The phasing-out of the internal combustion engine in passenger cars will not only benefit the climate, it will also help solve the air pollution crisis and improve quality of life for everyone," said Barbara Stoll, Greenpeace Clean Air campaigner.
This phase-out will only be possible if governments and the car industry take responsibility for tackling climate change.
Current discussions between the European Parliament and European governments about new CO2 standards for cars and vans show how far European politicians are from grasping the true scale of the challenge.
"Many major car manufacturers are still desperately clinging to the internal combustion engine. However, if these companies wish to maintain their market position, they will need to move towards new business models of sustainable electrification and ride-sharing. This will require new government policies and investment to develop electric vehicles that are affordable, smaller and with low energy-consumption," said Stoll.
Replacing every car on the road today with an electric car is not a sustainable solution. The number of privately owned passenger cars will have to be drastically reduced and a large scale shift towards alternative modes of transport will be necessary. As car sharing, active travel and public transport options expand, the need to own a personal car will reduce too.
Greenpeace asks all European governments to take action today to ensure that the sale of fossil fuel cars, including conventional hybrids, is stopped by 2028. Each country will have to adopt a meaningful phase-out date and install a binding regulatory framework to implement this decision.
Alongside the report, Greenpeace is supporting global car free day, and hosting actions in five countries this Saturday 22 September to encourage people to move their city beyond fossil fuel cars by going car free, and using active and cleaner transport options. [3]
Notes:
[1] Conventional hybrids are cars have an internal combustion engine and combine it with an electric drivetrain.
[2] You can read the Greenpeace briefing on the report here
[3] Read more about car free days here.
Contacts:
Sarah Jacobs, Greenpeace Belgium Press Officer, +32 496 26 31 91, [email protected]
Greenpeace International Press Desk, +31 (0)20 718 2470 (available 24 hours), [email protected]
Denise Nüssle, German Aerospace Center (DLR), +49 711 6862-8086; Mobile: + 49 173 6326959, [email protected]
For breaking news and comment on EU affairs: www.twitter.com/GreenpeaceEU
Greenpeace is an independent global campaigning organisation that acts to change attitudes and behaviour, to protect and conserve the environment and to promote peace. Greenpeace does not accept donations from governments, the EU, businesses or political parties.