Brussels – Fifteen* governments from across the EU issued an open statement calling for a green recovery as a response to the Covid-19 crisis and the resulting economic downturn.
The signatories are Germany, France, Italy, Spain, the Netherlands, Austria, Portugal, Sweden, Finland, Greece, Denmark, Slovakia, Ireland, Latvia and Luxembourg.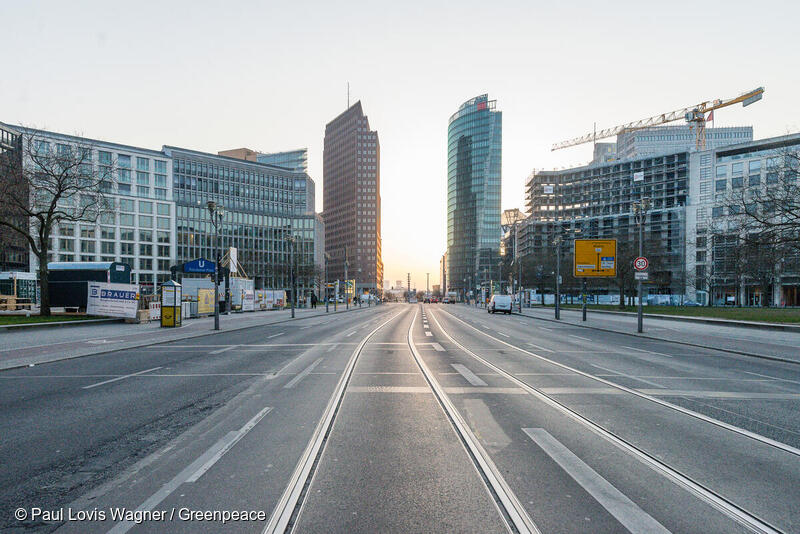 Greenpeace EU climate policy adviser Sebastian Mang said: "Europe needs a plan for a social and economic transformation that will protect us from future crises – whether they're caused by a virus, inequality or climate breakdown. Recognising that the huge sums spent on economic recovery will shape how our societies operate in the future is a start. The politics of austerity and the exploitation of people and nature are only making this crisis worse. Business as usual is no longer an option: only a just and green recovery can reboot our economy and make our societies more resilient."
The statement calls for the Commission to move ahead with the European Green Deal and to boost the EU's 2030 climate targets, as required by the Paris climate agreement. The governments argue that "answers need to be found in a concerted manner through a common European response […] to work together in solidarity to build the bridge between fighting COVID-19, biodiversity loss and climate change" and that the EU "needs to scale up investments, notably in the fields of sustainable mobility, renewable energy, building renovations, research and innovation, the recovery of biodiversity and the circular economy."
Greenpeace, along with many other civil society organisations, is calling on governments and the EU to help build a fairer and more resilient society, based on democratic principles and international solidarity, and delivering better healthcare, employment standards, social and environmental protections. The Covid-19 crisis and the resulting economic downturn demonstrate the profound need for a social and economic transition to be both just and green, enabling societies to be resilient in the face of crisis.
* This press release was updated on 17 April 2020 to include new signatories to the original ten governments.
*** Read our briefing on how the EU's response to the Covid-19 pandemic could make our society more resilient.
Contacts:
Sebastian Mang – Greenpeace EU climate policy adviser: +32 (0)479 60 12 89, [email protected]
Greenpeace EU press desk: +32 (0)2 274 19 11, [email protected]
For breaking news and comment on EU affairs: www.twitter.com/GreenpeaceEU
Greenpeace is an independent global campaigning organisation that acts to change attitudes and behaviour, to protect and conserve the environment and to promote peace. Greenpeace does not accept donations from governments, the EU, businesses or political parties.