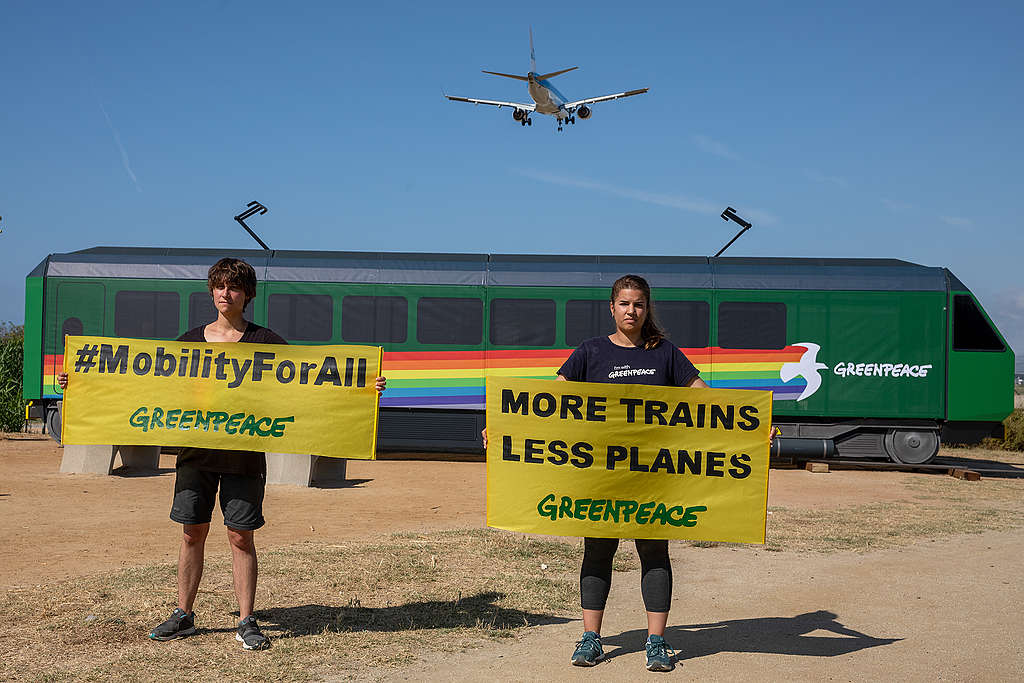 Brussels – The European Commission's rail plan is extremely promising for a shift away from polluting flights to more climate-friendly travel, said Greenpeace.
The Commission's plan, announced today, includes 15 new cross-border train connections, the introduction of a common European timetable and the legal framework for a unified European ticketing system. The plans would also end VAT on international train tickets, and include efforts to better connect airports to railways to avoid connecting flights. While the rail plan has exceeded expectations, Greenpeace says the strengthening of the European train system must go hand-in-hand with an EU ban on short-haul flights where there are reasonable train alternatives.
Herwig Schuster, transport expert for Greenpeace's European Mobility for All campaign, said: "It's essential that the EU makes traveling by train easier, faster and more affordable – helping people to take the climate-friendly option and fly less. The Commission's plan includes some really great ideas to better support rail, we now need to see the follow-through to shift away from flights. The EU and national governments have for too long prioritised dirty road and aviation projects, they must stop paying polluters and start funding transport that works for people and doesn't wreck the climate."
A recent Greenpeace report showed that one third of the most popular flight routes in Europe can be easily shifted to rail. Greenpeace is calling on the European Commission to not only give more support to rail, but also to actively take steps to reduce air traffic in Europe, starting by banning short-haul flights if a train alternative taking less than six hours exists.
Contacts:
Herwig Schuster, transport expert for Greenpeace's European Mobility for All campaign: +43 664 431 92 14, [email protected]
Greenpeace EU press desk: +32 (0)2 274 1911, [email protected]
***
For breaking news and comment on EU affairs: www.twitter.com/GreenpeaceEU
Greenpeace is an independent global campaigning network that acts to change attitudes and behaviour, to protect and conserve the environment and to promote peace. We do not accept donations from governments, the EU, businesses or political parties. Greenpeace has over three million supporters, and 26 independent national and regional organisations with offices in more than 55 countries.
EU Transparency Register: 9832909575-41