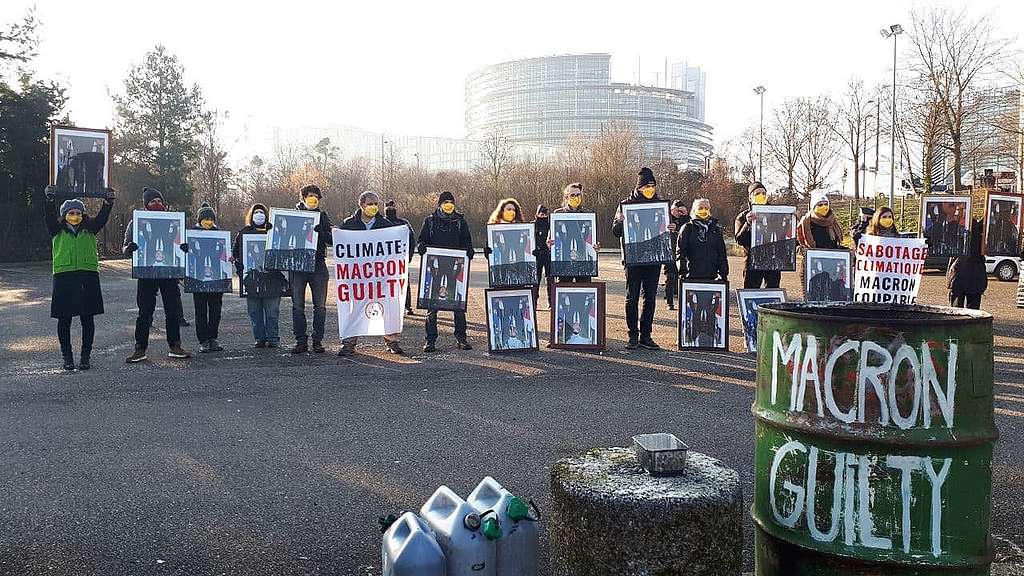 Strasbourg, 19 January 2022 – Activists outside the European Parliament plunged official portraits of Emmanuel Macron in fake crude oil to denounce the French president's "climate sabotage", ahead of his speech to the Parliament marking the opening of France's presidency of the European Council. Activists highlighted Macron's support for the inclusion of certain fossil gas and nuclear projects in the 'taxonomy', the EU's list of sustainable investments, as greenwashing polluting activities. 
The symbolic protest, by activists from Action Non-Violente COP21, is supported by Greenpeace and Les Amis de la Terre.
Pauline Boyer, campaigner for energy transition at Greenpeace France, said: "This winter, in France, coal power made a come-back to cover the insufficient energy production from France's unreliable and ageing nuclear reactors. Meanwhile, Emmanuel Macron makes dirty deals pro-gas countries to contaminate the EU's sustainable investment label with nuclear energy and climate-wrecking fossil gas. President Macron stubbornly promotes the illusion of nuclear power as a climate solution, despite admitting that no new nuclear power plant will produce electricity before 2040. Polluting, failing, expensive and slow, nuclear energy is neither 'green' nor 'transitional' and should not be included in the taxonomy."
On Friday 21 January 2021, national governments and experts from civil society, business and academia will provide feedback to the European Commission on a draft proposal to include nuclear energy and certain fossil gas activities in the EU's taxonomy. French pro-nuclear lobbying and scandalous deal-making with pro-gas countries has been instrumental in the Commission's decision to extend the taxonomy label to fossil gas and nuclear energy.
Showing Emmanuel Macron's true face to Europe
The presidential portraits of Emmanuel Macron covered in oil today are some of the more than 150 portraits which activists have removed from town halls across France since February 2019 to protest President Macron's disastrous climate and social policies. The activists today brandished the portraits upside down, soaked them in imitation oil and held banners reading: "Climate Sabotage: Macron Guilty". More information about the portraits and ongoing court cases involving non-violent activists can be found on https://decrochons-macron.fr/
On 1 January 2022, seventeen nuclear power stations in France were offline, either for scheduled maintenance or for urgent repairs to things like corrosion or cracked reactor pipes. While they are offline, the shortfall in electricity supply is being made up by coal and gas plants and by imports from countries with high renewable energy production like Germany. Since 2019, volatile fossil gas has been responsible for the largest share of greenhouse gas emissions from power generation in the EU, exposing people to energy price hikes and making Europeans dependent on imports to meet energy demand.
Contacts:
Greenpeace EU press desk: +32 (0)2 274 1911, [email protected]
For breaking news and comment on EU affairs: www.twitter.com/GreenpeaceEU
Greenpeace is an independent global campaigning network that acts to change attitudes and behaviour, to protect and conserve the environment and to promote peace. We do not accept donations from governments, the EU, businesses or political parties. Greenpeace has over three million supporters, and 26 independent national and regional organisations with offices in more than 55 countries.
EU Transparency Register: 9832909575-41