Brussels – Over 100,000 'ghost flights' in Europe are doing damage to the climate equivalent to the yearly emissions of more than 1.4 million cars, according to new analysis by Greenpeace. Airlines across Europe are operating empty or near-empty flights in order to retain valuable take-off and landing slots at airports, as required by an EU regulation dating back to 1993.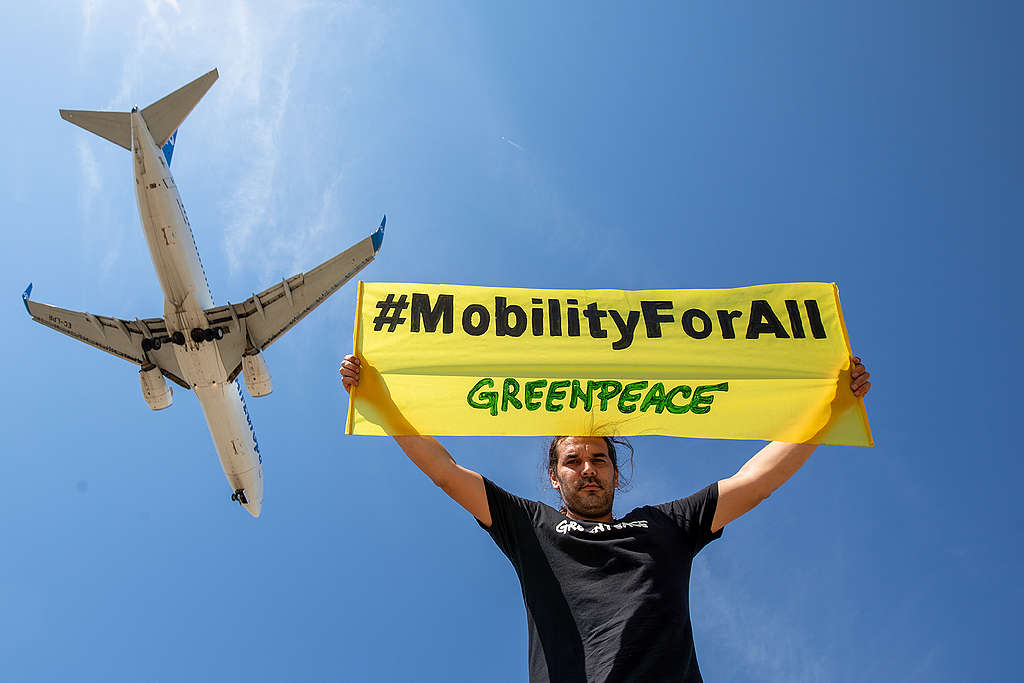 Under normal circumstances, airlines are required to run at least 80% of booked flights to secure their airport slots according to EU law. Due to the COVID-19 pandemic, the European Commission temporarily reduced this threshold to at least 50% of flights, but it will be increased again to 64% of flights in March 2022.
Herwig Schuster, spokesperson for Greenpeace's European Mobility For All campaign said: "We're in a climate crisis, and the transport sector has the fastest-growing emissions in the EU – pointless, polluting 'ghost flights' are just the tip of the iceberg. It would be irresponsible of the EU to not take the low-hanging fruit of ending ghost flights and banning short-haul flights where there's a reasonable train connection."
Greenpeace is calling on the European Commission and national governments to end the rule encouraging ghost flights, and to ban short-haul flights where there is an alternative train connection under six hours.
How many ghost flights and how polluting
Lufthansa Group estimates that it will operate around 18,000 ghost flights this winter in order to keep all its runway slots. Though Lufthansa did not specify which destinations and aircraft are used, a conservative estimate of a greenhouse gas effect equivalent to 20 tonnes of CO2 emissions per flight, means that Lufthansa's ghost flights alone would cause damage to the climate equal to 360,000 tonnes of CO2. [1]
Other airlines do not communicate the number of ghost flights, but if other airlines are operating ghost flights in relation to their market shares – Lufthansa's in Europe is around 17% – the total number of ghost flights in Europe could be slightly above 100,000. This number of flights causes damage to the climate equivalent to 2.1 million tonnes of CO2, or the yearly emissions of about 1.4 million average diesel or petrol cars. [2]
Notes:
[1] Flight emissions: Greenpeace calculated based on the average standard aircraft (Boeing 747-400 with around 200 seats) and average flight distance (around 900 km). For this distance, the kerosene consumption is around 3.6 tonnes. 3.6 tonnes of kerosene create 11.4 tonnes of CO2, multiplied with factor 1.7 for non-CO2 effects making the greenhouse gas effect equivalent to around 20 tonnes of CO2 per flight. There is no data available on which routes are the most frequent ones for ghost flights. The flight distance of 900 km is underestimated on purpose, so the real greenhouse gas emissions are probably higher.
[2] Car emissions: The calculation is for cars driven an average of 10,000 km/year with 150 g of CO2-equivalent emissions per kilometre.
Contacts:
Herwig Schuster, spokesperson for Greenpeace's European Mobility For All campaign: +43 664 4319 214, [email protected]
Greenpeace EU press desk: +32 (0)2 274 1911, [email protected]
For breaking news and comment on EU affairs: www.twitter.com/GreenpeaceEU
Greenpeace is an independent global campaigning network that acts to change attitudes and behaviour, to protect and conserve the environment and to promote peace. We do not accept donations from governments, the EU, businesses or political parties. Greenpeace has over three million supporters, and 26 independent national and regional organisations with offices in more than 55 countries.
EU Transparency Register: 9832909575-41