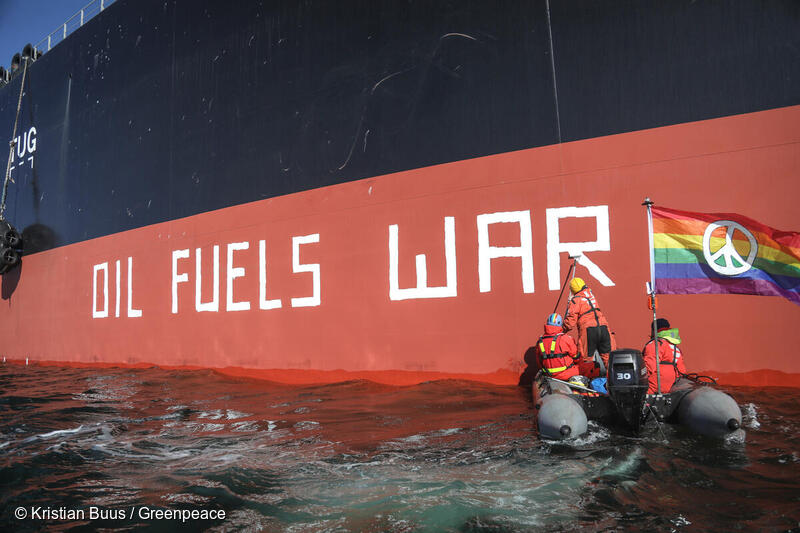 Brussels – In response to the European Commission's proposed package of new sanctions against Russia for its invasion of Ukraine, including a long-awaited embargo on Russian oil by 2023, Silvia Pastorelli, Greenpeace EU climate campaigner, said:
"The EU ban on Russian oil is long overdue and a significant step towards deflating Putin's war chest. However, it will take effect too slowly, allowing Putin to find other customers for his oil between now and the end of the year. The answer to Europe's oil addiction cannot be to simply find new suppliers, but to get to the root of the problem by cutting oil consumption and accelerating the transition to renewable energy. To completely unhook the EU from dirty crude, European leaders need to rapidly transform the transport sector and fast-track solutions that can be implemented quickly, such as a ban on short-haul flights, moving transport from road to rail, and boosting public transport. As people in Europe struggle with sky-high fuel prices, EU leaders must stop the fossil fuel industry from profiteering on war, conflicts and the climate crisis, and impose taxes on these immoral profits."
Notes:
The proposed embargo on Russian oil would reportedly take effect in six months for Russian crude, and by the end of the year for refined oil products like petrol. The phase-in of the oil sanctions may be even slower in Hungary and Slovakia, who are heavily reliant on Russian oil.
The Commission's plan needs to be agreed by all 27 EU governments. Ambassadors are expected to discuss the plan later this week.
The EU could cut oil use equal to 28% of what is currently imported from Russia in a matter of months with short-term measures in the transport sector, a recent Greenpeace CEE analysis has shown.
During the first month of Russia's invasion of Ukraine, the oil industry pocketed €3 billion in EU profits at the pump, a recent Greenpeace CEE analysis found.
Contacts:
Silvia Pastorelli, Greenpeace EU climate and energy campaigner: +32 496 12 20 94, [email protected]
Greenpeace EU press desk: +32 (0)2 274 1911, [email protected]
For breaking news and comment on EU affairs: www.twitter.com/GreenpeaceEU
Greenpeace is an independent global campaigning network that acts to change attitudes and behaviour, to protect and conserve the environment and to promote peace. We do not accept donations from governments, the EU, businesses or political parties. Greenpeace has over three million supporters, and 26 independent national and regional organisations with offices in more than 55 countries.
EU Transparency Register: 9832909575-41