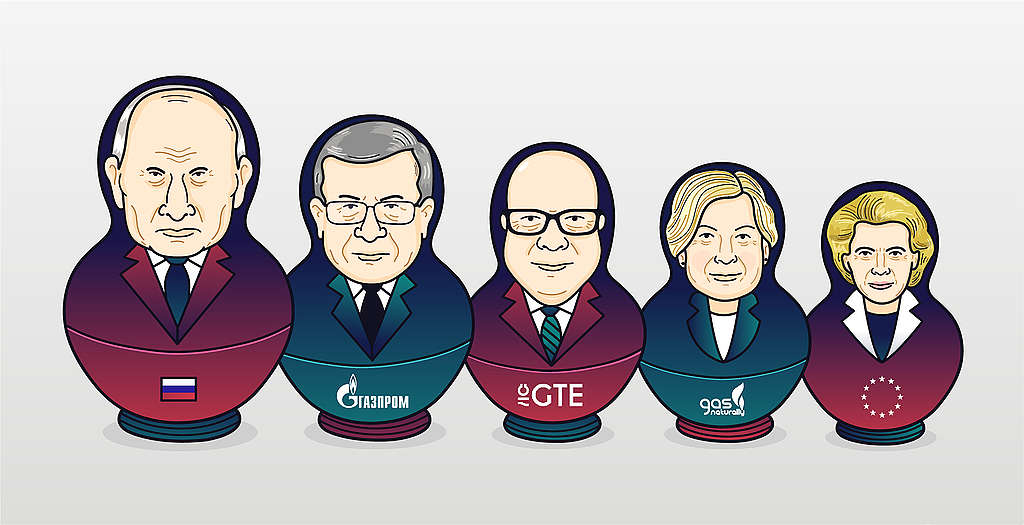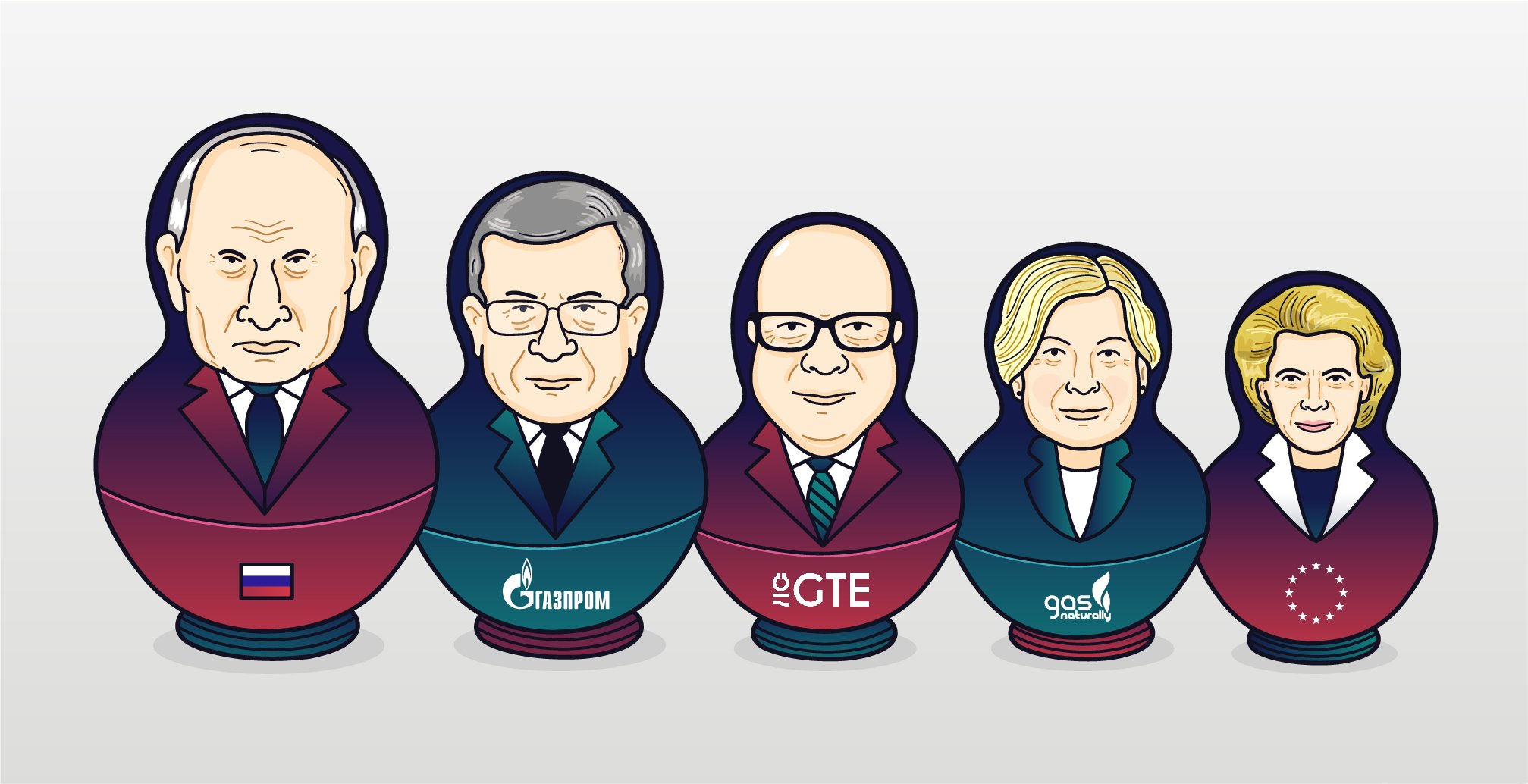 Russian fossil gas and nuclear firms could earn billions more thanks to EU taxonomy 'green' label
READ THE FULL REPORT FROM GREENPEACE FRANCE HERE
Brussels, 17 May 2022 – Russian energy firms Gazprom, Lukoil and Rosatom used lobbying connections reminiscent of nesting Russian dolls to influence the inclusion of fossil gas and nuclear energy in the EU taxonomy of sustainable investments, according to new research by Greenpeace France.
The research also found that Russia is set to be one of the main beneficiaries of the planned addition of gas and nuclear to the EU's list of sustainable investments, handing Vladimir Putin additional bargaining power over the EU and providing money to fuel the war in Ukraine.
The research revealed that Russian energy companies have met EU commissioners and senior officials either directly or through subsidiaries and lobby groups at least 18 times since the European Commission published its action plan on sustainable finance in March 2018.
According to the report, Russia could earn an extra €4 billion per year from a taxonomy-aligned expansion of gas capacity, totalling €32 billion by 2030, while the inclusion of nuclear energy in the taxonomy would allow Rosatom, a Russian state-owned nuclear power company with strong commercial links to the European nuclear industry, to secure a share of an estimated €500 billion of potential investment in new EU nuclear capacity.
Greenpeace EU sustainable finance campaigner Ariadna Rodrigo said: "Gazprom, Rosatom and Lukoil campaigned for gas and nuclear to get the EU's sustainable label, strengthening Putin's geopolitical power and making the EU more dependent on Russian energy for decades to come. The crimes committed by Putin's army in Ukraine are a cruel reminder of how the EU's dependence on fossil gas and nuclear energy actively contributes to war and human rights violations. As the EU Commission gets ready to unveil its RePowerEU plan to break free from Russian energy dependence, rejecting gas and nuclear from the taxonomy is an obvious move that MEPs can take to show Putin that he has written Russia out of Europe's energy future."
Russia currently supplies 45% of Europe's gas and 20% of its enriched uranium. Russia also provides technical maintenance services at 18 Russian-designed nuclear power plants in the EU, mostly in central and eastern Europe, and stores vast quantities of the EU's radioactive waste, including waste produced in countries such as France, Germany and Bulgaria.
To date, imports of Russian fossil gas, gas turbines, uranium and other nuclear services have been exempted from the sanctions imposed by the EU on Russia in response to the invasion of Ukraine. The European Commission has proposed to ban Russian firms from hiring EU lobbying and public relations firms in the future, but this has not yet been approved by EU governments.
Some of the most illustrative examples of Russian corporate lobbying detailed in the report include:
Gazprom exerted influence on the taxonomy via its German subsidiary Gazprom Germania, which until recently operated the controversial Nord Stream 2 pipeline project on behalf of Gazprom. Gazprom was, via subsidiaries, represented in taxonomy discussion in Brussels by lobby associations Gas Infrastructure Europe, GasNaturally and the European Clean Hydrogen Alliance. It is a member of the European Energy Forum and, again via subsidiaries, the Brussels Energy Club, two groups which have held events with EU decision-makers on the taxonomy behind closed doors. 
Lukoil was, until March 2022, a member of BusinessEurope, where it occupied an influential position on BusinessEurope's Corporate Advisory and Support Group. BusinessEurope had at least eleven high-level meetings with EU officials focused solely on the taxonomy while Lukoil was a member. Lukoil is also still a member of FuelsEurope, which lists taxonomy as one of the main files it lobbies on. 
Rosatom exerted influence on the taxonomy through its deep connections at all levels of the European nuclear industry, most notably with France's state-owned nuclear energy provider EDF, and via its subsidiary RAOS Project's joint venture with Finnish company Fennovoima to build the Hanhikivi 1 nuclear power plant. (Fennovoima cancelled its contract with RAOS Project on 2 May 2022). 
Rosatom also exerted considerable influence on the taxonomy as a board member of the World Nuclear Association, including as a platinum sponsor of the 2021 World Nuclear Exhibition, where the keynote speech was delivered by EU energy commissioner Kadri Simson.
Using EU transparency register data and other open sources, the report documents the three companies' use of 'Russian doll' lobbying techniques to influence the EU taxonomy via subsidiaries, joint ventures and industry associations.
Next steps
Grassroots youth climate activists from Fridays for Future have called for a European "Day of Action" to protest against the greenwashing of fossil gas and nuclear energy on 21 May 2022.
In June, the European Parliament's committees on Economic and Monetary Affairs and Environment, Public Health and Food Safety will vote on the inclusion of gas and nuclear in the EU taxonomy in a joint session. The parliament's plenary vote is scheduled for early July, where an absolute majority of MEPs can reject the Commission's plan.
Greenpeace European Unit has campaigned against the greenwashing of fossil gas and nuclear energy in the EU taxonomy since the plan was first proposed in 2019.
Simply replacing Russian imports of oil, gas, coal and uranium with like-for-like fuels from other states, like Saudi Arabia, the US or Azerbaijan, will only slow down Europe's energy transition and accelerate the climate and nature crisis, warned Greenpeace European Unit. Real energy independence is only achievable through rapid, massive and socially just investments in energy savings, energy storage, and home insulation, as well as renewable energy, and a complete transformation of the transport sector. 
Contacts:
Ariadna Rodrigo, Greenpeace EU sustainable finance campaigner, [email protected]
Greenpeace EU press desk: +32 (0)2 274 1911, [email protected]
For breaking news and comment on EU affairs: www.twitter.com/GreenpeaceEU
Greenpeace is an independent global campaigning network that acts to change attitudes and behaviour, to protect and conserve the environment and to promote peace. We do not accept donations from governments, the EU, businesses or political parties. Greenpeace has over three million supporters, and 26 independent national and regional organisations with offices in more than 55 countries.
EU Transparency Register: 9832909575-41