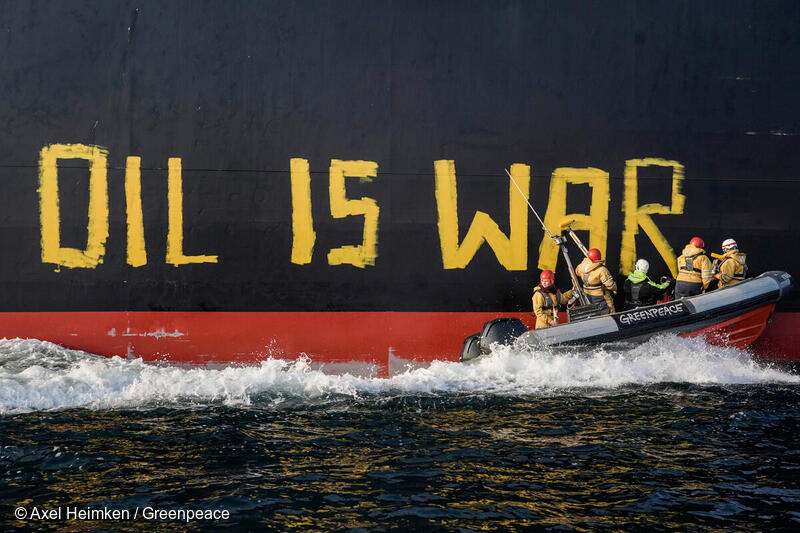 Brussels, 24 March 2022 – As the leaders of the EU's 27 governments are joined in Brussels by US president Joe Biden to consider a further response to Putin's invasion of Ukraine, they seek alternative suppliers to prolong fossil fuels, nuclear energy and industrial farming, and backtrack on measures to tackle the escalating climate and nature crisis, warned Greenpeace.
***Downloadable photos and video of protests against fossil fuels from Russia
Greenpeace EU director Jorgo Riss said: "Rather than stop bankrolling Putin's war and end Europe's addiction to fossil fuels, our governments have decided to go despot shopping. But switching fossil fuel supplies from Russia to Azerbaijan and Saudi Arabia, while shielding Russian uranium exports to Europe from sanctions, will not bring peace and security. Fossil fuels have a history of being connected with conflict and war – wherever they come from, governments must phase them out as quickly as possible, not look for new suppliers. Our political leaders need to get behind a massive rollout of home insulation, renewables, and clean public transport, while protecting the most vulnerable in society and ensuring farmers in Europe produce food for people, not feed for industrial meat factories."
The EU continues to bankroll the war in Ukraine with imports of Russian gas, oil and coal. For oil imports alone, the EU and the UK send almost €200 million to Russia every single day. Europe's nuclear energy industry also relies on Russia for about a quarter of its enriched uranium supply, with Russian state energy company Rosatom – so far exempted from sanctions – invested in the construction, maintenance and radioactive waste disposal for European reactors in several EU countries.
So far, despite strong rhetoric from politicians and a string of EU sanctions, almost none of this trade has been disrupted.
Instead, courted by Europe, Azerbaijan's regime is set to double its gas exports in the coming years, while several EU governments have pledged to develop liquified fossil gas capacity for imports from Qatar or the United States, which would keep Europe dependent on this fossil fuel for decades.
As EU governments consider new oil sanctions and eye up Saudi Arabia's absolute monarchy as an alternative supplier, energy giant Saudi Aramco announced it has doubled profits on the back of the energy crisis. Meanwhile, EU governments have announced fuel tax cuts, which disproportionately benefit the wealthiest in society and extend our addiction to fossil fuels.
The European Commission has also announced €500 million in financial aid to farmers facing disruption in animal feed, mainly used in factory farms, and synthetic fertiliser supplies due to the war, and specific assistance for the pork sector to keep prices high. The Commission, backed by several governments, has also said it wants to loosen environmental protections to encourage farmers to grow more animal feed for industrial meat production, and delay the implementation of the European green deal, which farm industry lobbyists have been pushing for.
Contact: Greenpeace EU press desk: +32 (0)2 274 1911, [email protected]
For breaking news and comment on EU affairs: www.twitter.com/GreenpeaceEU
Greenpeace is an independent global campaigning network that acts to change attitudes and behaviour, to protect and conserve the environment and to promote peace. We do not accept donations from governments, the EU, businesses or political parties. Greenpeace has over three million supporters, and 26 independent national and regional organisations with offices in more than 55 countries.
EU Transparency Register: 9832909575-41