Brussels – New analysis commissioned by Greenpeace International shows that 1,040 private jets flew in and out of airports serving the Swiss mountain resort of Davos during the week of the 2022 World Economic Forum, causing CO2 emissions from private jets four times that of an average week.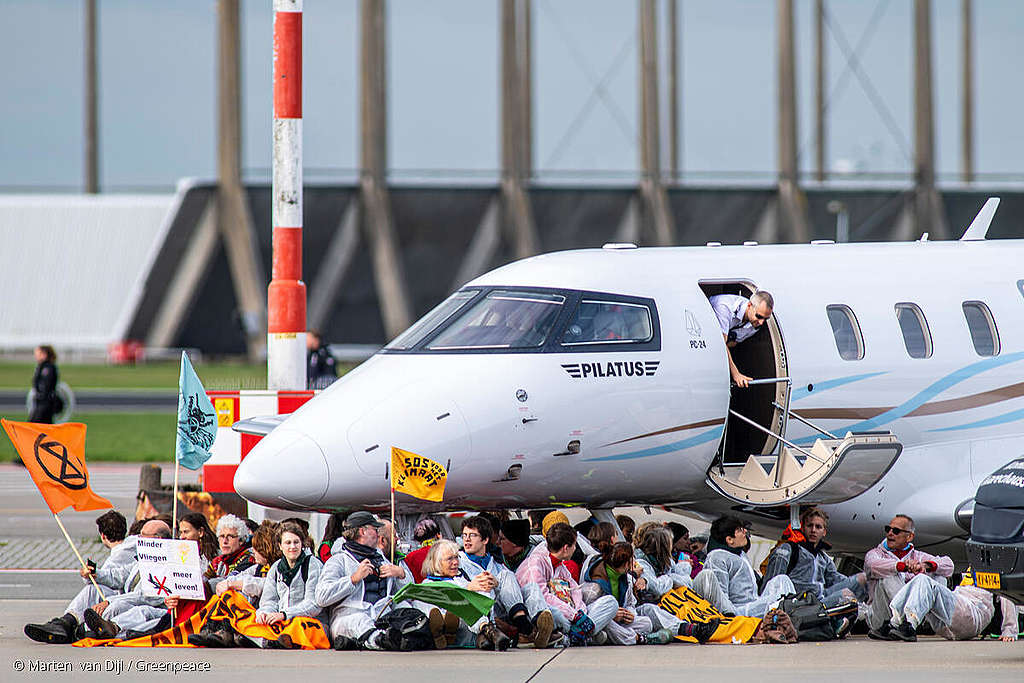 Greenpeace EU transport campaigner Lorelei Limousin said: "The rich and powerful flock to Davos in private jets to discuss global economics and the climate behind closed doors, while winter temperature records are broken all over Europe. Private jets are the most polluting way to travel, and it's deeply unfair that a select few can emit huge amounts of carbon while the most vulnerable face the brunt of the damage from climate breakdown. The EU must ban private jets and needless short flights to start tackling the climate crisis in an equitable way."
The research, conducted by Dutch environmental consultancy CE Delft, found that the number of private jet flights to and from airports serving Davos doubled during the 2022 World Economic Forum meeting compared to average weeks, causing CO2 emissions equivalent to 350,000 average cars in the same time period.[1] The researchers attribute about every second flight to the meeting itself, and at least every tenth participant at the meeting travelled by private jet.
Of all these flights, 53% were short-haul flights below 750km that could have easily been train or car trips, with 38% flying ultra-short distances of under 500km. The shortest flight recorded was only 21km. According to the analysis, countries with the highest number of arrivals and departures out of Davos airports included Germany, France and Italy.
The issue of private jets garnered global public attention last year after several public figures faced criticism for taking ultra-short trips by private jet. The analysis released by Greenpeace International comes days before political and business leaders head into Davos to attend the 2023 World Economic Forum, with its self-proclaimed goal of wanting to tackle climate change and other "ongoing crises" calling for "bold collective action".
Private jets are not regulated in the EU, even though they are the most polluting mode of transportation on the planet per passenger kilometre.[2] For the first time, in 2022, several EU countries have started to push for EU-wide regulation of private jet emissions.
As the European Commission is expected to revise the EU's Air Services Regulation, Greenpeace is calling for the inclusion of a ban on short-haul flights where reasonable train alternatives already exist, and a ban on private jets.
Notes
[1] The basis of the analysis by CE Delft is data on private jet flights to and from airports in the vicinity of Davos, including the airports of Zürich, Geneva, Altenrhein, Dübendorf, Samedan, Friedrichshafen, and EuroAirport Swiss. The data of private jet flights has been provided by aviation analytics company Cirium. To determine the number of flights during the week of the World Economic Forum 2022 (May 21-27), researchers compared the flights in that week with the flights in the weeks before and after. The CO2 emissions of all flights in the week of the World Economic Forum meeting were calculated using the Eurocontrol Small Emitters Tool.
[2] According to a study by Transport & Environment, private jets are 5 to 14 times as polluting as commercial planes (per passenger), and 50 as more polluting as trains. In 2018, 50% of all aviation emissions were caused by only 1% of the world's population.
Contacts:
Lorelei Limousin, Greenpeace EU transport campaigner: +32 (0)477 79 04 15 [email protected]
Greenpeace EU press desk: +32 (0)2 274 1911, [email protected]
For breaking news and comment on EU affairs: www.twitter.com/GreenpeaceEU
Greenpeace is an independent global campaigning network that acts to change attitudes and behaviour, to protect and conserve the environment and to promote peace. We do not accept donations from governments, the EU, businesses or political parties. Greenpeace has over three million supporters, and 26 independent national and regional organisations with offices in more than 55 countries.
EU Transparency Register: 9832909575-41